The first building here was built in 1952 by Harold Hanson as a gas station.  (The name Elmer Froberg was also associated with the property in 1952.)
In November 1952-54 it was Bud and Norm's Cities Service.  Ad below from 1954.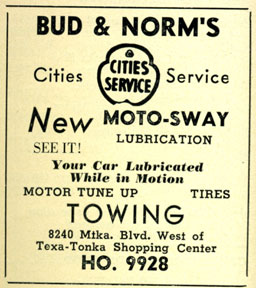 ---
In 1956 it was Walt's Cities Service.
In May 1957 Kenneth Larson went into the military and the station was taken over by Charles Couyeouw.
The Kowloon Cafe opened here on July 10, 1958. By 1961 the Kowloon was located at 3005 Utah.


1960
---
The first building was demolished in 1963.
The new building, built in 1963, became Texas Tonka Liquors, owned by Harold Kaplan.

2002 Photo by Emory Anderson