Andy Nelson was known and loved by all early Parkites as the City's Police Chief.
Andy Nelson was the son of Frank and Lena Nelson. Frank Nielson was born in Denmark. He and his brothers immigrated to America in the early 1890s and changed the name to Nelson. Frank's brother and sister-in-law, Nels and Dagmar Nelson, were already in St. Louis Park. Another brother, Hans, lived in Hopkins.
With his first wife, Frank had a daughter, Lena, and two sons, Andrew and Harold. When Frank became a widower, his youngest son, Harold went to live with Frank's brother and wife, Nels and Dagmar Nelson. They had just one daughter Dorothea, who married J.K. Seirup, prominent Park businessman.
Andy was born in Minneapolis on January 21, 1888, but the family moved to the Park when he was small. He spent some time as a boxer, and in 1910 was employed by Monitor Drill.
Andy joined the two-man police force in 1916. "When the Park got two saloons they hired the first policeman!" Before the days of two-way radios, calls would come to his house, his wife Ann would turn on the porch light, and he would come in and get the call.
Ann sold refreshments to golfers from their house at 4082 Colorado, which backed onto Meadowbrook Golf Course's third tee. A picture of her at this endeavor can be found in the August 6, 1953 edition of the Dispatch.
Andy's official title was Constable in 1934, an elective office.  That year he won handily over Theodore Roberts, receiving 1,081 votes to Roberts' 449.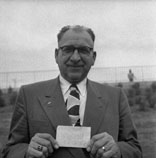 Andy retired on June 30, 1959 at age 71, without ever firing a shot at anyone (only in the air). 250 people came to a dedication dinner at the Park Terrace restaurant, sponsored by the Chamber of Commerce. The Minneapolis Auto Club News attested that Nelson had coped with the likes of John Dillinger, Baby Face Nelson and other hardened criminals during his 30 years on the force. A group police force photo with Andy appeared in the Dispatch on July 30, 1959.
photo taken Sept. 20, 1956
Andy died on February 13, 1970.
Also see the Nelson memoir by Vivian Carlstrom Gay in Something in the Water.