Palm's Bakery operated from a small store at 6416 Lake Street for over 50 years.

Since 1950 there were three generations of Palms involved. Enord Palm opened the bakery at this location after owning another for 20 years at a Minneapolis location. Enord's sons LeRoy and Gordon were the bakers until Gordon died. Then LeRoy's son, Dale, stepped in, along with Dale's brother Roy. The family started at 2:30 am to fill the shop's shelves for the day.
Marlene, LeRoy's wife, worked behind the counter with the help of an occasional grandkid. Joyce Anderson, although not official family, worked there for over 25 years. They knew most of their customers and what their favorites were.
Every thing was made fresh daily from scratch and donated if not sold. Their food was made to be eaten, not preserved. The recipes were handed down but never written down. Palm's was known for its Scandinavian specialties but also offered a complete line of breads, pies, cookies and pastries. A favorite ingredient was a unique spice called cardamom that adds sweetness to the breads.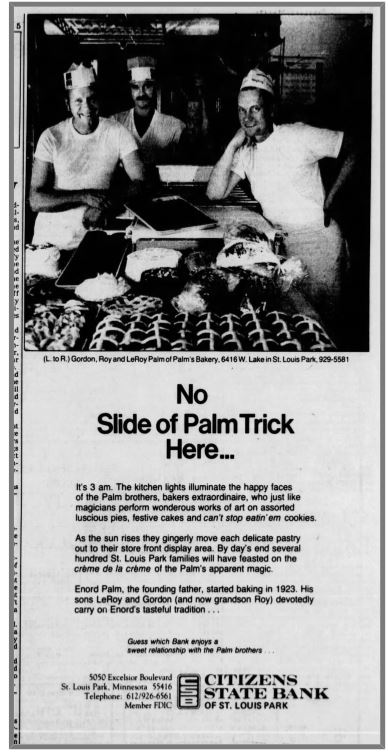 On November 12, 2005, Palm's Bakery closed. Son Dale suffered a stroke and LeRoy could not do it alone. It reopened for a time, but then closed for good in July 2007.  The St. Louis Park icon of many years is sorely missed. Every day hundreds of people stopped by to pick up their bread or sweet roll and get a friendly "good morning."