The following history was provided by the church:
Park Assembly of God found its origin at the home of Mr. and Mrs. Boyd Wileman, 2736 Brunswick Ave. S., in the fall of 1953 when several families shared a vision for a full gospel church in the St. Louis Park area of the Twin Cities. By January 1954 the group was organized and Philip Whalen, a student attending North Central Bible Institute, was asked to lead the group.
After meeting for a short time at Lenox Elementary School, the congregation moved to the present address at 1615 Texas Ave. S. in 1957. They bought a 10 acre truck farm which had a little house and a vegetable garage on it. [The truck farm was that of Harold Herman, whose address had been 1611 Texas Ave.]  The congregation built a small church there at that time which was added to at a later date.
A new sanctuary and educational facility was built in 1969. A larger facility with a gymnasium and extra parking was built in 1991.
There have been many different ministries at Park Assembly over the years. These include Sunday school classes for all ages, Pioneer Girls/Missionettes/Royal Rangers for the children along with Children's Church on Sunday mornings, Bible quiz teams, youth group, young adult and senior's activities, women's and men's ministries, ministry each Sunday at several Nursing Homes, outreach ministry to Harbor Lights Homeless Shelter in Minneapolis, several prayer times during the week and also social events such as picnics and a Christmas dinner, special music and speakers, etc. Park Assembly sponsors a "Signs and Wonders" camp for children for several days each August near Alexandria, Minnesota, at the Assemblies of God campground there. Park Assembly of God has been involved for several years in the Community Faith Service of Parktacular at Wolfe Park amphitheater on the third Sunday in June.
Park Assembly of God has always sponsored many missionaries around the world and has had many individuals go on short term mission trips to help spread the gospel of Jesus Christ everywhere.
The ministers who have been pastors at Park Assembly are:
Rev. Philip Whalen, 1953-1954
Rev. Glenn Weslander, 1954-1955
Rev. Wilbur Wacker, 1955-1957
Rev. Donald Patz, 1957-1963
Rev. Edwin Hollen, 1963-1988 (still on staff as emeritus pastor)
Rev. David Torgerson, 1988-1992
Rev. Wesley Brooks, 1993-2001
Rev. Robert Christenson 2002-
The church's Web site is www.parkassembly.org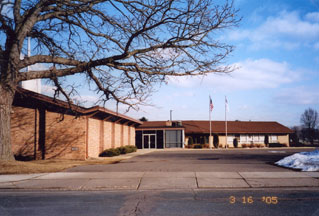 2005
Save
Save
Save