Thanks to an interview that Phil Finkelstein made with Leo Fine in 2004, we have the following information on this great Park musician and businessman.  Click here to view this video, courtesy of John McHugh at the City's community TV office.
Leo Fine was born on August 23, 1926 and grew up in North Minneapolis.  His first introduction to music was at age 7 – he had a cousin on the burlesque circuit, and when he came to perform at the Gaity Theater in Minneapolis, young Leo and his brother came to see the show.  Leo wasn't interested in the girls but the trumpet, and was hooked.  His brother was drawn to the drums, and ended up playing for the Minnesota Orchestra.
Leo played his first gig at age 13 or 14.  During World War II he performed at the USO Club in Minneapolis, which was above the State Theater.  He went into the Army and played in the Army band.
In 1950 he headed out to New York City to study trumpet.  He was hired off the street to the Camel Cigarette Show and traveled with the Tommy Dorsey Band.  Life on the road was not for him, however, and he returned to Minnesota.  He married in 1955, and moved to St. Louis Park in 1957.
In April 1966 he opened Park Music Center at 7200 Minnetonka Blvd.  This was during the heyday of local bands, and many of them got their equipment (and lessons) from Park Music.  Jerry Lenz of the band Nickel Revolution has posted an homage to Park Music on  his blog.  A 1967 ad in the Echo noted that instruction was given by Joel Fingerman, Sally Horak, Terry Reents, and Frank Prout of Gregory Dee and the Avanties.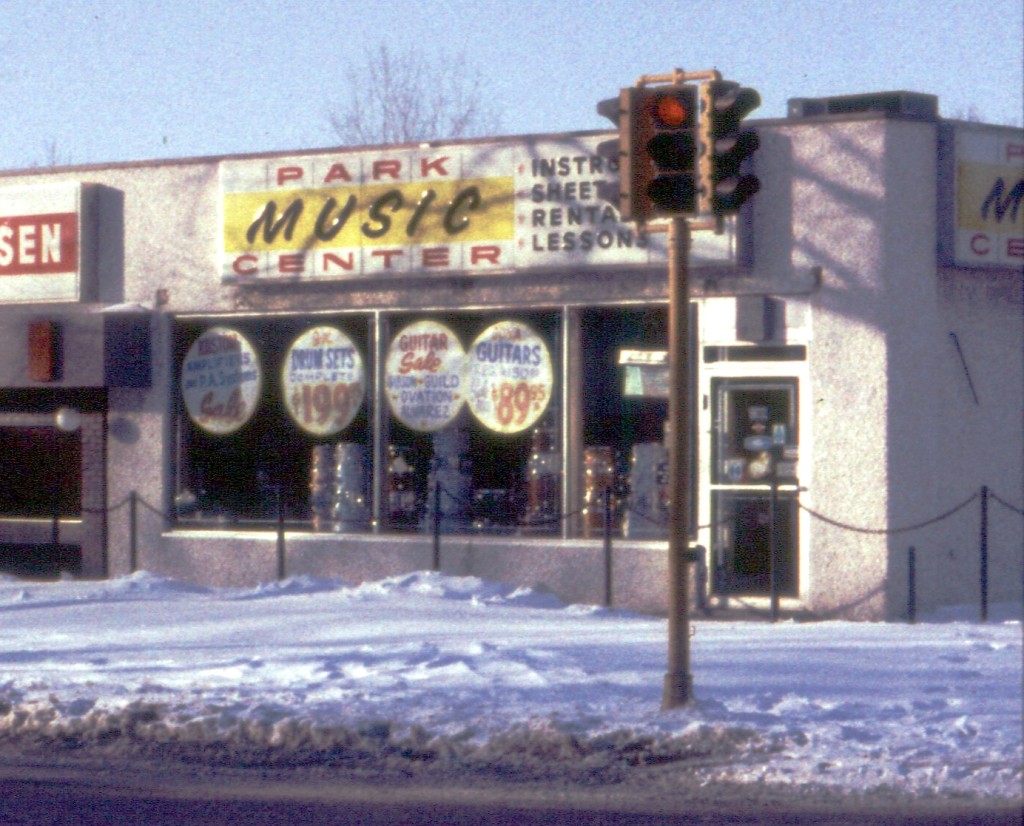 ---
In March 1977 Park Music Center moved to the new Knollwood Village complex, immediately next to Target.  It stayed there until 1983.  From there the store moved to the Texa-Tonka Shopping Center, where it was called Music Plus.
In addition to running his store, Leo was constantly called on to perform at weddings, bar mitzvahs, and other occasions.  He played at stage shows with celebrities who came to town, including Nat "King" Cole, Harry Belafonte, Liberace, Billy Eckstine, and Frank Sinatra, Jr.  A notable occasion was Bob Dylan's daughter's wedding to St. Louis Park musician Peter Himmelman.
Leo Fine has made great contributions to the musicians of the Twin Cities and to the thousands of people whose weddings and other occasions he has accompanied.