Penny's Super Markets were located in three different places in St. Louis Park, all on Minnetonka Blvd. 
It was first located at 4000 Minnetonka Blvd., the former site of a Piggly Wiggly store.  Penny's first occupied this site at some time between 1940 and June 1950. Penny's was owned by the Simon and Levine families. Its mascot was still a pig, but instead of wiggling, it saved pennies on groceries. The store featured three Speed-Eze checkout counters.
---
On June 29, 1950, Penny's opened at 6322 Minnetonka Blvd., a new bloc of stores called the (Minne) Tonka Boulevard Shopping Center at Dakota.  It was located there until a fire at the site on March 19, 1951.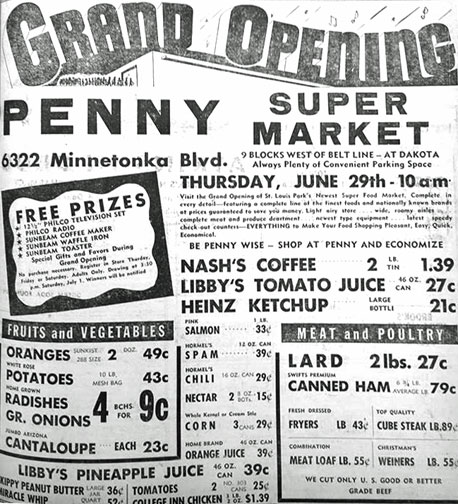 ---
From there it moved to the new Texa-Tonka Shopping Center, where it was one of the original stores, opening on November 29, 1951.

1954
---
There are many fun facts about Penny's:
The store was owned by George Levine, who lived at 3282 Kentucky Ave. 

Alternatively, the chain was owned by the Simon Brothers.

Irwin "Irv" Rubenstein (d. March 16, 2011) was the manager.

Egekvist Bakeries was inside.

"Be Penny Wise – Shop at Penny's and Economize."

The Dispatch reported that the Texa-Tonka store was planned to be the largest super market in the Park, and the first to be completely air-conditioned.

The store had "Speedy" turntable checkout counters and easy-gliding shopping carts.

The store had additional parking across Texas, which was seldom used and remains vacant to this day. 

Workers were members of the Amalgamated Meatcutters & Butcher Workmen of North America.

Minnesota Twins hero Rod Carew was a customer (and good tipper).

There were up to 12 Penny's stores in the Twin Cities.

Sam Fogel managed the meat department in the late '50s to the early '60s.

There were 25 Penny's Stores at one point, the last in Eden Prairie.

Penny's was a Little League sponsor for years.

In May 1957 Fine received approval to put an addition on the original Texa-Tonka store, adding 40 ft. to the east and 20 ft. along the front.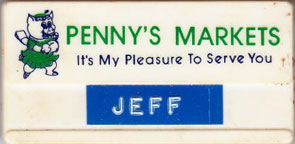 Jeff Kleinbaum's nametag, 1979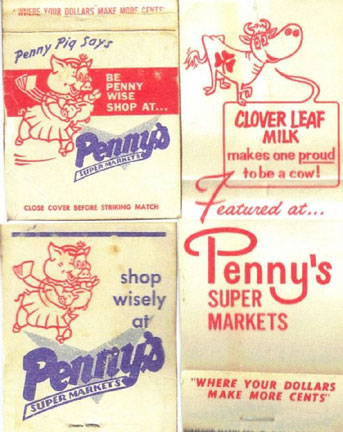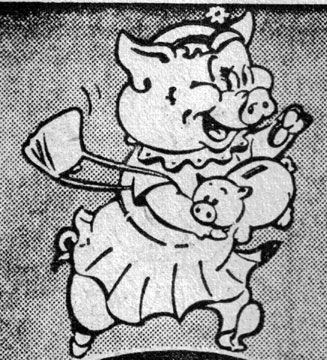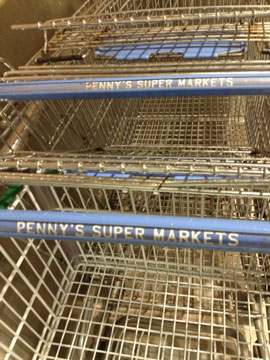 Mark Persons found these old Penny's carts being used at an apartment complex in Golden Valley, 2013
---
Penny's closed on May 23, 1981, becoming Texa Tonka Super Valu.  13 other Penny's stores became Super Valus as well.