Edward Carleton "Carl" Roberts was born in Dundee, New York on July 27, 1890 and his family moved to Minneapolis in the 1900s.  His wife Helen was born on January 26, 1895.  They married on December 1, 1917.  Edward served in the Army from 1917-1918 in France during World War I.  Upon his return they had three children:
Carleton Leigh (1919-2007)
Stanley Burroughs (1929-2009)
William F. (1923-  )
In the nineteen-teens, Carl purchased five acres of land in St. Louis Park.  It was comprised of what is now the city block bounded by 34th, 36th, Xylon, and Yukon.  Son Bill explains:  "Dad purchased the five acres because he always wanted to have a farm, and with his job in Minneapolis, this was the best of both worlds. Who would have thought that the Park would grow so fast in the '50s? As kids it was a great place to grow up with plenty of elbow room. I imagine today it might be called a 'Hobby Farm.' We always had two milking cows, raised chickens, at one time turkeys. Dad also cut hay and grew field corn for feed, and vegetables for us. He certainly enjoyed working the land in his spare time, and during the Depression we had plenty of food."
In 1920, Carl built a house at 8431 W. 35th Street, on the northeast corner of his property, facing north.  The house is still there. 
In the 1925 tornado, the Roberts' garage went flying but somehow left the car in place.  In 1936 Carl added a breakfast nook, bedroom, and bathroom.  There was a 30 ft. deep well, and Bill remembers no creosote taste.  The house wasn't connected to city water until the 1950s.
Carl was a bookkeeper/auditor for Cargill Inc. for about 40 years in downtown Minneapolis in the Grain Exchange Bldg.
The house was so far out in the country that the 1930 census listed his address as Columbus Ave., which became Texas in 1933.  Texas was four present city blocks from the house at the time.  The 1940 census listed the address as Rt. 10 W. 35th Street.  Carl sold the rest of the acreage in the 1950s.  The southern half of the block was platted as the Donnybrook Terrace 2nd Addition by Arvid Carlson in June 1950.
Son Bill graduated from St. Louis Park High School (the Central building) in 1940.  He built a house at 3517 Yukon, southwest of his father's home, in 1951 and sold it in 1960. 
Carl was a charter member of the American Legion until his death on September 28, 1967.  Helen sold the house in October 1972 and died on March 23, 1977. 
Photos of 8431 W. 35th Street from the 1930s: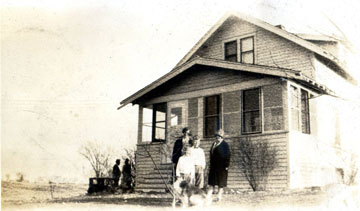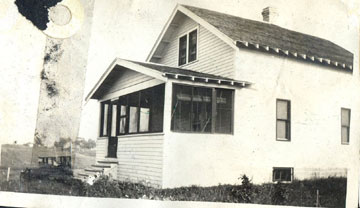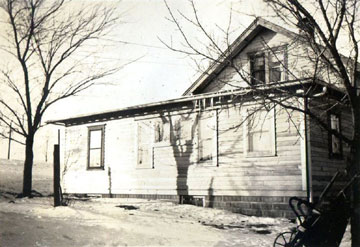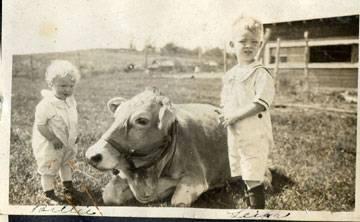 "Billie" and Leigh Roberts with Jersey cow named "Pet."