This business has been located at 7204 Minnetonka Blvd. since 1984.  The following information is from the company's website.
Staff members are:
Jeff Schloner, (Owner/Operator) was born and raised in St. Louis Park and is a graduate of St. Louis Park High School. Jeff received his degee in Opthalmic Technology and has been Board Certified since 1978. He has a special interest in operating his business here and takes pride in the fine service he and his employees provide to their customers.
Mick Weiss, (Optican/Lab Manager) is also a graduate of St. Louis Park High School and also has his diploma in Opthalmic Technology and Board Certification in 1981. His attention to detail ensures the finest quality and accuracy in the finished product.
Nancy Kallestad, (Optician/Eyewear Stylist) has served the industry since 1968 starting with the original Benson Optical. A graduate of Edina High school and the U of M, she has been with Rose Optical since 1999 and brings a fresh, feminine perspective to the team.
Dr. Alan Diamond, (Optometrist), was born and raised in St. Paul. He received his degree of Optometry in 1981 at the Pennsylvania College of Optometry and has been providing eye care at Rose Optical since 1984. Dr. Diamond provides a comprehensive eye exam and thorough eye health evaluation for patients of all ages. He offers contact lens fittings for virtually all types of refractive conditions including astigmatic and bifocal contact lenses.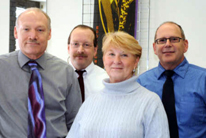 Pictured left to right Dr. Diamond, Mick Weiss, Nancy Kallestad, Jeff Schloner
---