Sewall is an old and prominent name in the history of St. Louis Park. At one time there were as many as seven Sewall families living on Goodrich Ave. Our thanks to Sewell descendant Eben W. Graves, who is working on the second volume of the Sewall genealogy, the first having been published in late 2007. Horace P. Sewall, his children and his grandchildren, will be in the second volume.
Park grad Rick Sewall has also taken on the challenge of tracing his family history.  An indication of the complexity of this task is that in the first Park directory of 1933-34, there are no less than 10 listings for Sewalls.
For more about the Sewall family, see "Something in the Water." 
In the very early 1900s, brothers Albert, Sam, Frank, and Leon, as well as their father, Horace P. Sewall (1827-1917), lived in St. Louis Park. They were sons of Horace's second wife, Sarah Jackman (1828-1905). The family moved to Minnesota from Northfield, New Hampshire.
ALBERT DEFIANCE SEWALL
Albert (1860-1931) was the first to move to Minnesota, about 1882, and he was probably in St. Louis Park about 1892. Shortly after 1900 he and his family moved to South Dakota, and before very long some of them had gone on to Medicine Hat, Alberta. Albert's parents, Horace and Sarah, came to Minnesota in the early 1890s and lived with Albert. Horace and Sarah went with Albert's family to South Dakota, where Sarah died, and Horace went to Alberta.
CHARLES ORRIN "SAM" SEWALL
Sam (born December 1861 in New Hampshire) came to Minnesota in the late 1880s.  He was originally named Charles Orrin [with a different spelling] Sewall, but in the early 1900s he starts to appear in the records as Sam. Sam seems to have moved back and forth between St. Louis Park and Minnetonka, where his children Roy and Edna were born, and maybe others. By 1905 Sam was here to stay. He earned his living as a teamster and in 1910 he was listed as a carpenter.  He lived in a house at 3690 (aka 3696) Wooddale (built in 1908), which was demolished in 2011 to make room for an expanded fire station.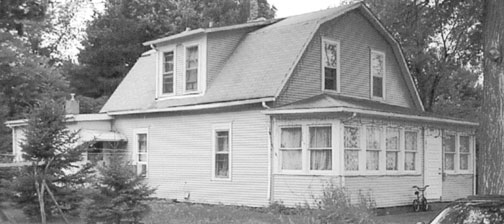 Home of Sam Sewall, 3690 Wooddale.  Photo taken in 2000.
Sam and wife Ida's (born October 1872) Children:
Charles  (see below*)

Frederick (born February 1886)

Roy  (see below**)

Melvin (janitor in 1930)

Edna Gerber (born August 1895)  In 1910, at age 13, her occupation was given as "Berry Picker."

Beulah Simpson (teacher in 1930)  Beulah was also a Berry Picker in 1910, age 11.

Evelyn Wickstrom (stenographer in 1930)
 
*Charles O. Sewall, the son of Sam, was born in March 1884.  In 1910 he worked at Monitor Drill.  In 1930 he was a steamfitter at the Creosote Plant.  The 1930 census noted that the family lived on Goodrich Ave., but did not give an address.  He married Ellen L. Johnson, from another early St. Louis Park family. Their children were Clinton H., Fern L., Kathryn A., Loren J., and Willis C. Loren was a long time employee and executive with the Park's Minnesota Rubber Co.
 
**Roy Oren Sewall, the son of Sam Sewall,  was born in January 1895, and came to St. Louis Park in 1904. In the 1910 Census he was listed as a laborer, but he graduated from Park High in 1913 with a class of 13. In school he was very active in sports.  In 1933 he lived at 4800 Vallacher (built in 1927).  In the chaos of the 1930s, when beer halls opened all along Excelsior Blvd. with the repeal of Prohibition, Roy waged a strong campaign against the profligate drinking. On that platform he was elected Mayor and served in the 1935 calendar year. He was not re-elected.  In 1951 Roy worked at the GM Stewart Lumber Company and served as the secretary of the Lumberman's Association. Roy's children were Russell L. Sewall, Grant L Sewall, and Dala Rae.  Roy died on February 17, 1973 at Park Nursing Home
FRANK L. SEWALL
Frank was born on April 6, 1866 in Northfield, New Hampshire.  He was in Minnesota by 1885 and married Katherine Vleek in 1891 – family lore is that they met working on Sam's farm.  He moved from place to place, but in 1904 he was a molder for Monitor Drill.  He died in Rochester, Minnesota in 1929.  Frank and Katherine had many children:
Daniel August (1892-1967)

Amy Victoria (1894-1962)

Effie Della (1895-

Phillip J. (1897-1965)

Catherine "Kattarina" (1899-1905)

Mary Adeline (1900-

Frank (1902-1983)

Helen M (1904-1980)

Irene Catherine (1906-1994)

David Patrick (1908-2003)

William Edward, Sr. (1912-1983)
LEON B. SEWALL
Leon was born in New Hampshire in 1869.  He lived for a while in Minnetonka [the records for all Sam and Leon seem to vary between Minnetonka Hills and Minnetonka Beach] before moving, by 1900, to St. Louis Park. Leon was a dairy farmer and built a home in Brookside near Xenwood Ave. In 1900, like many families, the Sewalls had 3 (Norwegian) boarders living with them, all who worked at Monitor Drill.  When Leon died in 1913, his wife Gertrude was left with a large family including several small children. A native of Norway, Gertrude was a practical nurse who worked with Dr. James Blake of Hopkins. Among many work experiences, she cared for patients during the 1918 flu epidemic. She was, however, forced to turn to others to help care for her own children. Friend Nellie Carlstrom helped with small daughters Dorothy and Gretchen, although the two young girls also spent some time in an orphanage. Gertrude married for a second time in 1921 and moved to Oklahoma. She returned to St. Louis Park later and lived for many years with her son (in-law?) Jack on Brunswick Ave. in "Center."
Leon Sewall and Gertrude's children were all born in Minnesota:
Ormond Leon:  born November 3, 1894

Ralph was born in 1898 and worked for Hennepin County.  Son Bob was born in a white two-story house behind the Congregational Church, which was torn down for a parking lot.  Ralph's wife died when Bob was two years old, and Bob was taken in by the Peterson family, who lived by a grocery store, ice house, and jail located east of Wooddale at Highway 7.  When the Highway was built in 1934 the property was torn down.  Bob and the Petersons then moved to a house at Goodrich and Alabama.  Mary Peterson made the meals for prisoners in the jail; Bob's uncle Earl was a policeman.  Bob was Supervisor of Buildings and Grounds for the Park school system for 25 years, retiring in 1974.  Under his watch eight schools were built. 

Gordon:  Born in 1901, worked for City, grading streets. Married Mae Forbisher; sons Donald (1922), Harvey "Red" (1926) (cook at Jennings), Duane "Duke" (1930) (Insurance). Gordon died in a car accident in February 1948 at age 47. He had been in the Seebees in both the World Wars. Gordon and Mae divorced and she married George White. She died in 1975. In about 1940-41, Gordon was burned badly in a fire and received some of the first skin grafts.

Earl:  born in 1904. He and his brothers all began to work at an early age to help support the family. He married Irene in 1923, and the couple raised seven children. In the 1930 census, the family is listed at 3300 Dakota, which would be where the High School is now.  In the 1933-35 directories they are listed at 5913 Goodrich.  By 1937 they had moved to 5912 Cambridge, where Irene lived for more than 50 years.  During at least part of the prohibition period, Earl served as police officer for the Park. Earl died at age 77. 
Warren J.:  born @1906

Dorothy:  born in 1909, married name Duel.

Gretchen Janette:  born January 13, 1912. Married William Elsessor in 1930 and moved to Texas, but Gretchen's children were born in Hennepin County.  Her children were Joanne Schulte and Sarah Sally Nelson; Nancy (Marv) Bentley of St. Cloud, and Todd.  There is some evidence that William Elsesser died in Texas.  Gretchen died on July 27, 2009 in Sauk Rapids, Minn.