Thanks to Arnie Bloomquist for the following information:
The Shotwell Company is one of the oldest business in St. Louis Park, having been founded in 1893.  Shotwell started in Fargo, North Dakota, making auto fenders, radiators, etc. by Horace J. Shotwell.  He moved to Minneapolis, near what is now Dunwoody, after the severe depression of 1893.
The freeway which runs by the east side of Dunwoody took the  Shotwell building, causing them to move to a new building at 5721 W. 36th Street in St. Louis Park in 1956.
By 1956 Shotwell had become a job shop metal fabricator making parts for others to use in their products and the Shotwell Company continues as such.
Horace Shotwell passed away in 1939 and the company was acquired by Thomas Wallace, who was Shotwell's bookkeeper.  He was the responsible person until 1972 when he passed away and the business was put up for sale.
Arnie Bloomquist acquired the assets at the end of 1973.  He proceeded to expand the business and added to the building at 5721 W. 36th Street in 1976.  Arnie's son Mike came into the business in 1987 and is now the responsible person.
The company continued to grow and outgrew the building on 36th Street.  In 1991 the building at 2200 Florida Ave. So. was acquired and occupied.  This property allowed for an addition constructed in 1998.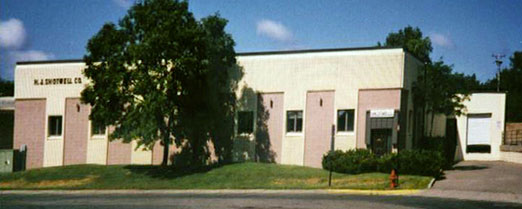 New modern equipment for metal fabricating has been added.  This includes a laser, computerized press brakes and inspection facilities.  Some of Shotwell's capabilities are laser cutting, shearing, forming, welding, machining, and providing metal finishing such as painting, plating, etc.
Now Shotwell is recognized for quality aluminum, stainless and steel parts competitively priced, of top quality and delivered in a timely manner to a host of local customers.