The Thompson Wagon Company was incorporated on July 27, 1891, with Gilbert M. Walker listed as President. George F. Thompson was relegated to Vice President and Manager; A.M. Allen was Secretary and Treasurer. T.B. Walker provided the site and the factory, a two-story L-shaped building in the Industrial Circle northeast of Lake Street.  A letter from September 1891 indicates that the business office was located at the Lumber Exchange downtown. The factory employed 200 men in 1892.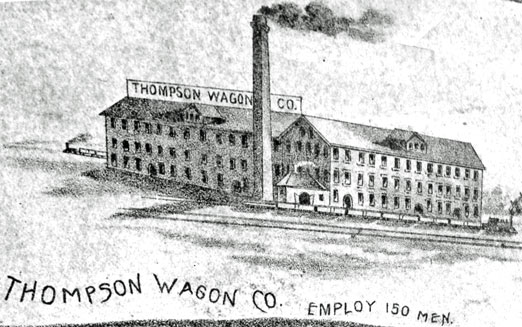 On November 2, 1898, the Thompson Wagon Company burned, with a loss of $17,000 in buildings and machinery.  The Minneapolis Tribune of November 3, 1898, noted that the factory had been Park's greatest industry, and was known nationwide for its "Climax" spring wagon.  The Panic of 1893 had closed the factory down for a time, but T.B. Walker had purchased the company and had been operating it on a small scale, employing 10 to 20 men and turning out a few hundred products a year instead of thousands.  "It was Mr. Walker's idea to keep the works running simply to prevent it from becoming a 'dead' plant, and in time to sell or lease it to a company which could devote its time and attention to it," reported the Tribune. 
This happened when the Lindsay-Greenfield Co. leased the plant for three years with an option to buy, just before the fire.  "The factory was in operation on a small scale.  Several men were at work getting the works in thorough repair, placing machinery, getting out samples of work, and in general preparing for the time when the factory should start up at its full capacity with a force of 100 men.  Several improved wagon and carriage making machines had been ordered, as well as large order placed for material of all kinds, which were expected to arrive at any time."
It is unclear whether Lindsay-Greenfield found another site or built anew on the Thompson site.