Luther M. Thomson was born in Lisbon, Ohio in 1849. In 1854, his family relocated to Owatonna, Minnesota. According to his obituary, at age 14 he ran away from home and enlisted in the Union Army, but his parents discovered his whereabouts and had him sent home.(2)  In 1871, he married Florence Jane McClelland, who was born in Pennsylvania in 1851.(3) They moved to Minneapolis, and on April 10, 1887, their only child, Gertrude, was born.(4)
According to Luther Thomson's obituary, he moved from Minneapolis to St. Louis Park and built a "prairie home" there in 1885. This, however, is inconsistent with the Minneapolis city directories, which list his residence as 3115 22nd Avenue South in both the 1885-86 and 1886-87 editions.(5) Hennepin County land transfers reflect that in December of 1890 the Thomsons purchased lots 9 and 10 of block 63 from Joseph Hamilton.(6) A house was built on lot 10, then known as the corner of Oak and Chestnut (today the corner of Cambridge and Yosemite and known as 5800 Cambridge Street).
This house appears on a circa 1892 advertisement for the Minneapolis Land and Improvement Company.(7) That advertisement touts the growth of Minneapolis and the fortunes made by early investors in that city and goes on to state:
As Minneapolis has grown,
SO WILL ST. LOUIS PARK GROW.
And in the growth and development of St. Louis Park thousands of people will have better opportunities to make fortunes than was ever offered in Minneapolis. Conservative business men believe that St. Louis Park will have a population of fifty thousand people in a few years; in fact enough business has already been established to support almost one-fifth of that number. Estimate, if you can, your profits on one or more lots, purchased now at the price of $150-$500 each and held as an investment until the population shall reach 50,000.(8)
Unfortunately, a nationwide depression in 1893 proved fatal to these rosy projections and the population of St, Louis Park has yet to reach 50,000. In 1898, the only homes on block 63 were Thomson's and a smaller home on lot 8.(9)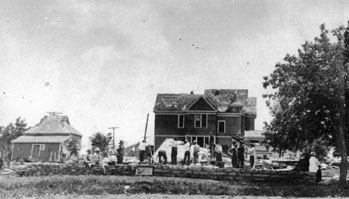 Thomson's home was damaged and the home on lot 8 was destroyed by a tornado in 1904.(10)
Luther Thomson was a charter member and elder of Union Congregational Church and was known by the nickname "Deacon." (11) By profession, Thomson was a painter, although various Minneapolis city directories also refer to him as a foreman with Minneapolis Threshing Machine Company (1897) and with Fosston W Stacker Company (1904). The 1900 Census lists his occupation as "Transfer man." In addition to his church and professional activities, the author has found references to Thomson both a justice of the peace (1890) and as treasurer of St. Louis Park (1897-1903).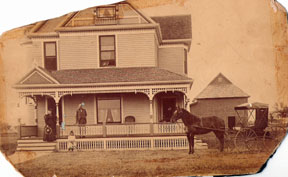 Florence died on June 5, 1925. At that time she resided in the home at Oak and Chestnut.(12) Luther died on February 13, 1939, at the home of his daughter, Gertrude.(13) He was buried in Lakewood Cemetery in Minneapolis.(14) Gertrude was married to John J. McCarthy and they resided at 5809 Goodrich, in St. Louis Park. The McCarthys owned and operated a restaurant at 5601 Wayzata Boulevard in Golden Valley known as "McCarthy's." (15) They had four sons, Keith, Graydon, Dennis and Meredith, all of whom are referred to in Don Swenson's Something in the Water, The Village of St. Louis Park, Minnesota 1945 and earlier.(16)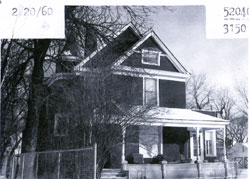 The house at 5800 Cambridge remained in the McCarthy family until 1965. (17) At some time, probably in the 1930s, it was converted into a duplex. A back stairway was added, an additional bath was built, and what may have been the original bath was converted into a kitchen for the upstairs unit.(18)
                                                                                         5800 Cambridge, 1960
Walter Wesner, who purchased the home in 1965 converted it back into a single family home and added a fireplace. (19) Walter Wesner was the owner of Richfield Paint and Wallpaper.(20) The home remained in the Wesner family until 1987 when it was purchased by the author and her husband, Richard Menzel. The Menzels replaced the front porch in 1999. (The original porch was badly damaged by the 1904 tornado and had been rebuilt some time later).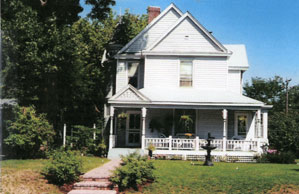 Notes:
(1) The title reflects the spelling in Mr. Thomson's obituary. His death certificate, CertID# 1939-MN-005781, spells his middle name "Mallenthan" and city directories spell his last name both as "Thomson" and "Thompson."
(2) Hennepin County Review February 16, 1939. Hereinafter "Obituary."
(3) Ibid. See also 1900 Census, Village of St. Louis Park, Hennepin County, Minnesota.
(4) FamilySearch™ U.S. Social Security Death Index. Query whether Gertrude was their biological child. Census indicates that Florence was the mother of "0" children. (The census also indicates that Florence and Luther had been married 39 years. Based on their ages and Luther's obituary, this appears to be a mistake, it should read 29 years.) See 1900 Census, Village of St. Louis Park, Hennepin County, Minnesota.
(5) See references for L.M. Thompson in Davison's Minneapolis Directory 1885-86 at page 717 and 1886-97 at page ___. These directories both list Thomson's occupation as a painter, first for Harv. Wrks and then for GH Swasey, a carriage builder.
(6) See property abstract in possession of author. Hereinafter, "Abstract."
(7) Original in the collection of the Minnesota Historical Society.
(8) Ibid.
(9) Hennepin County Plat map in the possession of the author.
(10) A photograph of the damage done by this tornado is in the collection of the St. Louis Park Historical Society.
(11) Obituary.
(12) See Abstract.
(13) See Abstract.
(14) Section ___, Lot __, grave __.
(15) In a clipping found in the collection of the Hennepin History Museum, this is described as "Prototype of the Minnesota steakhouse, complete with booming organ in the dining room."
(16) Keith is mentioned by Ted Ralles, page 214; Graydon is listed as a veteran of World War II, page 253; Dennis is remembered by both Tom Renner, page 35, and Daniel H Justad, page 178; and Meredith is mentioned by Alan Justad, page 181.
(17) Abstract.
(18) The current downstairs bath includes a small addition to the original footprint of the house.  The now unused back stairway walls contained cardboard that bore the insignia of the National Recovery Administration.
(19) Plans for this fireplace were found in the attic in 1987.
(20) Wesner obituary.
Additional information:
The Deacon's wife, Patience Jane, was a direct descendent of Benjamin Franklin.  When she died, the Deacon moved in with his daughter Gertrude, who lived at 5809 Goodrich, right behind the Cambridge house.