One notable early entry into the post-prohibition beer business was Axel's Place, also known as Axel's Tuck't Away Inn. Axel Anderson was born in 1888 in Sweden, and came to the U.S. in 1912. He and his wife Matilda married in 1917 and came to the Park in 1924. The former carpenter built his house, which was variously known as 4005 Vernon and 4008 Utica, that same year. In 1933 he built a bar on the back of his house. The building was connected to the water main in 1938 and expanded in 1940. He built the road from Vernon to Utica that is a parking lot now. Axel died on June 18, 1942 – telling is the list of his pallbearers: civic leaders Herbert Bolmgren, Andy Nelson, William Friegang, Earl Ainsworth, and George Seirup among them.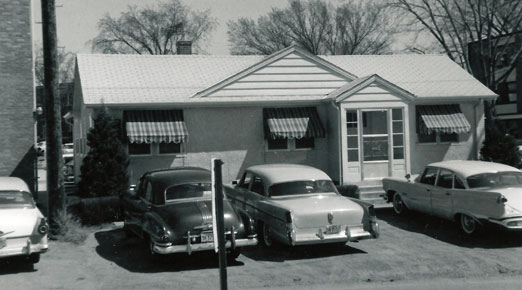 1960.  First Federal is hard left and 4012 Utica is on the right.
 The building was purchased by Dr. Walter Johnson in 1946, who later built the apartment/office building nearby at 4012 Utica. A basement was dug in 1948, and an "upper structure" was built on the one-story frame and stucco building.  In 1956, Johnson was proposing to build a three-story medical arts building on the site.
Some of Johnson's tenants include:
1947-70
1948
Minn. National Business Steel Kitchen Inc.
 1952
Patchin Appraisals, founded by George and George Patchin, Jr.
1960
Vista-Craft Co.
1960-65
Musical Mile Piano School
1964-72
Dr. H.O. Kallestad/Kallestad Labs. The lab was semi-famous for its work on anti-rejection serum and manufactured biological test kits. Kallestad took over the entire one story (wood and stucco) building.
The building was condemned in December 1972. In 1975 the City Council ordered the building demolished. At the time it belonged to neighboring First Federal. Among the problems cited was the presence of radioactive material. The site is now a parking lot between 4029 Vernon and 4012 Utica.