West Side Volkswagen was built in 1960 by Archie Walker, Jr., grandson of T.B. Walker.  Archie started the business as Imported Motors at 4317 Excelsior Blvd. in 1951.
The $200,000 dealership was designed specifically for VWs by architects Patch and Erickson. In March 1960, the Minneapolis Tribune announced the opening of Archie D. Walker, Jr. Imported Motors, selling Volkswagens and Porsches.  The initial building was 21,000 sq. ft.  The article was accompanied by the photo below.

Minnesota Historical Society
West Side was known for its revolving bug – the first one is pictured below.  The best story is how Walker commissioned Hoigaard's to make a Beatle wig for his Beetle in commemoration of their 1965 appearance in the Twin Cities (it was made of dyed mops).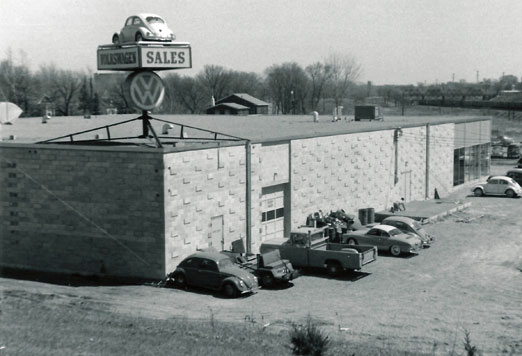 The bug was replaced with a bus, which was taken down for good in June 1971 (below) due to the company's overall modernization effort. The bus had 15 bullet holes in it, which may have had something to do with the decision. Manager Keith Berg said that he'd received several inquiries from people who wanted to buy the bullet-holed van.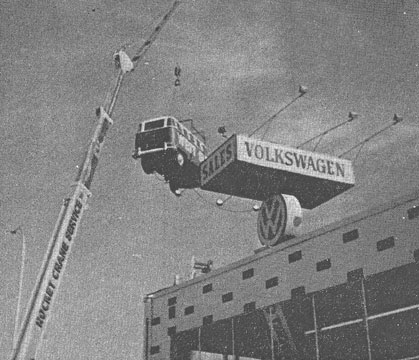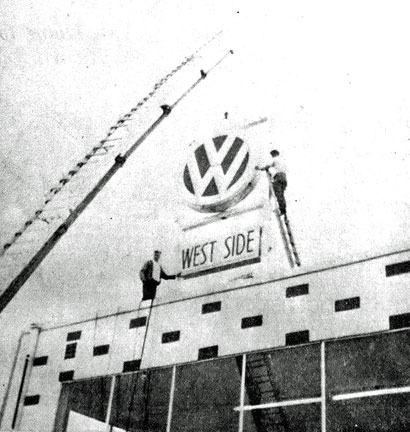 Archie sold the dealership in 1965 to start a BMW dealership at 315 E. Lake Street in Wayzata. (featuring the BMW 2002 – "perfect ladies car" – in 1970.)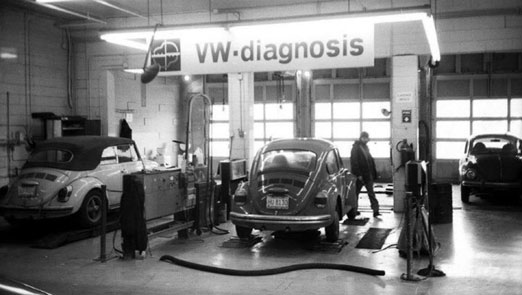 1976 (above) and 1977 (below) photos by Emory Anderson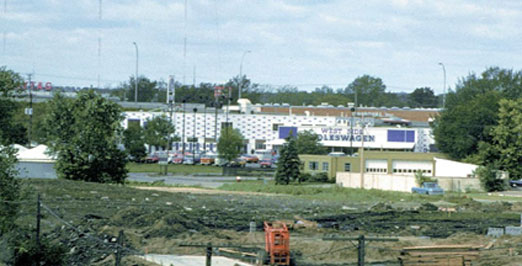 In 1993, West Side bought the former Win Stephens Buicktown site across Highway 100 and built new buildings.  Now it really is on the West Side.
---
The 1820 Quentin site became a Luther Suzuki Dealership.  In January 2006 it was purchased for $1.4 million.  The Suzuki Dealership closed in 2008.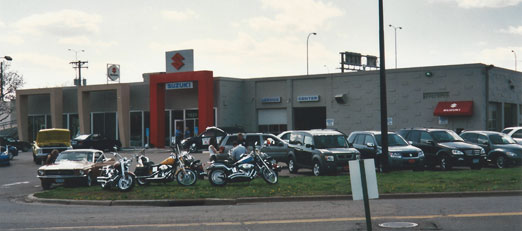 ---
In 2013 Luther Automotive opened a Fiat dealership at the site.  During the course of reconstruction the old VW logo appeared.  Photo courtesy Alan Freed: