The Women's Club of St. Louis Park was organized on April 24, 1947, with Helen Sylvester as its first President. Limited to 400 members, the club's purpose is "to unify the civic and cultural interests of its members, and to further all measures for the betterment of the community." The 31 charter members were all members of the Village's 10 garden clubs. The club was an affiliate of the Minnesota Federation of Women's clubs.
The club's motto is "Unify, Serve, Beautify." Its purpose was to unify the efforts of the women in the village toward civic betterment, sponsoring the equipment of playground sites, and development of cultural interests. Interests to be explored were literature and drama, music and fine arts, community and civic interests, public health, and gardening and flower shows.
The club's initial focus was on obtaining playground equipment. With money from fundraisers, they bought seven Army barrack stoves to heat warming houses at local skating rinks. The Women's Club raised the funds for the first ice skating warming house in the Village, at Browndale Park. The building was erected by volunteers. The Women's Club made a formal presentation of the keys to the warming house to Mayor O.B. Erickson.
In 1948, the club made a valiant effort to get a hospital in the Park, even buying 10 acres on Bryant Lake. They later threw their support to Methodist Hospital.
The club sponsored an Artist's Series in the early 1950's. One of the artists appearing at the High School was the Trapp Family Singers, nine years before they became famous through the movie "The Sound of Music."
!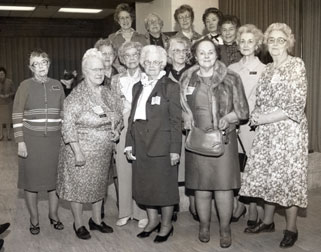 Some original members of the Women's Club at the 35th anniversary.