A notable exception from the typical small home of the postwar building boom was the Alcoa "Care Free" home, built by the Aluminum Company of America in 1957 at 8000 Westwood Hills Drive. A short article in the July 25, 1957 Dispatch indicates that the Westwood Hills Construction Co. would be building a model home that would be ready for inspection in October. There were to be 46 built around the country.  The cost was expected to be $35,000.
Another article and pictures can be found in the August 8, 1957 issue of the Dispatch. The house was designed by Charles M. Goodman and constructed to demonstrate the wonders of aluminum. It was built with post and beam construction and combines decorative and structural aluminum with oak, redwood and cypress. It has a deep purple exterior and bright blue window panels. Walls of floor to ceiling glass are used on each end of the home. A California Style is featured by the use of an open courtyard between the home and car park. There are three bedrooms, three bathrooms, and two fireplaces.
Another article on November 28, 1957 states that cost of the house was $58,000 and used 7,500 lbs. of aluminum.  That article gave the address as 2300 Texas Ave., but they were one in the same house.  The house was opened for a six-week public examination on November 24, 1957. Builders were required to hold these open houses to drive sales, but due to the high cost, only the original 46 homes were actually built.  (Thanks to Whitney Mares and Keith for clearing up the mystery of the two addresses.)
The following are pictures presumably taken in 2008-2010 as the house was put up for sale.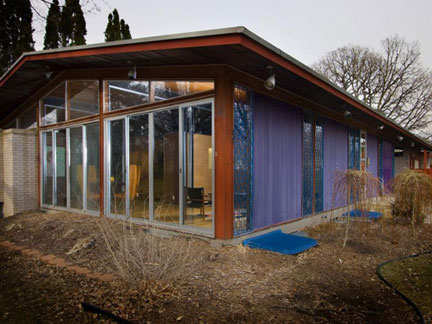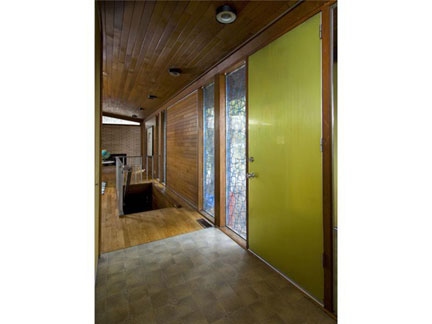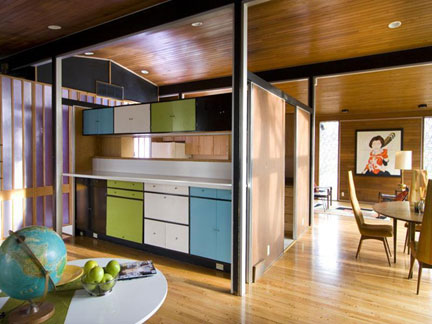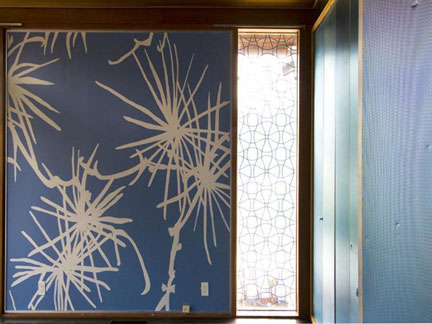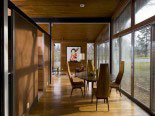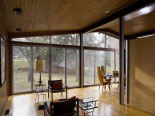 We are happy to report that the home has been purchased by Whitney Mares and Robert McChane.