Carole Banbury Shulman started figure skating when she was just two years old.  Copies of the St. Louis Park Dispatch are filled with photos of her as she performed with the Minneapolis Figure Skating Club, both as an ensemble performer and with a solo spot.  The photo below is Carole in 1959.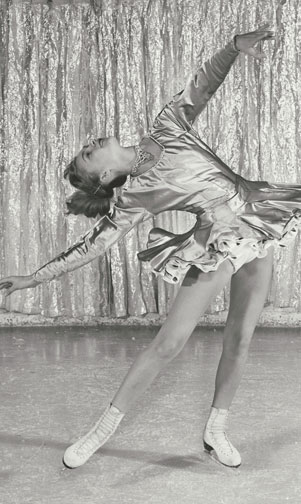 Her pre-graduation accomplishments include:
3-time champion in the Minneapolis Skate Meet
9th Place Regional Skate Champion (9 states)
4th Place in the Sectional Skate Championships (21 states)
Silver Figure and Free Skating Medalist
Silver Dance Specialist
A look at the Echowan yearbook shows that, in addition to skating, Carole was an active student.  In her Junior year she was a member of the Parkettes dance team, Canteen, Blue Tri, Pep Club, Spanish Club, and the Welcome Committee.  In her Senior year she was active in all of those in her Junior year, except that in addition she served as President of the Spanish Club, All-School Vice President of Blue Tri, and on the Activities and Student Life section of the Echowan.  Beneath her picture in the 1958 (Senior Year) Echowan reads:  "On the wings of her feet she glides through life."
In the fall of 1958 Carole went on to Colorado College, majoring in English Literature and Sociology. During her two years there she participated in figure skating, and was gold medalist in figures and free Skating, Gold Medalist in pair skating, and pre-Gold Medalist in dance. She also no doubt made it back home often, as she was chosen as Miss St. Louis Park in July 1959.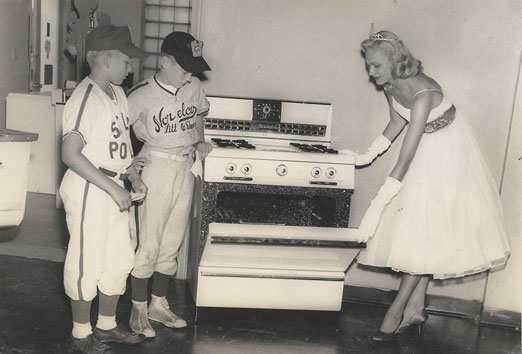 The caption in the Dispatch (from 1959) reads:  "PRETTY STOVE, PRETTY GIRL – Miss St. Louis Park, Carole Banbury, shows Little Leaguers Skip Miller and Greg Shea the gas range which will be one of 100 door prizes at a cooking school Wednesday, Sept. 16.  The school will take place at 8 p.m. at the B'Nai Abraham Synagogue next to Skippy Field on Highway 7.  The event is sponsored by the American Little League of St. Louis Park.  Tickets at $1 may be obtained at the door.  Leslie's has donated the range for the school, to be staged by the Minneapolis Gas Co.
In 1960, her last year at Colorado College, she was chosen as Miss Broadmoor, the Dispatch proudly announced.  The Broadmoor Skating Club is a figure skating club based in Colorado Springs that has long been a major training center for the sport of figure skating.  Carole reports that the Broadmoor Hotel held the contest and she entered it on a dare!
On March 11-13, 1960, Carole was invited to participate in the 22nd Annual Ice Carnival at the Golden Valley Ice Center for the Minneapolis Figure Skating Club's Annual Show.
After two years (1960-1962) as a flight attendant for Braniff Airlines Carole began her professional career, relocating to Rochester, Minnesota.
1962-1984       Skating Director and Senior Coach, Rochester Figure Skating Club
1963-1984       Director/Producer, Rochester Figure Skating Club annual ice shows
1984-2006       Executive Director, Professional Skaters Association (PSA).  The PSA provides training, education and accreditation to ice skating coaches throughout the world.  Her leadership was instrumental in bringing the association to the forefront of coaches' education.
1985-2006       Founder and Editor, Professional Skater Magazine
1989                PSA Lifetime Achievement Award
1997                Mayor's Medal of Honor Award for Cultural and Artistic Achievement
2000                Author, The Complete Book of Figure Skating
2001                Oversight of design and construction of PSA HQ and Taylor-Gebler Gallery
2001                Inducted into Rochester Sports Hall of Fame
2002                Named by International Figure Skating Magazine as one of the 25 most influential people in figure skating
2010                Inducted into PSA Coaches Hall of Fame
Carole said the induction was "unimaginable," especially because her long-time coach, Edi Scholdan, is a coach in the Hall of Fame. Scholdan was killed in the 1961 plane crash with the entire U.S. Figure Skating Team.  "That was my coach and all my skaters and friends," said Carole, who trained at the Olympic training center in Colorado Springs with Scholdan. "He is just on a pedestal way up here. To think that I'd be inducted into the Hall of Fame with him, it's just incredible."
After that plane crash, Carole took a break from figure skating for a few years. When she decided to get back into the rink, her new coach was David Shulman.  "She got on the ice and clearly was an outstanding skater," he said. "Very frankly, I found her a very attractive-looking lady. It's not bad to have to coach someone who isn't bad to look at."  And after a while, David said he knew he couldn't coach her anymore.  "I couldn't teach her anymore because I was in love with her," he said. "I had to make a choice, and that's the choice I made." A year later, they were married.  David Shulman was an attorney in private practice for over 30 years.  After he retired he worked for the Rochester Public Defenders Office for a few years to give back to the community.  He is now fully retired.  Carole and David have four children and 12 grandchildren.
Carole's Achievements include:
As an amateur, won gold medals in figures, freestyle, and pairs from the U.S. Figure Skating Association
U.S. Figure Skating triple Gold Medalist in Figures, Free Skating and Pairs
Master-Rated Coach and rating examiner in 7 disciplines of skating
Master Rating Examiner for PSA accreditation exams
Master rating in figure skating, freestyle, pairs, and group skating
Master rating in program administration and choreography
Director/Producer 14 U.S. Open Professional Skating Championships
Technical Director to professional championships held in Canada, France and Spain
World Professional Skating Championship Judge
Guest coach of skating seminars around the world including USA, Canada, Europe, Mexico, South Africa
Author of  Continuing Education courses
Technical Analyst for Dartfish video training for figure skaters.  Dartfish is a computer software video analysis of skaters to determine height, distance, and speed required to complete double, triple, and quad jumps, as well as spin rotation and footwork agility.
On September 12, 2013, Carole was being inducted into the St. Louis Park Athletic Hall of Fame with a Lifetime Achievement Award for her contributions as a competitor and as a skating teacher and mentor.
St. Louis Park is proud to be Carole Banbury Shulman's home town.