William N. and Clara Bartholomew lived at 5626 W. Lake Street in 1949. William was born on September 10, 1890 and died on May 16, 1987. Clara U. Bartholomew was born on July 14, 1890, and died on September 27, 1988.  For about 35 years, William was the head timer at national, State and area speed skating events.  He was a member of the speed skating timing committees at the U.S. Olympic trials in the 1950s.
Bill and Clara had five children:
Earl Bartholome was born on June 21, 1913. He dropped the w from the end of his name in order to avoid confusion with younger brother Ken (see below). Earl graduated from West High School in Minneapolis in 1932. He played on the high school hockey team, which won three straight city championships. He went on to play 18 seasons of professional hockey, from 1933 to 1952, first with Rochester, NY, with the AHL. The Cleveland Barons bought him in 1936 and he went to the playoffs 14 times. He played for Cleveland for ten years, and the Barons won the Calder Cup three times while he was there. He also played for the Minneapolis Millers in the 1940's. After he retired from professional hockey, he played some amateur hockey locally, and refereed and coached several teams. He worked for Insulation Sales for 30 years. In 1977 he was enshrined in the American Hockey Hall of Fame at Eveleth. He was a true competitor in softball, bowling and golf. He was an active member of Aldersgate United Methodist Church and their Open Gate Club, the Old Timers Hockey Association, C.O.R.E.S., and the Minneapolis Breakfast Club. He lived at 4140 Brunswick from 1945 until his death on January 27, 2002.
Earl married Lauretta Rice in 1932.  Lauretta, born February 28, 1911, was an athlete in her own right; she boxed with her brothers, golfed and was known as a home-run queen in the Minneapolis Park Board Softball League.  She traveled around the country as her husband's career dictated, and they settled in St. Louis Park in 1945.  Lauretta passed away on August 13, 2007 at the age of 96. 
Earl and Lauretta had 3 children:
Judith Earlette Bartholome (Park class of 1951) married Robert Lewis Burton, also a 1951 Park grad., on June 28, 1952, and he passed away November 7, 1988. Bob and Judy have four sons.

Diane Wendy Bartholome (class of 1953) married Thomas Lewis Irving @ 1957.

Terry Earl Bartholome (class of 1954) played football, basketball, but mostly hockey at Park High.  He married Patricia Ann Franks, a 1955 Park grad., on September 27, 1958.  He played hockey at the U of M and became a professional baseball player with the Detroit Tigers.  Terry passed away on April 20, 2008.
Bill and Clara's children, continued:
Vern Bartholomew (wife Bernie)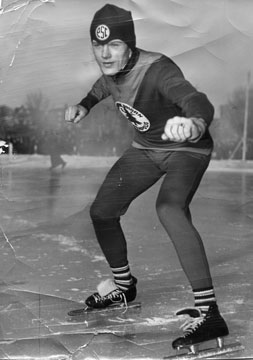 Kenneth Bartholomew (born in 1920) (wife Evelyn, 5 daughters) was an outstanding speed skater. He won 14 national speed skating titles and a silver medal in the 500-meter race at the 1948 Winter Olympics in San Moritz, Switzerland.  He is a member of the U.S. Speed Skating and Minnesota Sports Halls of Fame.  In the 1974 Senior Olympics, he won four gold medals.  He worked as a lineman and repair man for Northwestern Bell and also owned a tree service. In his later years he competed in ski jumping and golf.  A photo of Ken and other speed skaters is on the Hennepin County Library's Park Activities web page.  Ken died on October 9, 2012 at the age of 92.  See his obituary in the StarTribune.  Photo at right courtesy Hennepin County Library Special Collections.
Ardys Bartholomew Brown
Carl Bartholomew, born July 19, 1914, died October 13, 1995.  Carl competed in the roller derby in Europe and once held the world record for nonstop speed skating – 54 1/2 hours.