Many thanks to Scott Coltrane for sharing information about his Baston ancestors with us. 
The Baston family has been in St. Louis Park almost from the very beginning. Family members served the growing Village well and included many distinguished and accomplished men and women.
The story starts with Albert Harrison Baston and Elizabeth Garvey Baston, both of Maine, as so many St. Louis Park settlers were. In 1859, with two children, they left Maine and came to the territory of Minnesota, first locating in Monticello. Like many settlers they had grasshopper troubles. Albert decided to return to Maine, but was convinced to stay when he visited his brothers and sisters-in-law who had settled in and near Minneapolis. On May 16, 1860, Albert and Elizabeth bought 80 acres in St. Louis Park, west of the Pratt farm, along Excelsior Blvd. When Albert died, Elizabeth gave 20 acres to each of her children.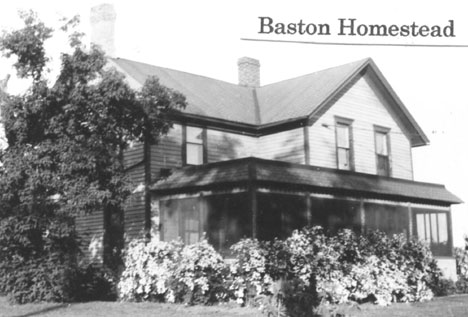 Albert and Elizabeth had four children, who each inherited 20 acres of the farm in 1886.
1. John Judson "JJ" Baston (born July 14, 1852 in Maine) married Sylvia Eudora Thomas (born 1851) in July 1875. They had six children: George Richard (born 1877), Stella (born 1879), Jennie, Clark, Sadie, LeeRoy (died at 9 weeks) and Myrtle. George worked with nephew Bert Baston at a Chevrolet dealer in Minneapolis in the 1930s. George's son Charles (Chuck) was born in 1921.
2. Charles Frederick "Fred" Baston was also born in Maine, in 1854. He married Ora Zillah [Zella] Cooper (born March 17, 1867) in November 1885. Ora's father was from Pennsylvania and came to Minneapolis in 1867.  Charles died on July 29, 1908, at age 54, leaving Ora to manage the 39-acre Baston farm. From 1885-1934, the family lived at 3805 Wooddale, north of Excelsior. That house was removed to make room for Highway 100 in 1935. From 1935 to 1947, they lived at 5220 Excelsior Blvd. This house was across from the sand pit (later the dump) in front of the water tower. From 1949 to 1961, Ora lived at 4111 Brookside Ave. Ora died on December 25, 1963, at the age of 96. 
Charles and Ora had three children:

Ethel Maud Baston was born on August 24, 1886 in St. Louis Park.

Albert Preston "Bert" Baston was born on December 3, 1894.

Edna Baston was born in 1888 and died in 1896.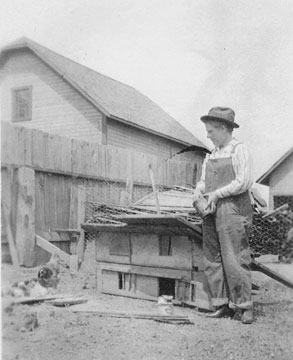 Ora Baston, photo courtesy Scott Coltrane
3. Emily Baston married Charles Rixon, her teacher from Pratt School. Emily and Charles had three children, Alice, Martha, and Howard Searle Rixon.
 
4. Sara Estelle Baston was born on August 29, 1859. She married Corwin Burnett Waddell, who lived in the house next door at 5250 Excelsior Blvd. Sara and C.B. had two daughters, Mayme Elizabeth and Harriet Ruth.