This first Jewish congregation in St. Louis Park was first known as B'nai Abraham, started in 1889 in a south Minneapolis neighborhood of Romanian emigrants.  About 40-50 families first met in the Park at local churches and the Calhoun Beach Hotel.  The congregation purchased an old house that was on the site at 3115 Ottawa Ave. and another adjacent house. As of May 1956 the houses were used for a chapel, office, and classrooms.  Eventually the congregation bought three-fourths of the block.  (The property had belonged to J.W. Hayes in 1893.)
Work was begun on the synagogue building in July 1958. The $300,000 building was designed by Ackerman and Cooperman. It was financed by the sale of the former synagogue in Minneapolis and a fundraising drive.  It was completed in March 1959 and dedicated on June 19-21, 1959. 700 people came to the dedication, including Mayor Herbert Lefler, who welcomed the congregation to the Park. The congregation consisted of 373 families and while the Minneapolis synagogue had been orthodox, the new one was conservative.  In 1960 it was advertised as "Your NEW conservative congregation serving St. Louis Park and Hopkins."
A January 1968 article in the Dispatch reported that the congregation had 550 families.
In 1971 B'nai Abraham merged with Congregation Mikro-Tifereth to become B'nai Emet.
B'nai Emet was used by the Coen Brothers as a setting for their 2009 film "A Serious Man," which also used the names of their St. Louis Park classmates and businesses.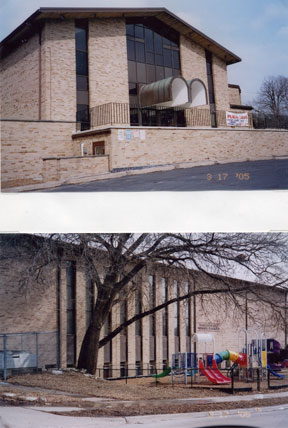 Because of the cost of maintaining the aging building and declining membership, in 2010 the congregation voted to merge with another local conservative synagogue.  On June 2, 2011, the congregation voted to merge with Adath Jeshurun Congregation, located at 10500 Hillside Lane W. in Minnetonka.  Adath Jeshurun started in 1884 and was one of the first conservative synagogues in the country.
The final weekend at B'nai Emet was June 24-26, 2011.  On April 2, 2012, the building was sold to Yeshiva of Minneapolis.