This is a woefully incomplete list of activities of the Boy Scouts in St. Louis Park.  Please contact us with more information or corrections.  Also see a memoir about the Boy Scouts of the 1940s and '50s by Ted Meland.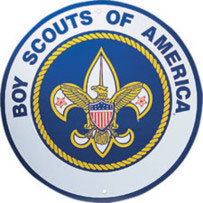 The national Boy Scouts of America was incorporated on February 8, 1910, and chartered by Congress in 1916.
Park's first Boy Scout Troop (listed below as Troop 269) was started in 1918.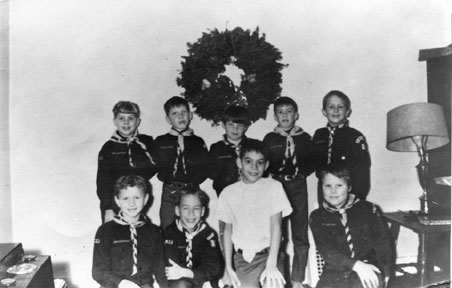 Here's a cute picture from the '60s posted by Cub Scout Kevin Bakey.  His mom was Den Mother of this Brookside den. Kevin:  "I'm in the center back row . Right of me, Bob Shoush and Bob Swanson. Steven Vann in front of me, Mark Hoskins right of him."
In 1977 Troops 379 and 282 took a memorable trip to Washington, DC.  Here are home movies of their adventures, courtesy of Brad Gilbert: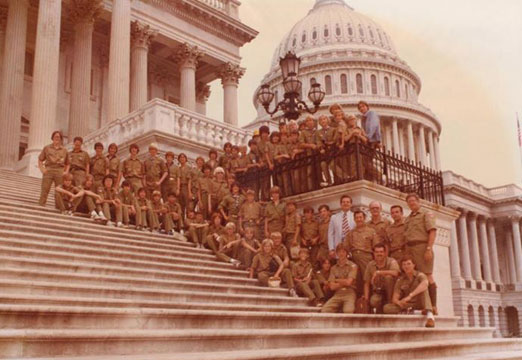 ---
LIST OF BOY SCOUT TROOPS
Below is a numerical list of the various Troops and Packs that have existed in St. Louis Park.
Boy Scout Troop 47 started in about 1924. Jake Werner was one of the men who organized the troop.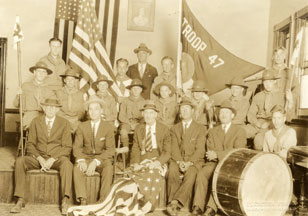 Troop 47, 1924
Troop 56, Fern Hill, led by Mr. Lundy, was in existence in 1933.
Troop 102, Brookside, had 18 members in 1932,  led by Scoutmaster A.D. Stevenson.  In 1933 it was led by Ray Merrill.
Troop 202:  American Legion (1951)
Pack 202:  In November 1950 the American Legion could no longer sponsor Pack 202, which had 101 cubs in 12 dens. The leaders prevailed upon the Brookside PTA to sponsor the troop, which would mean coming up with $43 in registration fees.  Below is a picture of Cub Scout Den 4, Brookside School Pack 202, about 1948.  Left to right:  Jim Bechtold, Steve Feltes, Jim Benderr, Pete Rogers, Greg Walsh (in back) and Keith Simons (far right).  Mascot in front was a paper mache figure made by Gordon Simons, Sr., with a uniform sewn by Delora Simons.  The mascot was used as the Den 4 flag holder for many years.  Photo courtesy Keith Simons.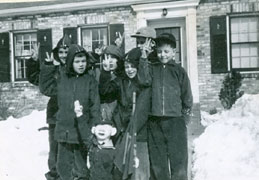 Pack and Troop 232 was chartered in 1952 and discontinued in 1975.  It was sponsored by Prince of Peace Lutheran Church.  Fred King was the first Scoutmaster of the troop.
Troop 234, Eliot, financed and sponsored by the Northside Mothers Club with the Ladies' Aid.  Leader was F. Maylone.
Troop 250 met at Aquila.
Troop 252:  Chartered in or before 1955.  Mark Toretsky's research shows that sometime between 1955 and 1960 the meeting place was changed to B'Nai Abraham Synagogue and was sponsored by the Synagogue's Men's Club.  In 1960 it had a membership of 60 boys.  In 1972 or '73 the meeting place moved to the Jewish Community Center and met on Sunday evenings.  Scoutmasters included Charlie Lazer, Al Kaufman, and Bob Elkin.  Mark writes:
Troop 252 was predominately Jewish; however, it was open to any boy who wanted to join.  We had non-Jewish boys who would start our campfires on Saturdays so we could cook our meals.  We kept kosher, which meant having to bring two patrol boxes of cooking utensils, one for dairy meals and the other for meat meals.  We always brought a Torah on camping trips and held services on Shabbat (Saturday) mornings.  Many times boys and leaders from other troops (if we were on a camporee) would stop by our campsite and observe our services.

The troop's equipment was stored in a room in the basement of the JCC.  We had to carry the equipment up a flight of steel stairs that was at an angle of 80 to 85 degrees to the floor.  This made it a little challenging when we had to carry the patrol boxes up or down from the troop room.  Troop 252 sadly and unfortunately disbanded during the summer of 1983.
Troop and Pack 256:  Fern Hill PTA.  In 1939, Clarence Furber was scoutmaster of Boy Scout Troop 256. Chuck Burnes was the assistant scoutmaster. The troop originated at Fern Hill School, and then moved to the High School on Walker Street.  The photo below is from @ 1939.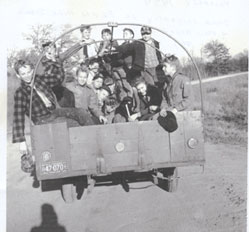 Troop 266:  An undated news item announces a new Scout Troop at Oak Hill School.  Installation of Troop 266 was held with 13 boys, with E.J. Reilly as scout master and James Lee and Robert Hammerlund as assistant scout masters.  R.N. Ruedlinger was troop committee chairman, assisted by Clarence Schmidt and Albert Lundberg.  The troop was sponsored by the Oak Hill PTA under the presidency of Oscar Erlanson.  Members of the new troop were:
Herman Freiborg

George Hammerlund

Kenneth Hammerlund

Albert Lundberg, Jr.

George Johnson

Earl Ames, Jr.

Keith Skogman

Jack Justad

James Klumpner

Glenn Stenberg

Harold Crosby

Gerald Schmidt

William Schmidt
Earl Ames kept a program (unfortunately undated) from Troop 266's 1st Annual Father and Sons Pow Wow.  The only people named on the program are Mr. Ruedlinger and D. Winton Hartman.  There is a handwritten message from "Gene," as follows:
Dear Dad:
   – Outing is 3/4 of Scouting –
No red-blooded American boy wants to stay home and read a book when he can get out in the open.  Scouting is an outdoor game.  The coming year will bring many hikes and camping trips for your son.  Help him arrange his house duties, and encourage him to earn the money, so he will be able to take part in all our outdoor activities.
A note in a January 1945 edition of the Dispatch tells us that R.N. Ruedlinger was the scoutmaster.
Pack and Troop 274:  St. Luke's Lutheran Church Men's Club
Pack 278:  Oak Hill Park Knoll PTA
Troop 279:  Christ Memorial Lutheran Men's Club
Troop 282:  Westwood Lutheran Church (1951)
Pack 282:  Lenox PTA.  Moved to Peter Hobart. Sponsored by SLP Lions Club
Pack 287:  Peace Presbyterian Church Men's Council
Troop 296:  Union Congregational Church.  In the fall of 1918, the St. Louis Park Commercial Club (J.A. Guy, President) sponsored the Village's first Boy Scout troop.  Richard Murrell made an application to Scout headquarters on November 29, 1918.  Endorsement of Murrell as scoutmaster was made by Charles A. Kilbourne, B.W. Chell, and F.H. Brummond.  This may have been Troop 296.  Original members of the troop were:
Herbert A. Peterson
Hans Nelson
Ralph Hamilton
Fritz Bradley
Warren , Harry, Charles George, and Fred Williams
Edwin and Elmer Norgard
James B. Murphy
Melvin and Earle Sewall
Francis E. Edey
Herbert Snow
Clifford Nordstrom
Wallace Brown
Robert Fuller
Donald Whalen
August and Willard Geseking
Edwin Brady
Munroe Brown
George Goodrich
Ellis Gates
Nels Peterson
Roy Blacktin
Elliot Anderson
M. S. Sorenson
Vernon Erickson
In the 1920s the Village Council was informed that Scout Troop 296 needed a project so they could earn merit.
Pack 296, also sponsored by Union Congregational Church, met in the auditorium of the Red Owl Grocery Store headquarters in Hopkins in 1948.  Bill Jaglo was the Cubmaster.
Pack and Troop 307:  Formed in November 1953 by Aldersgate Methodist Church.  In May 2012, Troop 307 graduated its 50th Eagle Scout.  The troop was formed in the 1950s and sponsored by Aldersgate Methodist Church.  On March 30, 1970, Robert Martin Peterson, who had been associated with Pack and Troop 307 starting in January 1965, resigned after admitting that he had engaged in inappropriate sexual behavior with four scouts.  No legal action was apparently taken.
Troop 329 – Wooddale Lutheran Church
Troop 331 – Park Baptist Church
Pack and Troop 341:  Holy Family Catholic Church Men's Club
Troop 343:  Eliot PTA.  In 1958-59 Dave Wilcox was the Scoutmaster and there were 21 boys.  Pack 343 was led by Earl Erickson, with 90 boys.
Pack and Troop 345:  In 1953, an extension was built to the basement of Evangelical Free Church to accommodate a scout program.
Pack 346:  Eliot PTA.  In 1958-59 the Pack leader was Earl Erickson and the Pack had 60 boys.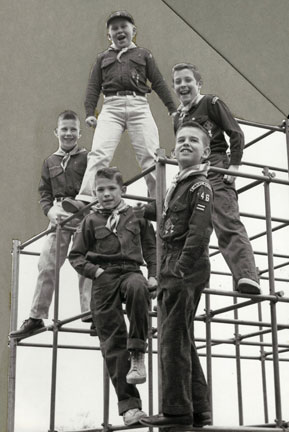 ---
Pack, Troop, and Post 369:  Westwood Lutheran Church Men's Club
Troop 379 was first sponsored by Aquila Community Education in December 1974 and then in about 1978 by the St. Louis Park Optimist's Club.  150 boys participated during the troop's tenure, and ten achieved the rank of Eagle Scout.  A person associated with Troop 379 was "expelled from the Boy Scouts of America between 1947 and January 2005 on suspicion of sexual abuse," according to the Los Angeles Times.  The newspaper reported that the case was filed in 1984.  The troop was discontinued in 1988.
Pack 383:  Chartered in April 1956, sponsored by the Ethel Baston PTA.
Pack 385:  Chartered on December 31, 1964, sponsored by the Cedar Manor PTA.
Post 501:  Benilde High School