If you have additions or corrections to this chronology, please contact us.
Village Council minutes from 1900 show that the Village paid $10 to the NLD (?) for the care of Mrs. Holt. There was also mention of an Old Ladies Home on Rye Road.  We know of no such road in St. Louis Park, but Charles Rye's farm was near what is now 28th and Joppa Ave.
The stately mansion at 4500 Minnetonka Blvd. started off its life in 1920 or 1924 as the Star of Bethlehem Home. This was probably what used to be called an "old folks' home," not a nursing home in the strict sense. In the 1950's, it was used more as a hospice. It was sold in 1964.
---
Park Nursing Home was built at 4415 W. 36-1/2 Street in 1949. A 28-bed wing was built in 1974. It is now called Park Health and Rehabilitation Center. The ad at right is from 1966.
---
On September 2, 1952 and November 26, 1954, Louise Pache of 3047 Toledo requested a permit to run a "boarding care home." Built in 1910, this is now an apartment building.
The 1952 phone book advertises Resthaven Chronic and Convalescent Home at 5124 Minnetonka Blvd.  The ad is chock full of information:  "Homes for Chronic, Convalescent & Elderly Patients… Beautiful Quiet Surroundings.. 24 hour Nursing Services…'Remembering Those That are in Bonds (Hebrews 13:3'… Louise Pache, Nurse in Charge."  Today that address is vacant land owned by St. George's Episcopal Church.
On March 4, 1957, Mary K. Harris obtained a temporary permit to operate a nursing home.
The Brookview Nursing Home, located at 6019 W. 39th (between Alabama and Brunswick) had its open house on January 18, 1959. The 16-bed facility was owned by Mr. and Mrs. Frank Barnes, who lived at 4110 Webster. The builder was Allan W. Garrison. In 1965 Barnes approached the City Council about adding 25 beds.  The facility is now called Mayfair Meadows.
The Texa-Tonka Nursing Home was built at 3201 Virginia Ave. in 1967 at a site which had been an unofficial city dump.  It initially had 126 beds. An addition brought the total up to 300 beds – the state's largest proprietary nursing home. The name was changed to St. Louis Park Plaza Health Care Center. The current bed count is 220. The name has been changed once again to the Golden Living Center.
The Texas Terrace Care Center was built at 7900 W. 28th St. in 1971.
---
Westwood Nursing Home, located at 7500 W. 22nd Street, opened its doors on August 22, 1971. It was built and managed by Brun Mawr Nursing Home, Harold Fox, President. Mrs. Shirley Desnick was its first Administrator. It was billed as the "most luxurious nursing home in the Northwest."  It later changed its name to Westwood Health Care Center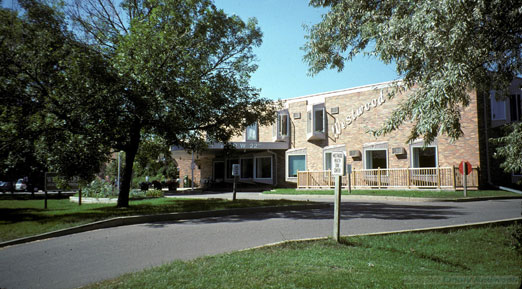 Westwood Health Care Center, 1997    Photo by Emory Anderson
In 2014 Westwood changed owners (Villa Health Care out of Skokie, IL), management, and became The Villa at St. Louis Park.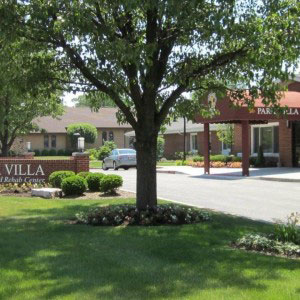 2014
---
The city's first elderly housing project was built at Nevada Ave. and Cedar Lake Road in 1975.  A 1974 article in the Sun described the groundbreaking for the $2.5 million project as the first leased housing project to be built and owned by the City.  The plan called for a four-story apartment building with 110 units and ten single-family homes to be scattered around the city.  It was designed by Hammel Green and Abrahamson, Inc., Architects and Engineers.  Developer would be the Dominium Group, Inc. and Bor-Son Construction the general contractor.  It would be owned jointly by the City and the HRA, with Leased Housing Corp. as manager.
Menorah Plaza, located at 4925 Minnetonka Blvd., was built in 1981 next to City Hall.
The Park Shores senior living campus began in 1987.  An assisted living building was built in 1998.  A new building is under construction.
Sholom Home West was built in 1991.  It is located at 3620 Phillips Parkway and is part of the Ackerberg Family Sholom West Campus of elderly housing facilities.
The Village in the Park complex includes condominiums for adults 55+.  It is located at 3600 Wooddale Ave., on the grounds of the former Minnesota Rubber plant.  It was built in 2006.
Aquila Commons was built in 2007 at 8200 W. 33rd Street.  It is St. Louis Park's first 55+ Cooperative.
---
Comfort First Assisted Living and Memory Care opened on Monday, September 1, 2014 at 7115 Wayzata Blvd.  From the Sun-Sailor:  "The business features suites, a secured memory care unit, long- and short-term care, a caregiver response system, a full-time Registered Nurse and Licensed Practical nurse staff, hospice and respite care, daily chef-prepared meals, activities and exercise, housekeeping and laundry."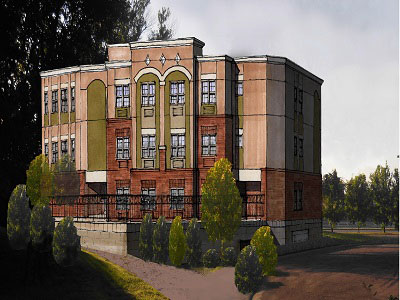 Photo from company website