The Historical Society is keeping an eye out for information on any class reunions and parties being planned.  If you have any to report, please contact us.  Thanks!
Also keep an eye on eBay for old Echowans we may be selling.
Class of 1943 has been getting together every year.
Class of 1946:  This class gets together every year.
Class of 1956 gets together every three months!
Class of 1960: Class website is www.stlouispark1960reunion.myevent.com
Class of 1962:  The Official St Louis Park Class of 1962 website is www.slp62.com.
Class of 1965:  See the class web site
---
Class of 1968:  The class geared up for their big 50th reunion on September 21 and 22, 2018.  They have a Facebook page.    Also see the video of their Class Song!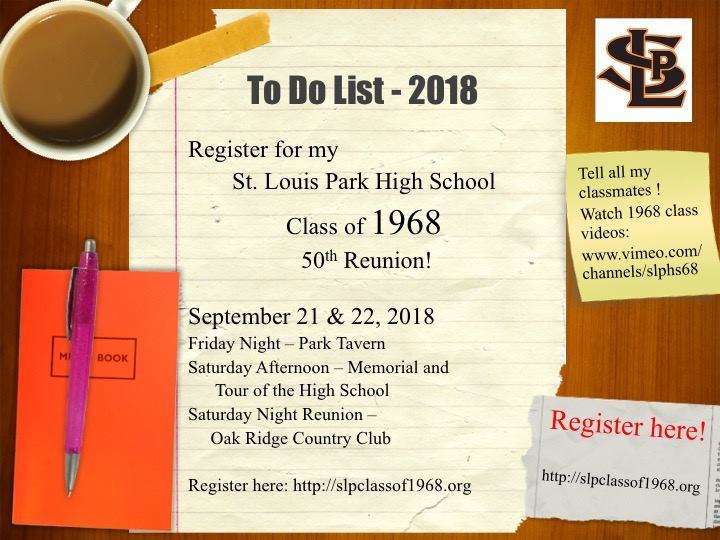 ---
Class of 1969:  From Alan Perlman:
The first Official planning meeting for our 50th Reunion, has been scheduled! ALL who wish to participate, volunteer, or simply make suggestions, are encouraged to attend.
MEETING LOCATION: PARK TAVERN
DATE: WEDNESDAY, February 21, 2018 at 6:00 p.m.
There is NO expense other than your own food and beverage!
I will also add a formal invite on FB and in Classmates.
The Facebook page is SLP – CLASS OF 1969
---
Class of 1970:  Class website is at www.slp70.com
Class of 1975: Class website is https://slp1975.wordpress.com/
Class of 1977:  The 40th Reunion was held on August 26, 2017.  See the class's Facebook page: SLP Class of 77- 40th Reunion.
Class of 1982:  The 35th Reunion was held on July 29, 2017, at the Park Tavern.
Class of 1995:  Info:  slp95reunion@gmail.com or https://www.facebook.com/groups/SLP95/

Class of 1997:  The 20th Reunion was held at Rojo Mexican Grill in St. Louis Park on August 19, 2017.  See the Class website

Save
Save
Save
Save
Save