Thanks to Mark Torestsky for his research on the tenants in this building.
This building was most likely built in 1961.  It had three businesses that faced Cedar Lake Road.  A fourth business was on the east side of the building and faced the gas station at 7200 Cedar Lake Road.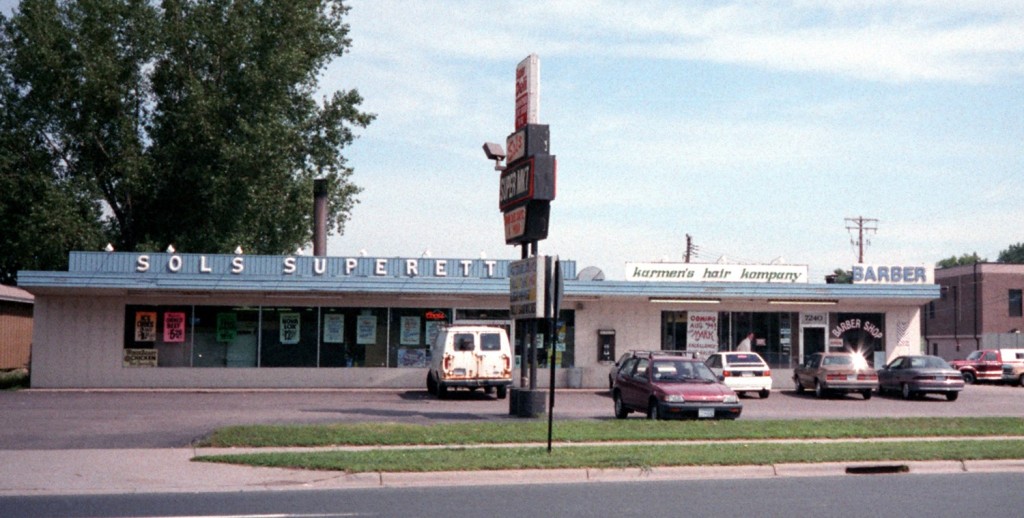 ---
SOL'S SUPERETTE
Sol's Superette occupied the western-most section of the building.  Sol was Sol Bukstein (27 October 1916 – 11 July 1994).  Sol started out with a store on Plymouth Ave. in Minneapolis and opened the St. Louis Park store in October 1961.  At the Grand Opening, customers were offered free salami while supplies lasted.  Kids loved to go to Sol's after playing baseball, softball, or ice skating for refreshments.  Sol's son Jerry worked for his father in the Minneapolis store, and ran the St. Louis Park store when he was in high school.  Several years later Sol sold the Minneapolis store and worked full time at the SLP store.  Sol's had a very loyal following, and Sol was known as "the singing grocer," according to his obituary in the Star-Tribune.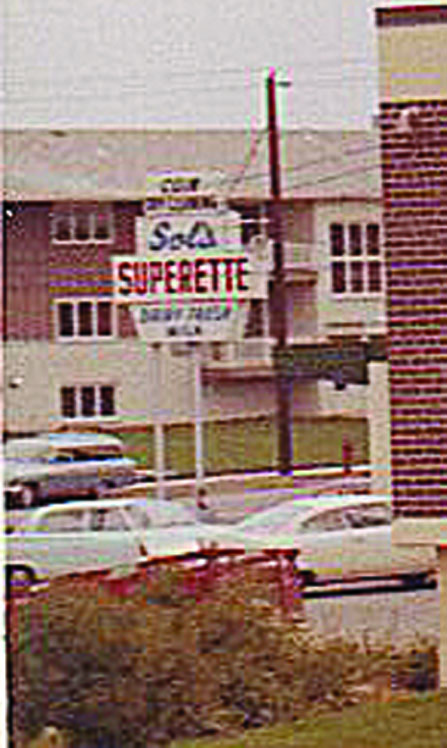 ---
In December 1990, Jeff Kleinbaum recorded messages from local merchants, wishing his parents a happy anniversary.  Fortunately, he got a great one, complete with props and a song, from Sol.  Click Here to see it!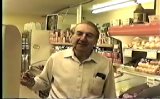 ---
Sol had his gimmicks to get folks in the door: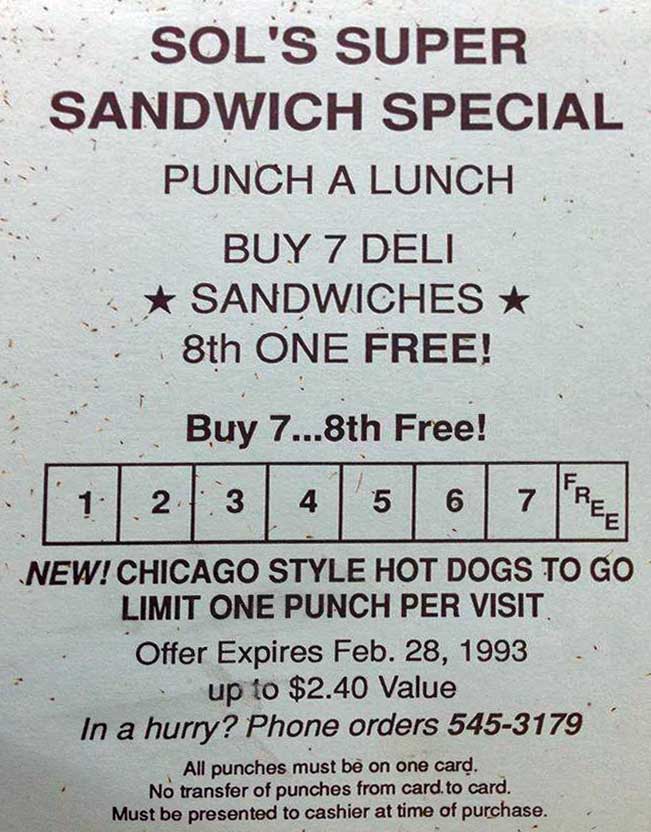 ---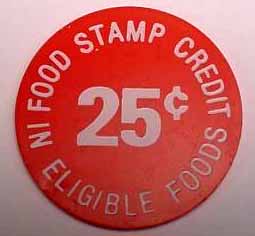 ---
Sol's son Jerry bought the store, but not the property, from his father in 1980.  When Sol died in 1994, the property passed to Sol's wife Rose.  The Sun-Sailor of January 28, 1998 reported that mother and son were estranged, and Jerry was surprised when he found that his mother had sold the building.  After 36 years, Sol's closed on December 26, 1997.    The photo at left was taken in 1994 by Emory Anderson.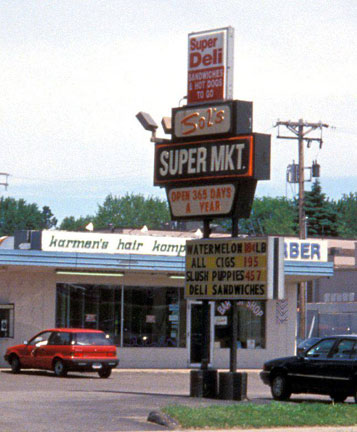 ---
HAIR SALON
East of Sol's was a storefront that was home to several hair salons through the years:
The Hairdressers:  Dec.5, 1966 to September 1978

Your Hair Company:  October 24, 1979 to 1981

Sassy Hair Design:  February 1982 to 1984

Karmen's Hair Kompany:  1984/85 to 1995

Mark of Excellence Salon:  1995 to 1997
---
BARBER SHOP
On the southeastern corner of the building was a barber shop:
Marvin's Barber Shop:  1968/69 to 1972/73

Leon's Barber Shop:  1972/73 to 1985/86

Westwood Barber Shop:  1985/86 to 1996

Duff's Barber Shop:  1996 to 1997
---
OFFICES
Behind the barber shop was an office occupied by:
State Farm Insurance agent Jim Mossler:  1968/69 to 1977/78

European Shoe Repair:  1977-78 to 1980/81

Target Plumbing Co.:  1981/82 –
---
In January 1998, the building and  the gas station next door at 7200 Cedar Lake Road were demolished and replaced with a larger gas station.
The relatively new gas station was demolished and a Walgreen's Drug Store was built at the site in 2008.  A Little Caesar's Pizza opened in the spring of 2010.
---