Driving ranges seemed to have come and gone in St. Louis Park, and your help is needed to fill in the information and stories surrounding them; please contact us!
JIMMY LENTZ'S DRIVING TEES

Jimmy Lentz was a PGA golfer, and he opened Jimmy's Driving Tees at 6200 Excelsior Blvd., in May 1934.  It was located between Brunswick and Dakota, south of the tracks, just east of present-day Methodist Hospital. (In 1931 this was called Interlinks Driving Tees.) The site featured driving tees on high ground near the Boulevard, with the range on lower ground reaching north to the tracks. The driving range was lit at night, creating an exciting atmosphere. Neighborhood boys would collect golf balls and sell them to men in cars heading towards Edina to make some spending money.
Cedric Adams of the Minneapolis Star turned his attention to Jimmy's operation on July 1, 1938:
Ingenuity expresses itself uniquely out at Jimmy Lentz's driving tee in Brookside just beyond the El Patio.  Jimmy for years as a golf pro battled mosquitos and heat waves, so finally he's rigged up a death blow to both of them.  And now he has what he calls an air-conditioned driving tee and it actually is just that.  The gadget consists of a sort of threshing machine blower that creates the strong draft of air.  He pipes this pair on top of the ground in back of each driving tee.  Te air comes out of small holes at the rear of each driver with just enough of the cooling blasts directed at the ankles, hand and head of the golfer to give comfort, to stave off the insects, and still give the golfer plenty of poise for his shots.   Jimmy says it's the only air-conditioned tee west of Chicago.
The facility was also used for air shows in the '30s. For a week each summer the field was used for an air show by traveling pilots who offered rides to brave locals. One summer a pilot had a near miss; the plane was coming from the south when a wheel hit the chimney of the Seirup house (Excelsior and Brunswick) and knocked off some bricks.
In 1939, Lentz operated another driving range at 6400 Minnetonka Blvd., and in 1947 he had a place north of Highway 7, west of Texas.
---
TOMMY BOLT SCHOOL OF GOLF
A matchbook tells the tale: Tommy Bolt won the U.S. Open in 1958, and sometime afterwards (January 1960) opened his own golf school at 7600 Highway 7 in St. Louis Park. The school offered private lessons, unlimited supervised practice, movie analysis of golf swing, admission to all celebrity appearances, regular progress reports and swing analysis, social activities and movies, real golf balls and regulation clubs, sand trap, putting clock and driving range, and completely air conditioned classrooms.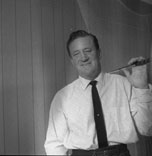 Tommy Bolt had a reputation for losing his temper on the golf course. One of his famous quotes is: "If you are going to throw a club, it is important to throw it ahead of you, down the fairway, so you don't have to waste energy going back to pick it up." Another is "Never break your putter and your driver in the same round or you're dead." Yet another Bolt anecdote: During one tournament, Tommy lipped out six consecutive putts. "Why don't you come down here," he shouted, shaking his fist at the sky, "and fight like a man!"
We find two books written by "Terrible Tommy": How to Keep Your Temper on the Golf Course (1969) and The Whole Truth: Inside Big-Time, Big-Money Golf (1971). How he ended up in Minnesota is a mystery, as he's from Oklahoma.
---
PARK GOLF CENTER AND MINIATURE GOLF

On June 3, 1963, James W. Anderson was approved to open a mini-golf course and driving range at 3815 Wooddale, on the east side of Highway 100.  The Park Golf Center and Miniature Golf operated until expansion of Highway 100 took the land in 1967.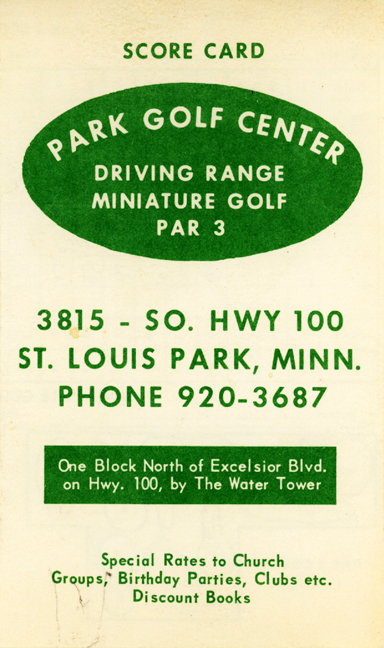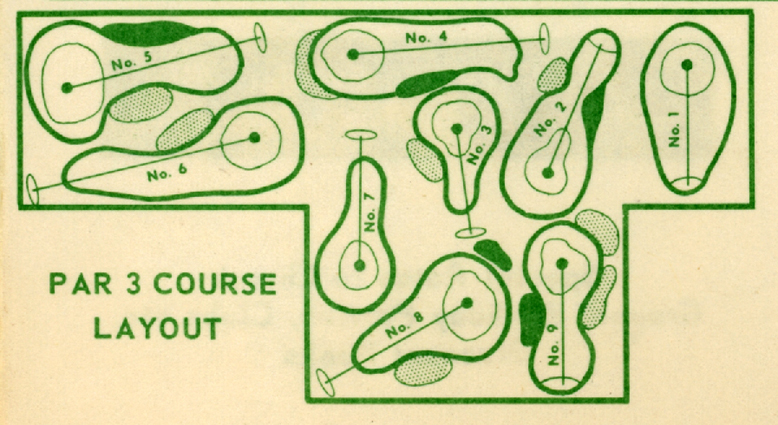 ---
PAT SAWYER DRIVING RANGE
The land at 3891/95 Wooddale, on the east side of Highway 100, was owned by Nick Phillips, who owned Lilac Way Shopping Center.  In 1955, Pat Sawyer received a one-year permit to operate a driving range.  On October 3, 1955, the City Council approved the placing of a Post Office where the driving range was. The Post Office opened in March 1956.
---
MINI-GOLF
Mr. Edey ran a mini-golf operation at Huntington and Lake Street in 1948.
Hugh McElroy Co. ran a mini-golf course on the north side of Excelsior at Princeton, also in 1948.