St. Louis Park was known more for its bars than drugs, but there were some problems, especially in the 1970s.  Also see Liquor in the Park.
---
1860
Cocaine was first synthesized in 1860 by German chemist Albert Nieman.  It would become the world's third scourge behind alcohol and opium.  It appeared in the US in 1863 as an additive in wine and was endorsed by such figures as Thomas Edison, Mark Twain, and the Pope.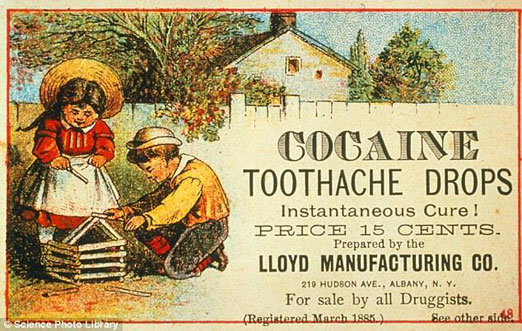 ---
1886
On May 8, 1886, a pharmacist named Dr. John Pemberton carried a jug of Coca-Cola® syrup to Jacobs' Pharmacy in downtown Atlanta, where it was mixed with carbonated water and sold for five cents a glass.  Pemberton created the cocaine-laced concoction to treat his morphine addiction.  It was found to provide drinkers with energy, cure headaches, a treat hay fever.  By 1890 it was everywhere, famously used by the fictional Sherlock Holmes and real life baseball players.  Sigmund Freud called it a "magical substance" and was mightily disappointed when it was proven that it did not actually cure morphine addiction.
---
1900
In 1900 patent medicines with cocaine as their active ingredient were legal and everywhere.  An estimate 5 percent of the population was addicted, with a large proportion being rural white women.  Cocaine was provided to black dockworkers to improve productivity.
---
1906
The Food and Drug Act of 1906 required that manufacturers label their products.  It did not make any drugs illegal, but the law put patent medicine makers out of business and Coca-Cola dropped cocaine from its recipe.
---
1914
The Harrison Tax Act of 1914 sought to control the prescribing power of doctors.  Opium, morphine, and heroin could still be prescribed, but could not be purchased over the counter.
---
1919
In 1919 the US Supreme Court ruled that drug or alcohol addiction was not a disease, and doctors could not prescribe drugs to maintain an addict, thus creating a black market.  The Federal Narcotics Bureau was created.  The Hollywood set had cocaine parties (called Snowballs) in the 1920s, but illegal use disappeared during the Depression.
---
1926
As far back as 1926 there was a local ordinance against "adulterated cigarettes," ie. those with something other than tobacco.
---
1931
The Lincoln School PTA of 1931 heard a program by a Mr. LaGuardia on "Narcotics and Drugs."
---
1932
An interesting ad for Smith Bros. cough syrup from 1932 asks:  "Why risk dope?"  The product "contains no dope, morphine, opium, narcotics, ether, or chloroform."  Yikes.
---
1960
In 1960 there were 12 narcotic law violations in the Twin Cities area.  In 1961 there were none.  In 1967, there were 56 narcotic law violations in the metro area.  In 1968, there were over 65 violations; most were in Hennepin County.
1962
In November 1962 Park doctor Reinald G. Johnson was appointed Hennepin County Coroner when his predecessor, Russell R. Heim was convicted of 229 violations of Federal narcotics laws.
---
1964
The drug epidemic may have started in November 1964 with glue sniffing.
---
1965
On February 4, 1965, it was reported that at least 25-30 Park residents were using narcotics, including codeine, pep pills, glue, and goof balls.  The City Council put Gene Strommen in charge of a council committee on narcotics.
In May 1965 three 18-year-olds were arrested with $4,000-$5,000 in narcotics that had been taken from the St. Louis Park Medical Center. The take of two dozen bottles of pills and liquids included morphine, codeine, and opium.  A policeman found them standing in a field near 36th Street, tearing off labels.  One suspect, William Cushing Moore, was on probation and had recently been released from Willmar State Hospital for narcotics addiction and was turned over to the Youth Conservation Commission. The other two were released to their parents.  A photo of the "chilling array" of narcotics, including a knife and syringe, appeared in the St. Louis Park Dispatch on May 6, 1965.  Moore died in 1977.
In June 1965 the Citizen Subcommittee on Narcotics stated that 50 St. Louis Park citizens have been connected with narcotics abuse in one form or another. Of those, eight were identified as addicted, heavy users, and 15 were under age 18, including three girls. They stated "every addict brings in three victims in a period of 1-1/2 to 2 years." One problem was that codeine was still over-the-counter. Assistant High School Principal Andrew Droen said that he found no evidence of narcotics abuse at school.
---
In July 1965 the City Council passed three ordinances in response to the growing drug problem.  Minneapolis had such an ordinance – Park was the second jurisdiction in the area to follow suit:
An ordinance to regulate the possession and purpose or delivery of barbiturates and other prohibited drugs;
An ordinance regulating codeine cough syrup, glue sniffing, "pep pills," and barbituates; and
An ordinance prohibiting the inhaling, breathing, or drinking of certain substances commonly known as glue, and regulating the purchase, sale, and possession thereof.
---
St. Louis Park Forum, August 1965:
Narcotics Committee to Help Spot Users
Symptoms for parents to watch for as a sign that their teen-agers maybe using narcotics will be presented in a concentrated education campaign by the city narcotics committee this fall.
Press publicity and other means will be  used by the committee, according to chairman James Heltzer, in an effort to show the dangers and the means available for helping possible early users.
Meanwhile, the committee has expressed concern that neighboring suburbs should also start working on the problem.  "This is an issue that doesn't stop at the borders of Minneapolis but affects all suburbs," Heltzer said.
---
By December 1965, narcotics thefts from pharmacies had doubled in the past three months. At that time, narcotics were not locked up behind the counter.
---
1966
In 1966, Brookside Drug was robbed of narcotics in January by David Michael Kluck a/k/a David Espejo. He robbed pharmacist James S. Straun with a nickel-plated handgun, demanding all of the Class A and B narcotics. He was later found, shaking, and gave himself up.
---
1967
An editorial in the October 25, 1967 Echo discussed "Ethical Question Involves Drugs" and gave a general discussion of the pros and cons of drugs, specifically marijuana.  Apparently the students found it necessary to explain that marijuana was also known as pot or grass.
---
1968
An article in the January 17, 1968 Echo:  "'Pot' Laws Called Archaic, Images Reflected Wrongly."
President Johnson created the Reorganization Plan of 1968 which merged the Bureau of Narcotics and the Bureau of Drug Abuse to form the Bureau of Narcotics and Dangerous Drugs within the Department of Justice.
---
1969
An apparently unattributed quote in the February 6, 1969 Sun said that "the narcotic problem centered around the area on the near north side – the minority area.  In the past decade it spread to Cedar-Riverside – the West Bank.  In the past few years, this area has widened considerably, taking in a lot more territory."  Marijuana was apparently lumped in with the narcotics, and was by far the worst offender.  The city Juvenile Officer and the Principal downplayed the prevalence of drugs in St. Louis Park.  Other than a few cases of kids hopped up on goofballs, they weren't alarmed.
Informational films were shown to groups of concerned parents and their kids.  The film on pot featured Sonny Bono.  The usual warning that pot leads to stronger drugs was given by addicts at a rehabilitation center.  Another film was about LSD, and parents and kids were warned about "brain wave abnormalities and damage to human chromosomes."
In March 1969, Echo student reporter Gayle Dorfman interviewed Mayor Leonard J. Thiel, and asked him if he thought there was a "narcotic-drug problem in St. Louis Park, and if so, how severe?  His response:
My experience dates back to a committee I headed about three years ago.  We tried to determine if there was a problem.  At that time it was our opinion there was no serious problem.  We supported some legislation on this business of glue sniffing and the sale of cough syrup, mainly because we were led to believe that these sort of things lead to the use of drugs of other various types.  But, like I say, nothing has come to my attention as of … today.
In May 1969 the Youth Emergency Service (YES) was organized by Ken Beitler, a student at the United Theological Seminary in New Brighton.  Located on the West Bank, it was a phone resource catering to and run by young people.  Youth aged 15 to 30 could call from 2 pm to 2 am every day, asking questions about drugs, birth control, legal problems, and giving referrals to social services.  YES was a joint project of Young Adult Centers, Inc. and the West Bank Campus Ministry (WBCM) of the Uof M.  YACI was an interfaith group of clergy and businessmen who provided funding for young adult projects in South Minneapolis and Cedar-Riverside.  WBCM was a loosely-organized group of nine denominations at the U serving Cedar-Riverside.  The September 10, 1969, Echo reported that YES handled over 1,000 calls each month.
An editorial in the November 19, 1969, Echo stated "Drugs have become the stimulant of the day, much the same way that liquor was the 'thing of the twenties,' but in all probability, one stimulant or depressant is all a society can stand."  It talked about a program to end abuse in Wakefield, Mass., saying "St. Louis Park has a similar situation.  Perhaps it is not to Wakefield's extent, but then maybe it is."
The Give and Take Help Center, at 7 Excelsior Ave. in Hopkins, was the closest crisis intervention, referral and counseling center to the Park.  School counselors often referred students to the center, which served about 100 people per month.
---
1970
Charles Heinecke of the Minneapolis Health Department and Dick Setter of the St. Louis Park Police Department spoke about "Current Concerns in Drug Use and Abuse" to the PTA at a symposium on February 3, 1970.  Included was a film strip, "Marijuana."  Many reasons were given for drug use in young people, although overall arrests for narcotics decreased two percent in the Park in 1969 according to Setter.
An editorial in the May 1, 1970, Westwood Westwinds warned that speed kills.  The warning was reprinted from Metropolitan Life.
Pharm House I was created in the summer of 1970 on the West Bank to help those dealing with chemical dependency.  At one time they performed analysis of street drugs for the Minneapolis Health Department, but cut back for fear of doing quality control for pushers.  Pharm House II was an in-patient residential facility in Dinkytown.  Pharm House I handled between 500-800 phone calls per month.
---
1971
In 1971 President Nixon declared a War on Drugs, in response to the alarming use of heroin by Viet Nam vets.
During the 1971-72 school year the Lockheed Drug Decision Program was presented to seven 6th grade classes.  Although the program was well received, it was deemed too expensive to continue.
---
1972
In 1972 Brookside Drug was robbed of three bottles of codeine and six bottles of morphine. Owner Nate Goldstone was robbed at gunpoint, and said that the bandit didn't want money, just "dope."
---
1973
In 1973 the Drug Enforcement Administration was created to replace the Bureau of Narcotics and Dangerous Drugs.
In a January 17, 1973, article in the Echo, SLP Police Sergeant Bruce Aplin was quoted:
St. Louis Park has less (of a drug problem) than Minneapolis and less than suburbs of comparable size…  Probably the big fad is over.    I firmly believe we have an awful lot of talk on the use of marijuana… A lot of what is being smoked is probably catnip or ragweed.
This was compared to the remarks of a Park High senior, who said:
I believe to live in the world today, to cope with St. Louis Park, Minnesota where I have lived for 17 years, that it is a necessity to get high.
---
1974
In 1974 a raid of the home of James Charles and Sandra Lee Kraft (2904 Rhode Island) yielded 11lbs. of marijuana and ¼ oz. of pure Mexican heroin. Kraft had been arrested at Minnetonka Blvd. and Dakota, and Mrs. Kraft let the police in the house. Also confiscated were two sets of scales, baggies, two rifles, a shotgun, and a pistol.
---
1976
A May 27, 1976, Echo editorial reported that 134 students self-reported that they were chemically dependent.  Language arts teacher Dean Berry and Westwood nurse Joan Goering chaired a committed to adapt a chemical dependency program to the needs of the Park.  The committee submitted its report to the School Board on April 30, requesting funds for the program.  15 students were either in treatment or recent discharged; a support group of 8 to 10 students currently out of treatment met every Monday.
---
1977
In 1977, after an 11 month investigation, 11 people were arrested after making drug sales to agents of the Minnesota Bureau of Criminal Investigation in St. Louis Park. The perpetrators, which included 3 juveniles, were accused of the sale of LSD, cocaine, marijuana, hashish, and PCP. They were arrested in May after a raid on a house in Minneapolis. The confiscated drugs, which included a 23 lb. cube of marijuana, had a street value of $35,000. Sentencing was deferred for one year.
---
1978
In January 1978, 25 arrests were made in a 7 month drug investigation, which also involved armed robbery and fencing stolen property. Drugs found included marijuana, cocaine, angel dust, speed, and methamphetamine. Relatives of those arrested made complaints of police harassment.
Students caught with drugs at Park High at the end of 1978 were not turned over to the police but were dealt with by the Assistant Principal.
---
1979
A five-month investigation resulted in the arrest of 14 people on drug-related charges in late May/early June 1979. Most of the perpetrators were from outside of St. Louis Park, but had plied their wares here. Seized were marijuana, cocaine, PCP, hashish, meth, and LSD – $46,000 worth in all. One of the kids arrested was "the biggest dealer of chemicals at St. Louis Park High School."
On September 24, 1979, the school board authorized a new position to deal with chemical dependency.  The new employee would work full time throughout the district as a resource to existing programs and staff members, make referrals, and be responsible for parent education and awareness programs.  Previously, the program was manned by existing staff members on a volunteer basis.
---
1980
At the beginning of 1980 the school board hired Chemical Dependency worker Mary Ellen Harris to help deal with the drug use at the high school.
---
1983
Four men were arrested on August 6, 1983 at the K-Mart (formerly Shoppers' City) parking lot at 3700 Highway 100. Over $31,000 in cash and 140 pounds of marijuana were seized. None of the men were from St. Louis Park.
Police busted the folks at 1805 Idaho Ave. in September 1983 and harvested their marijuana for them. Some of the plants were 7 feet high. "The amount will not be known until the police department dries and weighs the plants." UhHuh. The paper provided a picture of a police van filled with reefer.
---
1984
In 1984 FBI agents confiscated more than 12 pounds of heroin – originating in Bangkok – from a footstool in a Cadillac at an Amoco Station on Wayzata Blvd. The heroin was found to be 90 percent pure, with an estimated street value of $50 million. The heroin was contained in an elephant-shaped footstool which came to the Cities by rail. It was then kept in a storage facility on the 6300 block of Cambridge Street. Park officers kept an eye on it while one of the suspects put the footstool in a Cadillac and parked it at an Amoco station at 7005 Wayzata Blvd. On June 19 the officers searched the car and found the footstool. One of the suspects was a 26-year-old Park resident.
---
1992
In 1992 police confiscated 50 pounds of marijuana from the folks at 3720 Quebec and from a storage locker on Louisiana Ave. They also took $1,500 in cash, a 1990 Harley Davidson motorcycle, and a Thompson semi-automatic machine gun. Raymond Earl Bennett was arrested.
---
1995
The Northwest Metro Drug Task Force carried out one of the largest drug busts in Twin Cities history on May 30, 1995. Cops seized 659 pounds of marijuana, a pound and a half of pure cocaine, and a pound of meth from an apartment at 6850 Meadowbrook and two storage facilities, one in St. Louis Park and one in Minnetonka.
---
2013
In 2013 the St. Louis Park City Council voted to outlaw drug paraphernalia, which  had been showing up at the Yesmart at Texa Tonka Shopping Center.
On Sept. 10, 2013, a 24-year-old man was found dead in a home on the 2400 block of Nevada Avenue. The medical examiner ruled the man died from a drug overdose.
In 2013, 56 people died from heroin overdoses in Hennepin County.
Source of info on cocaine:  "Hooked:  Illegal Drugs – Cocaine" History Channel 2000