LYNN DWYER
Donald Lynn Dwyer, better known to Twin Cities kids as Roundhouse Rodney, was born in Pittsburgh on November 22, 1927. He earned a degree in theater from the University of Pittsburgh, where he met his future wife Marion Hibbard in 1949. He skated with the Ice Capades from 1950 to 1954 – Dwyer was described as an "acrobat" on ice, and performed on the Ed Sullivan Show with the troupe. In 1952 he married Marion, and they skated together in the Ice Capades until 1954. Marion was from Duluth, which contributed to their decision to move to Minnesota. They first lived in St. Louis Park when they came in 1954, and moved to Edina in 1956.  He famously built a "round house" in Minnetonka.
Once in the Twin Cities, Lynn attended Macalester College, where he earned an education degree with a minor in English, all while working part time as a floor manager at WTCN-TV.  Dwyer would occasionally lip synch to comedy records on the Jack Thayer Show.
---
NOONTIME EXPRESS
In 1954 the station first aired a program called "Noon-Time Express," with Roger Awsumb as Railroad Engineer Casey Jones. When Casey's original sidekick, "Joe the Cook," moved to Seattle in 1959, Lynn Dwyer was hired to play Roundhouse Rodney. (The name Roundhouse Rodney was first used by Don Doty in a previous visit to Casey's show.)
As Roundhouse, Dwyer was a huge hit with the kids. He was just over 5 feet tall, with a trademark pixie felt hat that was made by shaping it around the end of a football. (In 1966, when the show went to color, we found out that his hat was green.)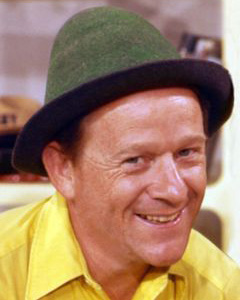 He told hundreds of jokes: knock-knock jokes with Casey, elephant jokes, and anything else that would make a youngster laugh. Dwyer, Awsumb, and Director Al DeRusha teamed to create over a decade of silliness, with their skits and songs and slapstick. These included Tarzan, the Count, Superman, a wigged out weatherman, a daffy sportscaster, Lippy Lois, and of course there was Roundhouse in drag in the "I Love Onions" skit.  His impersonation of Jimmy Durante was dead-on, and Durante told him so when he paid a visit. Once the camera was turned around, the furniture was nailed to the ceiling, and Casey and Roundhouse were stuck on the ceiling!  And on Halloween, Roundhouse was shrunk and had to live in a pumpkin.
---
OSWALD
One of the most memorable was the "Oswald" character, who was made from a little paint on Roundhouse's upside-down chin. Kids and their parents recreated the stunt in their homes, but nobody could duplicate the hilarity of Roundhouse's Oswald. He was so bizarre that some kids were actually afraid of Oswald.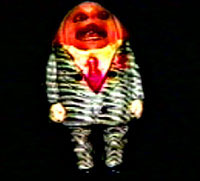 It turns out that Oswald actually was a product of Walter Winchell, and could be bought in stores.  But it took Roundhouse to make him his own.
---
GRANDMA LUMPIT
ABC took over WTCN's daytime schedule in 1960 and "Noontime Express" was dropped, but in response to irate letters, a new show was created to be broadcast after school. That show was called "Grandma Lumpit's Boarding House." Roundhouse played Grandma ("If you don't like it, lump it!") who, according to the story line, ran the boarding house where Casey and Roundhouse lived. Dwyer described the character as "a swinger, just like today's modern grandmas." Reportedly Grandma Lumpit only served beans.
---
LUNCH WITH CASEY
In April 1961 the station lost its ABC affiliation and became independent. (From 1964 to 1971 it was "A Chris-Craft Station." Us kids had no idea what that meant.) The noontime show was back in business, now titled "Lunch With Casey." The afternoon show stayed on, as did a new morning show, "Wake up with Casey and Roundhouse." There also was an hour-long "Lunch With Casey" on Saturdays in 1962-65 (probably longer), followed by a half hour "Roundhouse Rodney" show at 1:00 pm.  Roundhouse's show aired from at least September 8, 1962 to at least April 17, 1965.  Awsumb estimated that he and Dwyer did 8,000 TV shows together.
A two-part article on Dwyer was featured in the April 13 and April 20 issues of TV Times magazine in 1963.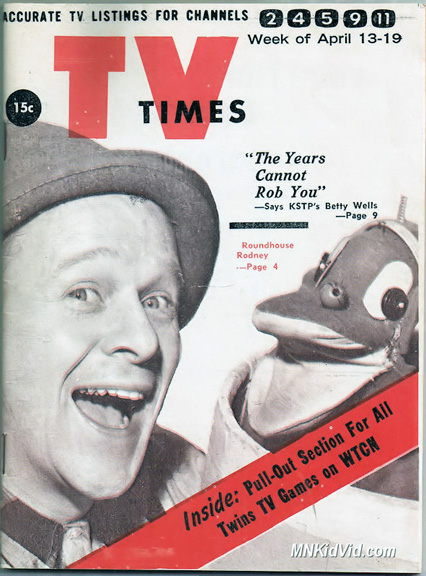 ---
CASEY'S COMEDY ALBUM FOR KIDS
In 1972 Awsumb and Dwyer released Casey's Comedy Album for Kids.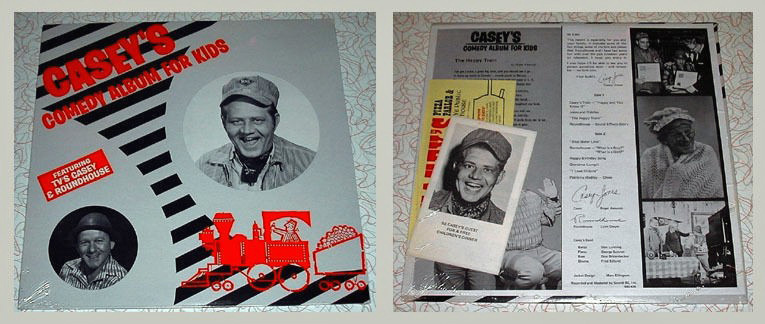 ---
PERSONAL APPEARANCES
Casey and Roundhouse were very popular at public appearances, and did upwards of 200 every year. They could be found at amusement parks, hospitals, schools, and other places where kids congregated. They signed endless autographs and posed for thousands of pictures. They also wrote educational pamphlets for kids – but joke books, too, featuring those elephant jokes.
Here's an ad for a personal appearance that Roundhouse made at Zayre Shoppers' City in St. Louis Park on April 14, 1971: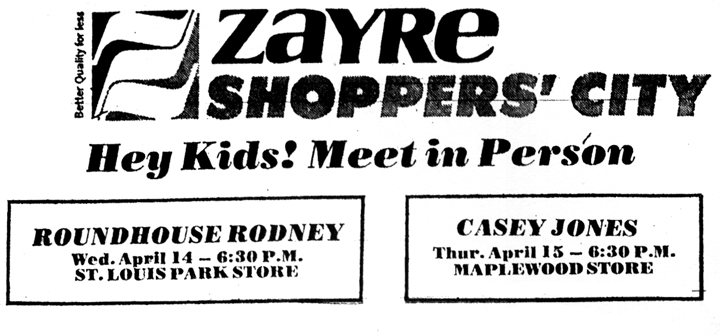 ---
THE END OF THE KIDS' SHOWS
By the early 1970s, live TV kiddie shows were on their way out. Fewer kids were coming home for lunch, but also the Action for Children's Television organization lobbied to prohibit show hosts from doing their own commercials. The last "Lunch With Casey" was broadcast on December 29, 1972.
Casey and Roundhouse were still viable characters, even after their cancellation, since WTCN did not own the names and characters. They were still in demand, and continued making public appearances around the TV viewing area.
Dwyer temporarily worked as a church janitor in St. Louis Park after the show went off the air, but then he produced his own "Roundhouse Show" on public television in 1974. He raised the money for the show himself, and put in $20,000 of his own. He produced 26 shows at KTCA-TV, which were shown locally and redistributed in Asia, and had six more shows in production at the time of his death.
---
GOODBYE TO ROUNDHOUSE
On September 3, 1976, at age 48, Lynn Dwyer had a fatal heart attack while jogging in Brainerd. A childhood bout with rheumatic fever contributed to his weakened heart. His death came as a shock, and maybe our first exposure to irony, because Dwyer always emphasized physical fitness and kept himself in top shape. He performed stunts like tearing a telephone book in half and walking on his hands to amuse kids and demonstrate his strength. And he loved to flex his muscles to show the benefits of exercise and a healthy diet – he especially extolled the virtues of wheat germ.
Lynn Dwyer was survived by his wife Marion, of Minnetonka, and two sons Keith and Loren.
In 2008 Dwyer was inducted into the Museum of Broadcasting Hall of Fame.
Save