This was the tiny building at France Ave. that housed a dry cleaner and looked like it had  been a gas station. It was!
The corner of Excelsior and France had a great deal of activity in the early years.  We do know that the Minikahda Golf Club started in 1899 and expanded in 1907.  A restaurant appeared on the corner as early as 1923, when Patrick and Thomas O'Hearn established a diner.  In 1928, it was called the Minikahda Inn, and in 1929 it was owned by Alice O'Gara and Edward P. Norton.
There is some hint that the corner was the site of the Marting Manufacturing Co. before 1929.
Perhaps the restaurant coexisted with a gas station;  in 1927 a license was issued to Standard Oil to operate three pumps at that corner. In 1929, Robert Johnson got permission from the Village Council to install two 10,000 gallon tanks and erect two buildings for greasing pits.
From about 1933 to 1953, it was C.W. Gibson Standard. Charles "Chick" Gibson's Standard Oil advertised Red Crown Gas, Iso-Vis Oil, and Atlas Tires. Chick had previously been at Excelsior and Brookside. Was it a misprint or was it his brother? In 1935 a permit for three pumps was issued to George Gibson. Was this George W. Gibson? Unfortunately, we do not have any pictures of the gas station.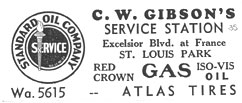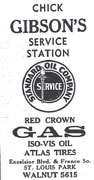 The ads above are from 1934 and 1935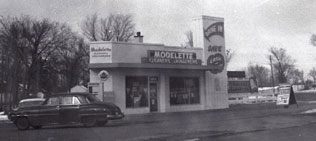 In 1953, the original station was demolished and Standard Oil built a new station on the NW corner of Excelsior and France. In 1957 the building was remodeled for Modelette Laundry, owned by Melvin Hanson and John G. Rossman, Jr. Picture at right is from 1960.
In 1975 it was Metropolitan Cleaners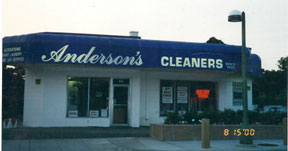 Its last iteration was Anderson's Cleaners, a company that began in St. Paul in 1938. Shown here in 2000.
On July 20, 2009, this building was demolished to make way for the Ellipse on Excelsior development.  See the page on Al's Bar for details.