This is a mysterious old house, owned by only a few people since it was built in 1884. The abstract reflects that the earliest owner of the land was David Spearin Pratt, who obtained 120 acres from the U.S. Land Office on November 7, 1854. Although it appears that Pratt conveyed the land to H.B. and Sarah Wright on June 28, 1858 for $3,000, when Pratt died in 1864, the land went into probate and was sold to Christopher Hanke.
 
The land stayed in the Hanke family, passing from Christopher to Charles in 1902, just before Christopher died. During the time that it was occupied by Christopher, he must have built the house – tax records state that the house was built in 1884. Charles sold/deeded it to Louise Watson, his sister, in 1905. In 1916, the land was platted as Hanke's Minikahda Terrace – this house was on Block 3. A possible resident may have been Anna Hanke Patch and her husband Ion Patch.
It was Lydia F. Hanke, Louise and Charles' sister, who first sold the property out of the family to William C. and Amelia Schroder on June 14, 1920 for $7,300. The Schroders were there at least until 1930.
The abstract and the phone directory show that Edward Melvin Johnson and his wife Amelia lived there at least from 1942 to 1945 – perhaps earlier, perhaps at the same time as the Schroders. An interesting note is Edward Melvin Johnson was sued by the Model Cement Stone Co. But Norman Schroder pops up again in 1941, only to find Johnson selling it in 1945.
From July 1945 it was the residence of Elvin and Ernestine Shinn and their family, who had moved to the house from their previous Brookside residence on Alabama Ave. The Shinns had at least six children, which seemed like more to people who remember them today. The house was sold out of the Shinn family in 1987.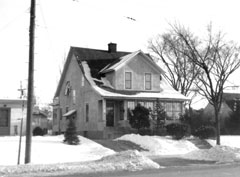 1955