This building went back to at least 1932, when water was connected and the owner was listed as Mrs. Robert Johnson.
Oldtimers remember an establishment called Wade's BBQ, back in 1932, maybe even 1931. Fred J. Wade and a Mr. Bodin ran a barbecue lunch room and soft drink parlor.  There may have also been a vegetable stand, run by Louis M. Sachman.
---
In 1933, at the end of Prohibition, the establishment became the Roach Inn, run by James W. "Cocky" Roach.  Here's what we know about Cocky:
He was born in 1894.
His wife's name was Marie.
The 1920 census said he was a bookkeeper at a hotel.
In 1926 – 1930 he lived at 3946 Grimes (now Joppa).  This may be the present 3936 Joppa, which was built in 1926.
The 1930 and 1940 censuses say that he was the manager of a taxicab company.
He died on June 5, 1953.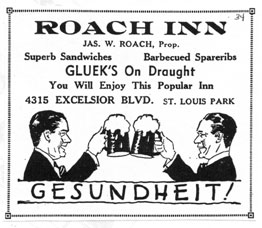 Cocky later moved out to the SW shore of Christmas Lake. Hennepin County was very strict about closing times, but there was one bit of land on the corner of the lake that was part of Carver County, and they had no restrictions. So Cocky Roach built on that piece of Carver County and opened an all-night establishment that had a fantastic business.
---
The name Hinkle's Tavern also comes up.
In 1937 there was a Family Fruit and Vegetable store at this prime location next to the Colonial Inn.  And indeed, it did become the Colonial Inn Bakery/Pantry in the 1940s until it moved to Miracle Mile.
Realtors owned it up until at least 1959.  The building was demolished some time after that.