This one is confusing, since, at least right now, 4400 Excelsior encompasses one standalone building with two businesses and the eastern end of a strip of buildings.  Please contact us if you can give us clarification or additional information.
4400 EXCELSIOR
This site, at Kipling just west of Jiffy Car Wash, was a gas station:
1932-33: Henry E. Mann's Service Station
1934: Sonny's Texaco, William A. Varner, Proprietor
1935: George and Bob Brooks
1938: Frank's Texaco Station
1939: (Henry.E.) Mann's and (Emil T.) Lind's Texaco  (a receipt from July 26, 1939, was signed by Roger Mann)
1939-45: Lind Texaco Station (4440)
1940:  Mann's Texaco Service
1947: Texaco moved tanks 15 ft. from the building. There was one 4,000 gallon tank and two 2,000 gallon tanks.
1947-49: (George N.) Liebl Texaco Station (1948 – 3 pumps)
---
1950-58: Rudy's Auto Service (est. 1928) – Shell.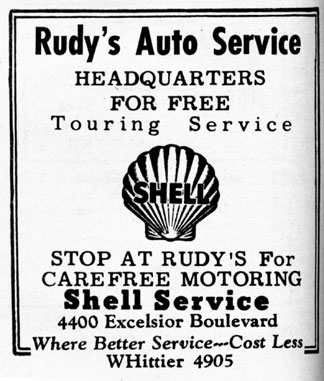 ---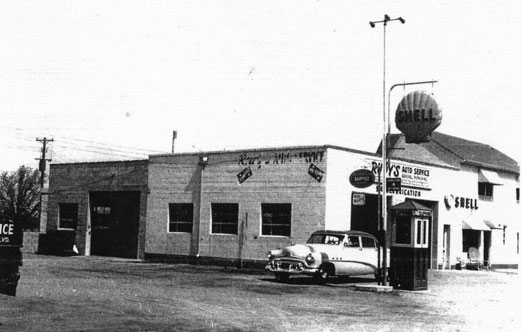 ---
1959-65 (Al's) Calhoun Auto Repair and Service Station DX – opened Nov. 1959
1970-71: Gordy's Auto Repair and Tires (an expansion of Gordy Hicks' station at 4701 Excelsior)
1971: Park Jeep, Inc. – I.W. Melin
1972: Park Transmission Center
1999: Brambilla's Auto Resources
---
Another part of 4400 had other businesses:
1975:  Park Coin
1977-82:  Left Center
1991:  Salon 4400
---
4410-4420 EXCELSIOR
This is the eastern portion of the strip of storefronts.  It is difficult to date it since the properties have been consolidated, but it was most likely built in 1950. Cronstrom's Heating and Sheet Metal, Inc. owned the building and occupied it from 1950 to at least 1971. The ad below is undated, but guessed at 1951-65.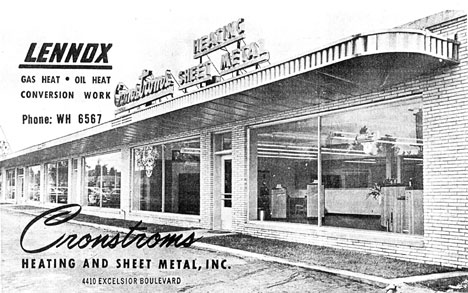 There were storefronts at 4410, 4412, 4414, 4416, and 4420. Tenants include:
AlumaRoll Awnings by the Denesen Co.
Better Floors, Inc. (4414) – 1956
Body Shoppe Sauna – see Police and Crime, 1974.
Ciel Loft & Home opened on December 1, 2012, at 4416.  Local owner Andy Higgins and his partner in China recycle items from around the world.  Some examples are bins from farmhouses in Tibet and China repurposed for home storage, ceiling panels from a church in Harlem transformed into deco wall hangings and reclaimed wood from Europe serving as banquet tabletops.
Dave's Shoe Repair – listed at 4414 from 1961 to 1972; currently at the eastern end of the strip at 4410.
Maico Hearing Aids (4410), 1960
Midwest Badge and Novelty – At this address from 1950 to 1989.
Park Boulevard Mens, Women's, Children's Apparel and Gifts:  4416.  Grand Opening September 18-19, 1952.  Frank C. Collins was the owner/operator; Joe Ginther was the manager.  In January 1953 the Echo featured an ad for Government surplus hickory skis of guaranteed quality!  7-foot length complete with binders for $14.95.
Techline Studio Euro Pine Imports
Today's Concept, where you could "Lose Weight Effortlessly:  Eight minutes on our toning tables equals hours of traditional exercising..  no straining or weightlifting."
Women's Fitness World (4416).  In 1993 it changed to Ladies Choice overnight, and previous memberships were not honored.  Hundreds of women clamored for refunds.
---
4424-4430 EXCELSIOR
This is the western end of the building described above. Although it is attached to the building to the east, it has a different address and they are owned by different entities. The City dates this portion of the building at 1948, but we have an ad for the hardware store from 1945.
MINIKADA HARDWARE
Minikada Hardware opened on March 21, 1949 and staged a 3-day grand opening in April. Festivities included an appearance by Cedric Adams and a drawing that drew 2,000 people vying for the $2,500 in prizes. In fact, the police had to be called for crowd control. The store was owned by Mayor Russell Fernstrom.  Vice President was Floyd Underhill, Jack Nitke was the hardware manager, and Bob Schuh was the appliance department manager.
The Dispatch reported:
Equipped with the latest and most modern of hardware fixtures, Minikahda Hardware is decorated in a bright a gay color scheme that dispells the old picture of a hardware store as dark, gloomy and cluttered….For the grand opening Minikada hardware has taken six full pages of advertising in this week's Dispatch.
Unfortunately, in the one article the Dispatch gave two different addresses, and spelled Minikahda wrong, but it appears from the picture of the sign that the store itself spelled it without the "h."  (The name Minikahda is a combination of two Indian words meaning "by the side of" and "water.")
A 1950 ad called it "Park's only complete hardware and appliance store" … "located where the City meets Suburbia."  A Hallicrafters TV could be had for $179.95.
In 1952 the store merged with Suburban Appliance (4500 Excelsior) to become Minikahda Suburban Hardware and Appliance. The combined stores were located at 4424.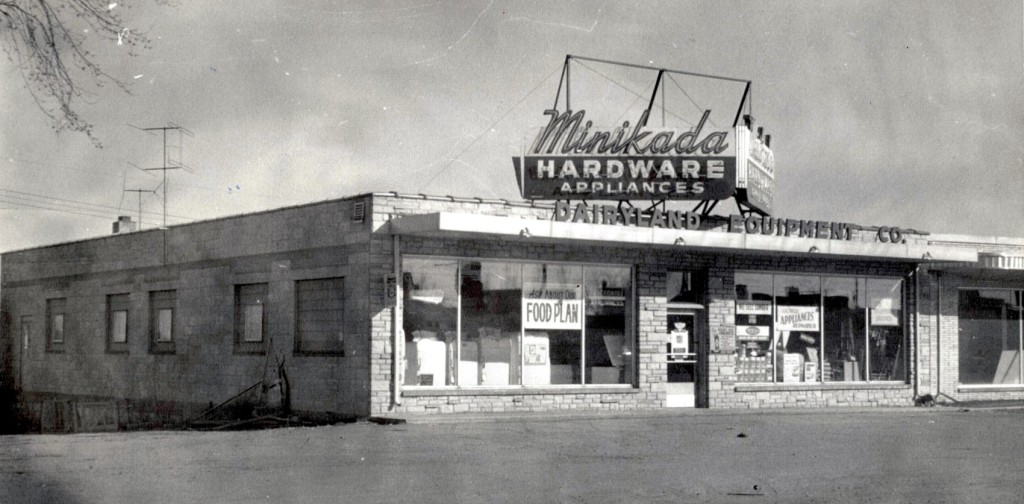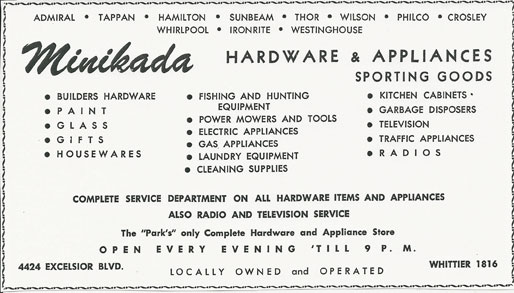 ---
Other tenants included:
Bader & Rosen Realty:  4428 (1960)
Bamboo Shop (1975)
Baskin Robbins (1965)
Chamberlain windows and doors (1956), which sold fibre glass and aluminum awnings, porch enclosures, and combination doors and windows. An open house was held on June 27, 1958.
Golden Swing Beauty Salon ("Where the Swingers Are") (1975-80)
Minia's Amana Food Plan: 4428  (1955)
Salon One (1987-2000)   4430
CW Smith Antiques
Stewart Interiors (1971-75)
Tan in the Park (1987)  4428
Vent-a-Hood (1958 to September 23, 1960 – moved to Highway 7)
Save