This property (Minikahda Vista Block 14, Lots 3 and 4) seems to have held two service buildings at one time on the corner of Excelsior and 38th. One was a gas station (now gone) and the other the present Auto Motion.
4419 EXCELSIOR
The current building was built in 1947 by Adolphso and Peterson for Vilhelm "Bill" Holand. Holand Motors "The Friendly Store" operated from 1947 until 1980.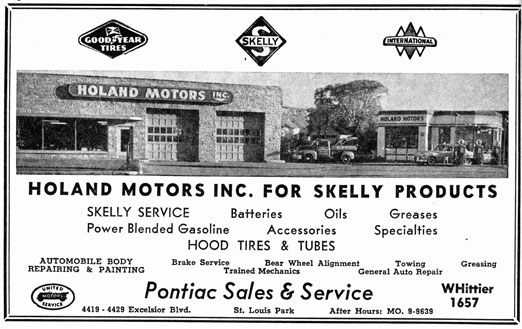 1954
---

Looks like the same picture with the Skelly and US Royal Tires signs added on?  Everything else is the same!
---
By 1981, the building was Smith Motors, run by Paul B. Smith.  The picture below is from 1999.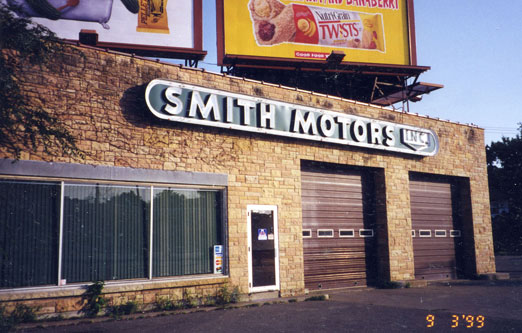 In June 2007 the building was sold and became Auto Motion. 
In August 2009, a portion of the building was remodeled and opened as the Design Line Hair Salon, which had been in Miracle Mile. 
---
4425/4429 EXCELSIOR
This gas station is puzzling.  It was apparently built on or before 1940, when it was operated as King Oil by Douglas Reese. It seemed to change hands and brands often.  It should be on the corner of Excelsior Blvd. and 38th, as shown in the photos above.  Somehow there are two addresses and duplicate listings. Addresses did change, though, and there was possibly a DX station a little further west.  Plus, in order for the house seen behind it to be still standing, the photo below would have had to be taken before 1950, and we think it is from 1960.  A Puzzle.  This is some of our mixed-up information: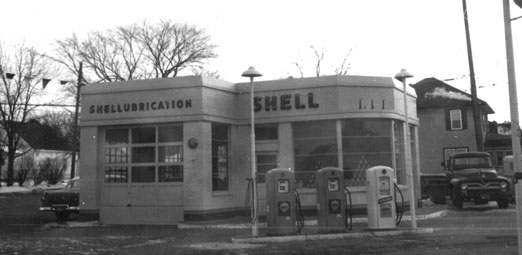 1941: Bob Kinsman
1941-42 Paul Lacho DX Service
1942: Kunz Oil Co. Service Station
1945: Howie C. Pinchon's DX Service
1947: Johnny and Red's DX Service Station (Kunzoil)
1947: Frank M. Ross was denied a permit to sell used cars on the property.
1959: Shell Oil – Douglas Reese
1959: Holand Skelly Service (but see above where it is part of Holand Motors from at least 1951 to 1958)
1961: Skelly closed
Another odd note:  the 1956 Echowan advertised the Minikahda Barber Shop at 4425 Excelsior Blvd.
Whatever it was, the building is no longer there.