The property at 4700 Excelsior Blvd. started out as a drive-in back in the 1920s, owned by Donovan and Kelly.
In 1932 it was the Yum Yum Root Beer Stand run by Mr. Donovan, although there is an indication that there was also a vegetable stand at the site, owned by Clarence Eggers.
At one point, probably in the 1930s, it was the Root Beer Garden, run by Robert Johnson, whose Family Garden was located across Excelsior Blvd.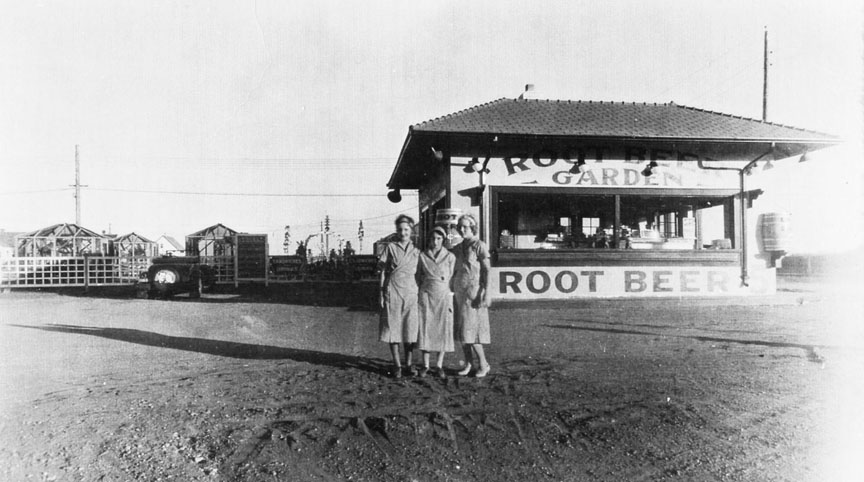 ---
In 1939 the owner is listed as A.G. Larson.
In the early '40s it was the Molzahn Drive-In, run by Fred Molszahn.
In August 1949 The Chicken Basket opened:  "Our chicken is so southern fried it has a drawl!"
From June 6-15, 1950, one Sidney Katz, dba City Banana, Inc., got a license to sell fruits and vegetables on land owned by Peter Kosmas.
A newspaper ad in November 1950 touts the Circus Poney Drive-Inn, apparently owned by G.H. Hopfenspirger. How a drive in would work in Minnesota in November is puzzling. The circus ponies were the kind with springs, and one was given away free each day for 25 days.
In 1952-54 the site was known as the Boulevard Drive-In and featured A&W Root Beer.
---
PARK TERRACE
In 1956 Peter T. Kosmas and his brother-in law, Anthony J. Kallas, who had managed Jennings Tavern, built and established what was first called the Park House Tavern but soon became known as Park Terrace Cafe and Bottle Shop. The building cost $225,000 and was originally of stucco construction.
Park Terrace was a fine dining, white tablecloth kind of establishment, and became known as the Park Terrace Supper Club.  The June 1963 Twin Citian described "Dancing nightly in the main dining room,, plus entertainment each evening in the piano bar.  Attractive menu features Mandarin Dinner for Two." This business lasted until about October 1966.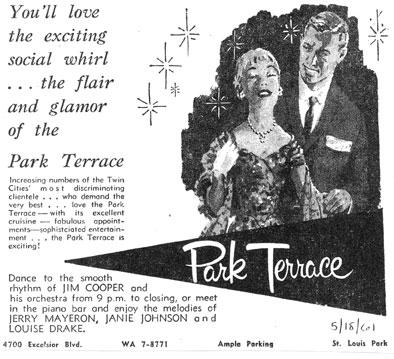 ---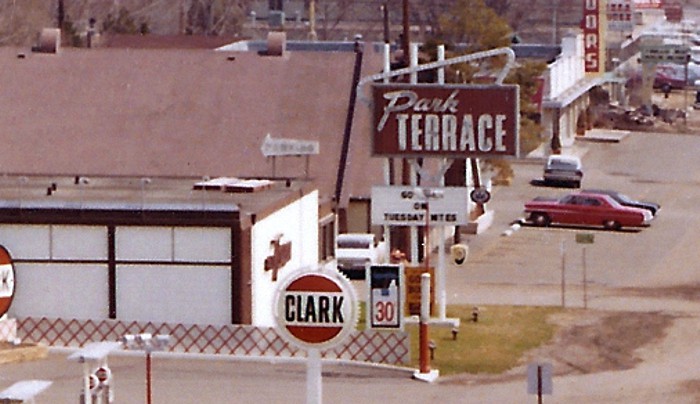 ---
---
GEORGE'S IN THE PARK
On October 17, 1966, Kosmas sold the building to George Schaumburg and his silent partner, Patrick Moore, both of Minneapolis.  The liquor licenses were transferred and the building was closed for remodeling for about six weeks.  Schaumburg had been connected with several bars in the Twin Cities, including the Flamingo, the Office, and the Red Carpet, according to an account in the Dispatch dated October 13, 1966.  Before transferring the liquor licenses, the St. Louis Park City Council expressed concern that the establishment would be operated as a "private club," which was a trend at the time, in which one had to have a membership card to be admitted.  Schaumberg said that this would not be the case.  Schaumburg's attorney, William McKostie, also said that entertainment would continue in the "easy listening" vein.  "Something you can eat dinner to that doesn't beat your head to death."
In 1967 the restaurant reopened as George's in the Park. And the music didn't stay "easy listening" for long, if at all; in 1967 one group was Viki and the Tornadoes.  The place might have gotten a little rough; people report that management saw it necessary to post a sign on the door saying "No Buck Knives."  There is one sketch of the building on file that indicates that there was a sauna in the place. In 1967 the off-sale liquor store was removed in order to expand the club.   In 1968 a car ran into the building, causing some $35,000 worth of damage. Joey Stroebel and the Runaways played here for three years.  In 1972 the fire chief sent a letter citing many complaints of overcrowding. In fact, the City Council went so far as to ban live music in Park bars to keep down the traffic, not figuring on disco.   In February 1972 the manager was Jack Conrad and the club was on Playboy Magazine's list of places to go, says the Insider.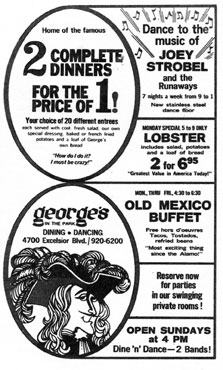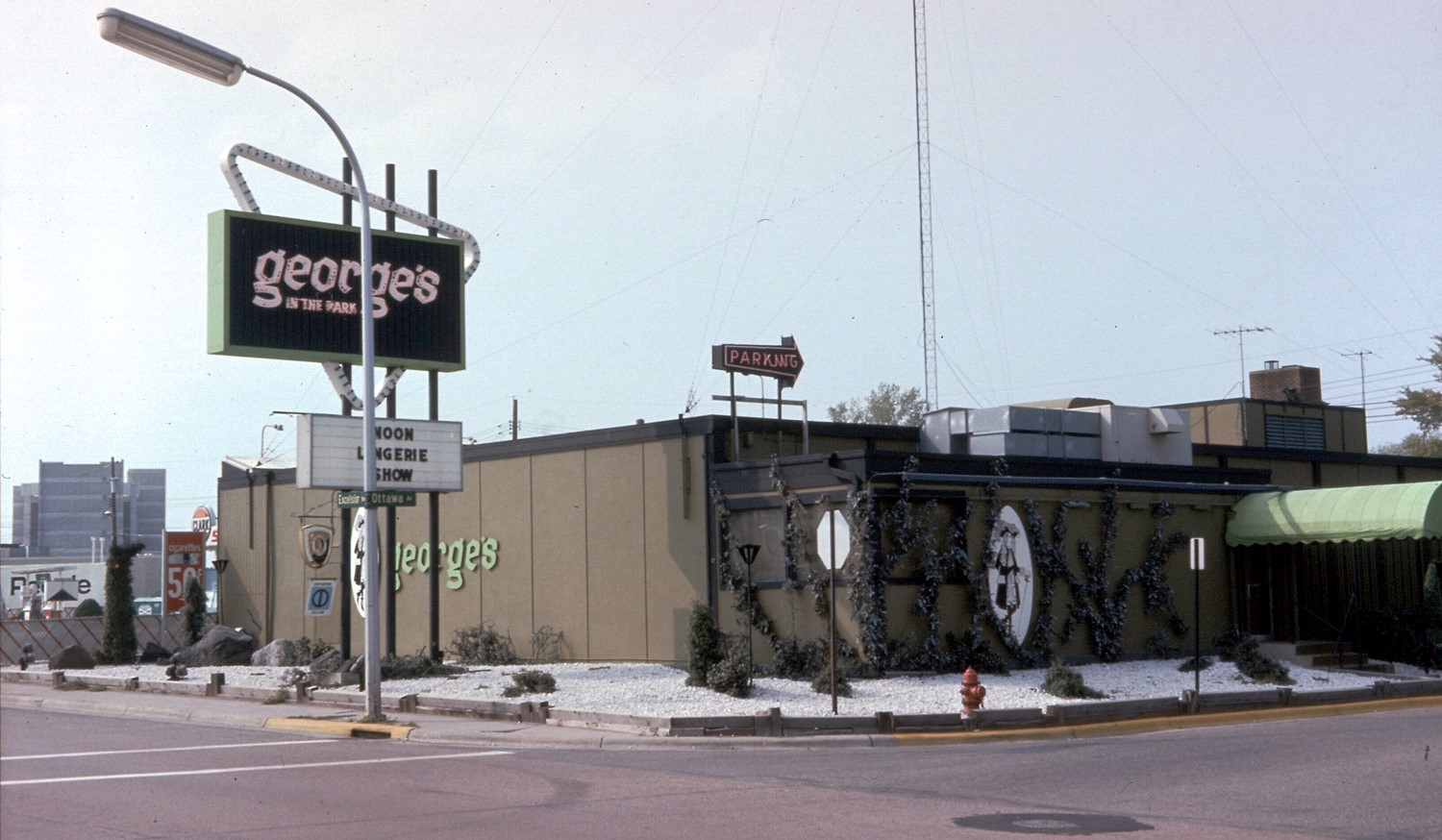 ---
DUFF'S IN THE PARK
The bar became Duff's in about January 1974, although Joseph P. Duffy, Jr. and his partner John Anzevino were initially denied a liquor license by the City after some concerns about political contributions. The Dispatch listed an impressive list of lawyers: Gerald M. Singer, Ronald Meshbesher, Kenneth Meshbesher, and Russell Spence. Duffy owned Duff's downtown (21 South 8th Street) for 14 years and was a co-owner of Duffy's Bar (26th and 26th) for 10 years.  In January 1976, Duff's got in trouble for holding wet t-shirt contests in which the contestants often removed said garments. Duff sold the business to Papa's Inc.: brothers-in-law William Howell and Burton Rozman.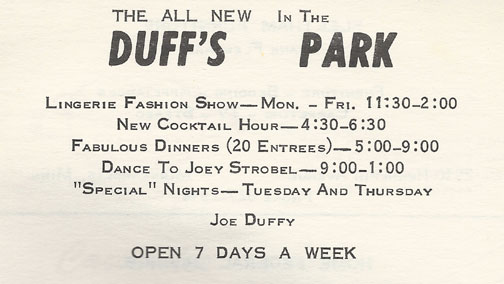 ---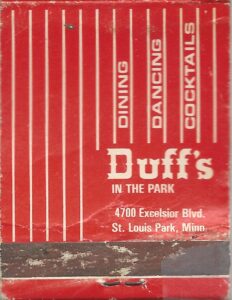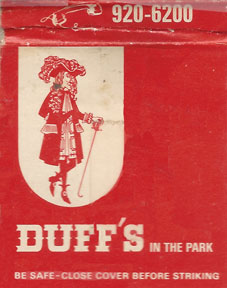 ---
INFINITY
The bar was called Infinity from about 1976 to 1979. A November 4, 1977, article in the Minneapolis Tribune says:  Draws a very mixed-age crowd, everyone from teen-agers to middle-aged couples.  Seating usually is available well into the evening.  Hungry dancers can get sandwiches until midnight.  People tend to dress casually.  This hot spot is owned by the Meshbesher law firm.  No cover charge weekdays, $1 weekends."
For some reason it attracted a black crowd to a suburb that was still overwhelmingly white.  Wilbur "Bill" Lindee, who was a working partner/manager at Lyle's at Franklin and Hennepin, was hired to manage the bar.  Bill kept the peace by prohibiting bikers from wearing their colors and anyone from wearing hats.  Infinity was one of the first discos in the area.  Infinity went out of business in January 1979; an article about the final auction told of bidders wearing leather jackets, Stetson hats and expensive looking top coats.  Everything went, including the black plastic walls.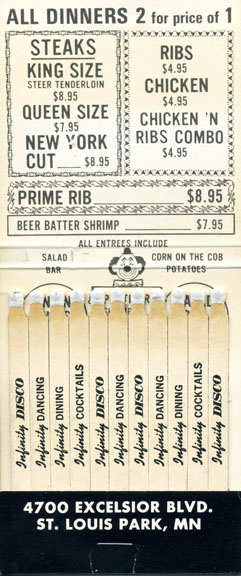 ---
CLASSIC MOTOR COMPANY
In June 1979, the Classic Motor Company moved in, cars and all. This establishment was owned by Richard Gold and his son Stephen I. Gold, who also owned the Gay '90's downtown. The Golds were car collectors, and the bar featured antique cars on a revolving turntable, a different one each month. At least in the beginning, the car theme was everywhere – "autoburgers" were on the menu, and drinks were served in "cylinders." Although Stephen Gold claimed that this bar would not have the problems of George's or Infinity, things seemed to have gotten pretty rowdy: on June 24, 1987, a memo from the building inspector to the police complained of "honking, hollering, car tires screeching, and fire crackers." In 1993 it was extensively remodeled into more of a sports bar and was known as the Classic Café and Bar. The manager at that time was John Canton (J.C.).  Another owner was Big Al Cohen, who was reportedly responsible for the excellent food served at the Classic.
The site eventually became the target of urban redevelopment, and the City purchased the land in 1999. Classic closed its doors on March 17, 2001 and the building was demolished to make way for Excelsior and Grand.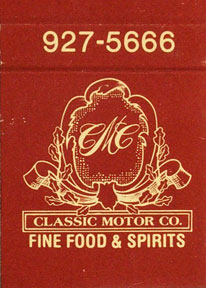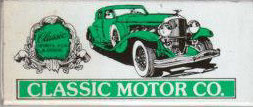 ---
Minneapolis Tribune article dated May 12, 1983:
Golds to test Duesenberg's mettle against other vintage cars
Dick Gold, left, and his son, Stephen, displayed the father's 1929 Duesenberg this week at Classic Motor Co., a St. Louis Park restaurant owned by the son, before hauling the car to California for the start of the first Great American Race May 21 in Anaheim, Calif.  One hundred cars, none of them newer than 1942 vintage, will compete for the $235,000 purse while trying to reach Indianapolis on May 27 with an average speed as close as possible to 50 miles per hour.  The Duesenberg, sponsored in part by James B. Beam Distilling Co., gets 6 miles per gallon of gas.  Dick Gold, a classic-car buff for many years, will drive his car in the race, with Terry Nordstrom as navigator and Bruce Ross as mechanic.  The four-door convertible was originally owned by A.K. Bourne, heir to the Singer sewing-machine fortune, who took delivery in 1930.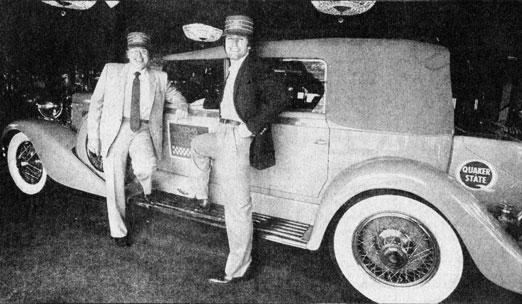 Save
Save