Robert Johnson was a man of many talents, and his presence can be felt keenly on the Boulevard. He established his businesses in the 1920s as a home builder, a gas station owner, and the proprietor of the Robert Johnson Family Garden.
Johnson obtained a permit to build a Gold Star Gas Station in 1925. Although there was a Frank Scoville who obtained a permit to operate two pumps at his Gold Star Service Station at that address, it apparently still belonged to Johnson, who offered two of the finest grades of gasoline money could buy, including "Q" leaded regular.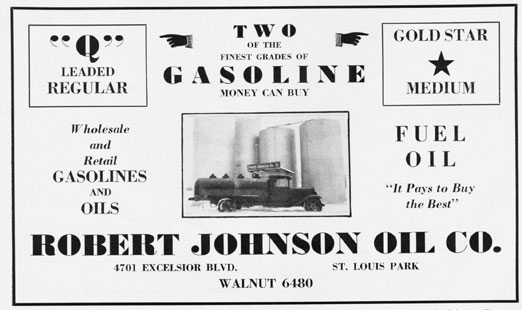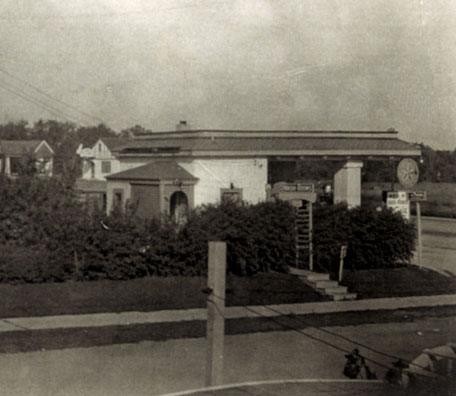 ---
The building was rebuilt in 1941, still in Johnson's name. Subsequent names of the station include (dates may not be all-inclusive):
1941: Rogers Phillips 66 – Byron A. Rogers
1941-42: Bill Blymyer Phillips 66 Service
1947: Ray and Bud's Phillips 66 Service – Ray and Bud Carlson
1948: V.B. Edwards
1949-52: (Stanley O.) Keller's Direct Service (3 pumps in 1947)
1954: Connie's Standard Service – Connie Ordemann – D.K. Carter Co. – closed 2/20/54
1955:  Boulevard Standard
In 1957 the station was built yet again by Standard Oil, and for many years (about 1956 to 1979) it was run by Gordy Hicks. Gordy's station seemed to bounce back and forth between Standard and Amoco. Gordy died in 1979.
---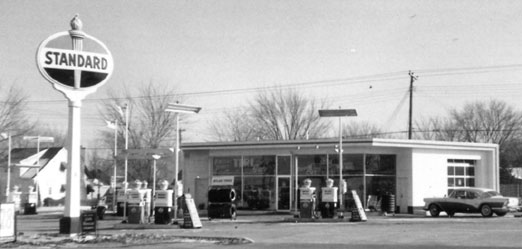 ---

---
From 1986 to 1993 it was Russell's Standard (Russell Schack).
In 1994, one or more of the tanks were interfering with road work and had to be removed – Jim Kovach was listed as owner.
In 1995 Steve and Sue Wolfe, St. Louis Park residents, bought the station.  It was an Amoco, then Steve's Park bp.
When the Wolfes wanted to sell the station it was in danger of being bought by a developer and demolished, but fortunately it was sold to a local station owner, and on December 17, 2013, the name was changed to Excelsior bp.