The building that looks like a distinguished office building today has an interesting past.
The land originally belonged to Leslie B. Santos, who operated a nursery next door.
In 1947 K.F. Riley operated a drive-in on the land.
That same year, a man from Milwaukee named Homer E. Dickinson bought the land from Santos. Homer's Drive In/dairy store/dairy bar was the first place in town where you could buy frozen custard, sold from a 75' by 40' building that may have been built by Riley.
---
In August 1949 the building became the home of the Smoky Point Café. Smoky Point was founded by Aleck E. (John?) Ellis, and was originally located at 7800 Cedar Ave. So. in Minneapolis (the "famous" Ellis Log Cabin Café) where he had 30 years experience.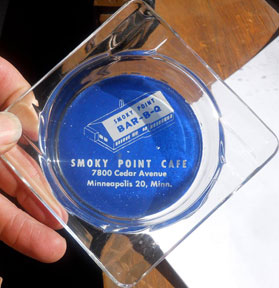 The St. Louis Park location was managed by George Ellis and was there until at least 1954. The place was described as a barbeque pit. In 1949 Ellis built a fireplace in front without a permit, so they could use it for decorative purposes only. In 1953 there was a "particularly smoky" fire at the Smoky Point.
---
In 1956 the building was Lynch's Café, also known as Lynch's Steak House, owned by George T. Lynch. "Where There's Food for Every Mood." Lynch greatly expanded the original building in 1956. On April 17, 1958, Lynch announced a new pizza and take-out service. In July 1960 it was Lynch's China Doll.
---
In July 1961 it became Danny Woo's Café. In March 1962, owner Danny Woo was arrested for having unsanitary conditions, including having food infested by insects. He was convicted of five charges and fined $75, the other fines suspended. He closed the place on April 1, 1962.
---
In 1962 the building, a one story stucco, underwent a $35,000 remodeling, expanding it to include an office building on a new second floor. The owner of the new Colonial Office Building was Arvid Carlson and Sons.
---
There have been many tenants throughout the years.  Some include:
Motor Vehicle Registration Bureau (1964) – J.F. Markham
Walker II Employment Service (1968)
Sunkist Growers (1965)
Professional Hearing Aids Service/Starkey Labs (1971-79)
Miracle Mile Insurance Agencies (1964)
Paul H. Nordenson Co. (1964-68) – doors and bathroom fixtures
Ken Nordling Real Estate
Big Steer, Inc. (1972-73)