The building at 4911 Excelsior Blvd. was built in stages:
4911 is the two-story building on the corner, built by the Lann family, which continued to own it until 1975.

4909 is a one-story addition attached to 4911 to the east.

An addition to 4909 was built at some point, further east, to connect with the separate building at 4907.

There is/was also a barn-like building in the back that had been in the front.
1926
Joe Lann's Confectionery started at 4911. There seemed to be a lot of "confectioneries" in town during Prohibition. It's said that one reason that such a small building has two stories is so that beer could be kept upstairs and accessed via gravity…
1933-35
Walt's Canteen/Poirier's Tavern ("Where the Homefolks go for a Pleasant Evening") took the place of Lann's and became one of the many beer joints that sprung up on the Boulevard. In his memoir, Morton Arneson complains that the music from the honky tonk across the street kept him awake all night; Walt's was probably the culprit. In 1934, an E.L. Friedlund applied to run a restaurant and sell beer at 4909. The ad below is from the 1934-35 directory. The 1934-35 directory places Walter and Frances Poirier living at 42nd and Utica, and the 1935-36 directory places them at 39th and Vernon.  Walt's grandson reports that he always was told that Walt was a telephone repairman based in North Dakota, specializing in installing switchboards in offices.  His career as a tavern keeper was probably short.

1935:  Fred R. Bachman received a restaurant permit for 4911.
1937:  Clayton Johnson applied for a license to sell beer.
1937-42:  Syfo Water Co. was listed, probably in the 4909 building.
1944-47:  Artcraft Plastics, Inc. (Wendell R. Guy/Mr. Riordan) Complaints made about the noise in July 1946.   Also probably in the 4909 building.
The part of the 4909 building that connects 4911 and 4907 was built some time between 1948 and 1955.
1948-64
Town and Country/Pilgrim Cleaners occupied the 4911 building. Initial proprietors (opened September 3, 1948) were Twin Cities sportscaster Rollie Johnson, owner, and Gil Chandler, manager. Reportedly they fought with the owner of the building over all the steam pipes in the place. It changed names in 1957. The picture below is from 1955.  The building may have first been used as a sporting goods store; there is a story that Rollie Johnson was able to sell boats because of the high ceiling.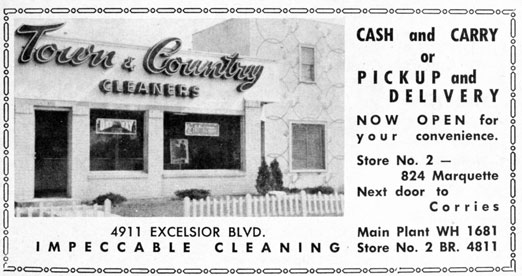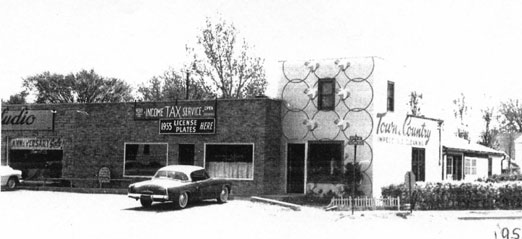 1955:  The photo above shows that the 4909 building housed a tax service and an office that issued license plates.
1956:  DT Eherenfeldt Insurance (4909)
1958:
Paul H. Nordenson Co.: shower doors, cabinets
Motor Vehicle Registration Bureau: J.L. Markham, Deputy Registrar (4909)
1962
In December 1962 Bill Jasper and his nephew John (Jack) Fitzgerald formed the J&F Corporation and began doing business as J&F Reddy Rents in the 4909 building. The company started as a general tool rental store, and grew to rent construction equipment such as air compressors and Bobcat tractors. Success led to further expansion into rental trucks and party goods, and the 4911 building was purchased to accommodate the latter. In 1989, the company moved to 3320 Republic Avenue.
1966-1970:  H&R Block (4909)
1977:  Viking Properties
At some point the 4909 and 4911 buildings were merged into 4911.
4/2000:  Olde World Antiques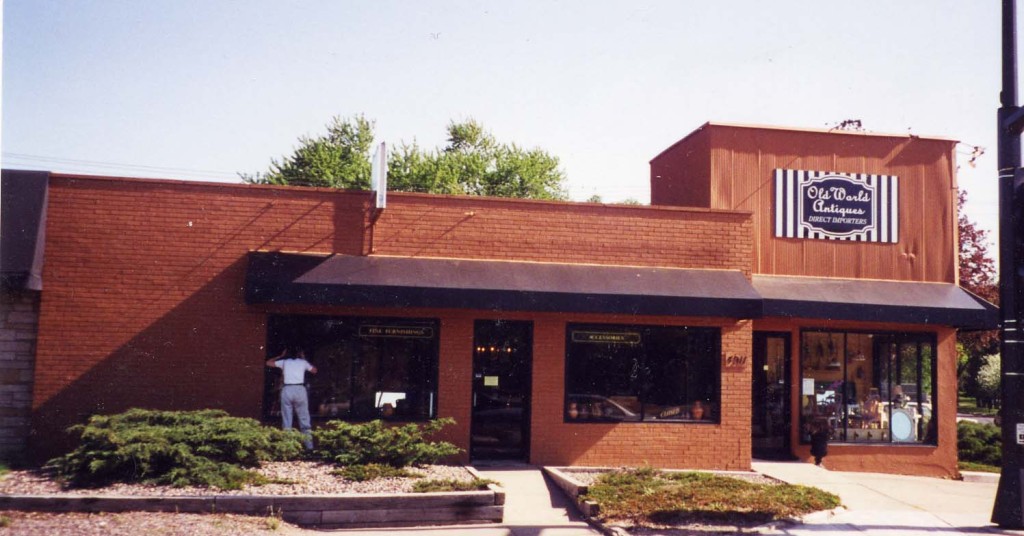 Reddy Rents recently sold the building; development plans can be seen Here.