It may be that two buildings stood on this spot.
First, from at least 1933 to 1947, it was the home of Reuben C. and May Engell of the Engell Dairy.
From 1938-1949, the Park Budget Dress Shop was also listed at this address. The ladies apparel shop was run by Esther M. Glaser and Phoebe M. Blanchard.
Perhaps torn down by 1954, the Sherman Bros. and Henry Kull applied to install a billboard for their popcorn machine business at that location.
---
FLAMEBURGER
In 1955 a restaurant called Flameburger was built. There is at least one remaining Flameburger left, in Columbia Heights.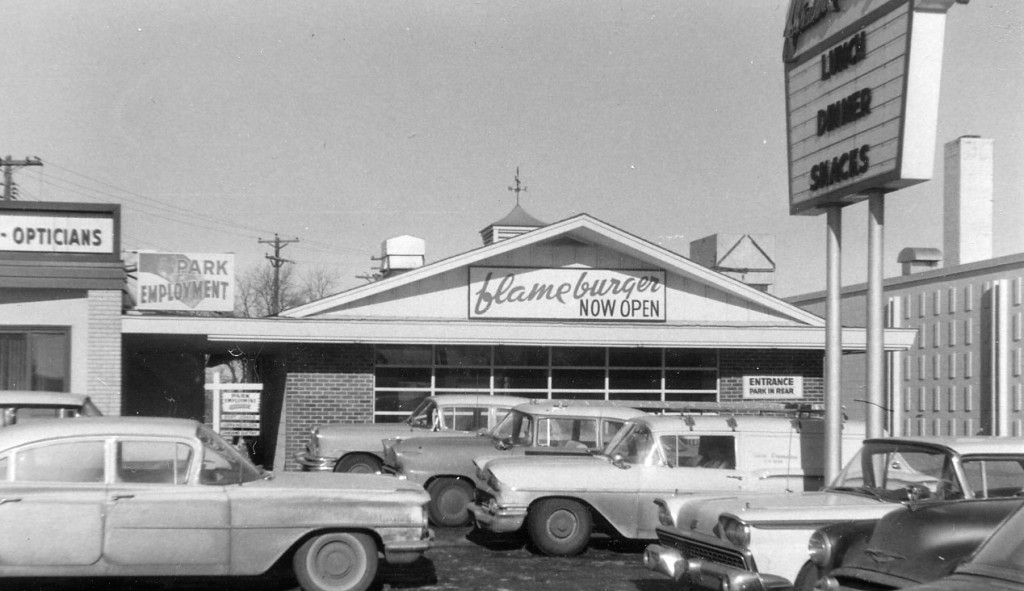 ---
MR. Q'S
Flameburger had been stocked by the Restaurant Supply Company, owned by Donald Quinn.  The company sold appliances, seating, ice cream machines, boilers, etc.  By 1958 Flameburger was failing, and Quinn stood to lose the money that the owners owed him.  Quinn made a deal with the other creditors, and became the owner/manager of the restaurant, changing the name to Mr. Q's.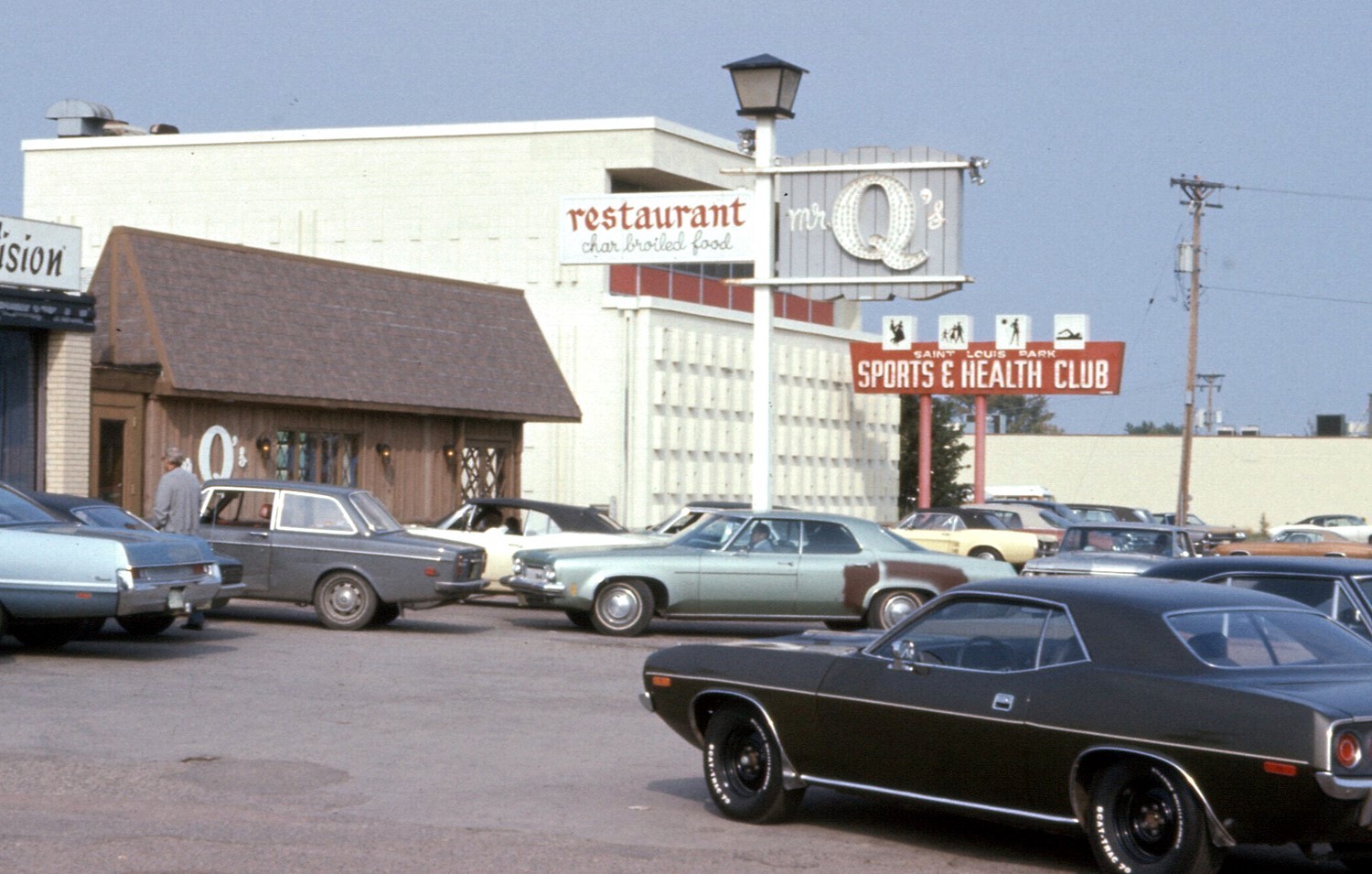 Donald Quinn was born in 1914 and was the genial host of his eponymous restaurant.  His son Gary says that he always wore a white shirt and a suit.  He and his family (wife Deborah and five children) lived in Watertown, Minn., where he had other businesses such as a milk distributorship and a truck line.
---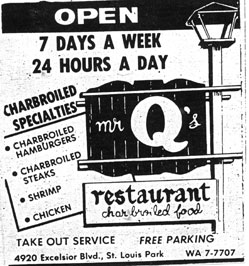 ---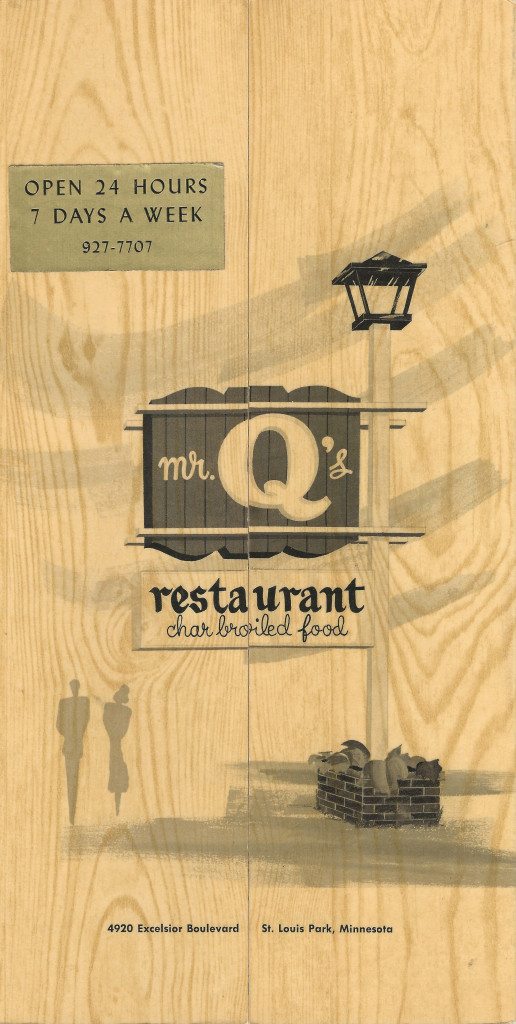 ---
---
Mr. Q's was known for being open all night and for its alpine scenes on the walls. It was quite popular after the many bars on Excelsior Blvd. let out, and sometimes the tipsy patrons caused some problems.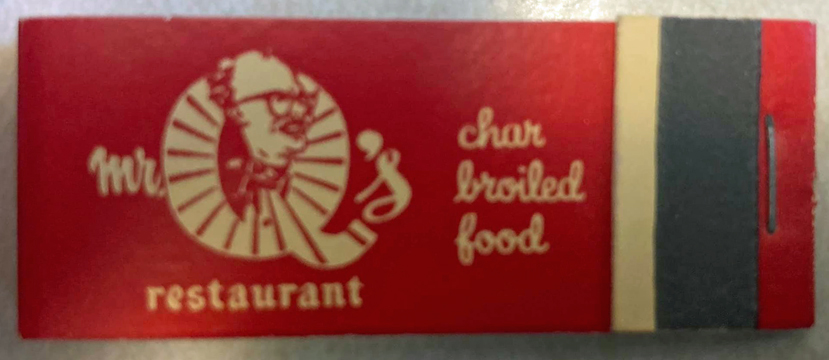 ---
In 1970 Quinn leased it out and bought into the Swiss Chalet Buffet at Miracle Mile.  In 1975 Mr. Q's featured Henny Penny Chicken. In 1977 it was purchased by Mike Perkins and managed by his sister Rita. In August 1978 the Echo advertised "new menu, new management, new atmosphere."  In 1979 it was advertised as the "New Mr. Q's" with new management, but it changed hands that same year.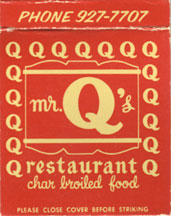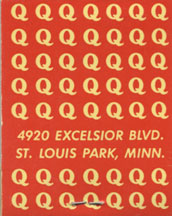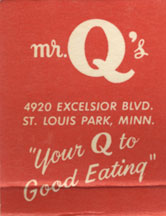 ---
GOOD FOOD AND COMPANY
In 1979 the restaurant was renamed Good Food and Company. Later it was owned and operated by Gary and Sue Quam. (Mike Perkins may have also been a co-owner.)
In 1989 the building was purchased by Park Nicollet and leased to the Quams. By 2000 the building was gone, turned into a parking lot for the former Sports and Health Club, which is used as office space for Park Nicollet.