The 1914 map shows us that a 9+ acre farm at Excelsior and Quentin, reaching down in a K shape next to the future Miracle Mile, was owned by Warren C. Fletcher.  In May 1920, three acres was sold to Morton Arneson, a nurseryman.
In 1951, Arneson leased part of his land to the founding doctors of the St. Louis Park Medical Center on terms they could afford, thus allowing them to start the clinic that would become Park Nicollet.
In 1953, Arneson closed his nursery, moved to Edina, and built a grocery store at 4951 Excelsior Blvd., on the corner of Excelsior and Quentin. There was some neighborhood opposition to the new building, led by Charlton Stone of Quentin Ave.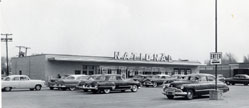 The building was first leased to the National Tea Company, moved from Lilac Way in 1953 until late 1963. National Tea was a huge chain – by 1928 there were 117 stores in Minneapolis. A matchbook advertised "National Food Department Stores," with "Branch Offices" in Chicago, Indianapolis, Minneapolis, and Milwaukee.
In June 1964, the store was leased to Milton Hove, who operated Hove's Grocery Store. The Hove's chain was started in 1918 at 1415 W. Lake Street.  [Peter Hove – first store 1902, Fremont and Western Aves. in Mpls. Three stores in 1943. Peter d. February 1943.] It was considered exclusive and upscale at the time, offering quality service and ambiance. In 1964, Russell Lund bought the Hove's chain and renamed it Lund's. The St. Louis Park store was still in operation in November 1964, but closed soon afterwards.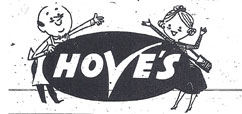 The building was purchased by the St. Louis Park Medical Center and became the pediatrics department. In 1978-80 it was the site of the New Horizons Day Care, and in 1990 the Park Nicollet MRI/Diagnostic Imaging Center.