Rice Sand and Gravel, the former site of a potato field, was located on Excelsior Blvd. between 39th and 40th, north of the Engell Dairy (also described as Princeton and Excelsior Blvd.). The 1942 ad to the right claimed "Material washed CLEAN by Telsmith Process – almost dry – Brick Sand Without Quicksand." It was known as Beltline Sand and Gravel in the 40's. This may also be the site of the Glenn Johnson Sand and Gravel Co., located at 3724 Quentin. This site may have become known as MAPCO.
There were many different concerns that occupied the space at 5000 Excelsior after the gravel pit was phased out:
Dump: In 1947, the site became the Beltline Pay Dump and junkyard.
Service: An ice house run by L.V. Foye was operated in 1947. From 1948 to 1952 the site was owned or operated by William H. Smith. The ad below from 1951 for Service Village shows it to be a series of shacks where one could buy fireplace wood, 28 kinds of 3.2 beer, "automatic ice," and package fuels.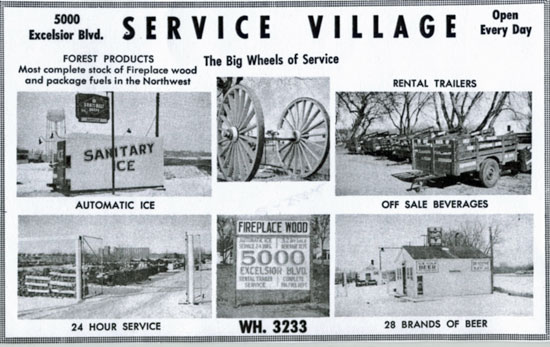 Beltline Trailers had been there since 1947; this may have been related to the Cooper Tool Co., present in 1953-54.
Car wash: The Miracle Auto Wash ("the Candy Striped Building") was built in 1963 by the Clean Spray Equipment Co., originally to be called the Minut Car Wash. The name was changed to the Miracle Mile Carwash . In 1973-77 it was owned by 3G Enterprises, which included Sherman Gleekel, Barry Graceman, and Dick Anderson. The manager was Ralph Christenson. In 1980 it was called the Typhoon Car Wash.
This 1963 picture is from the City Tax Assessor.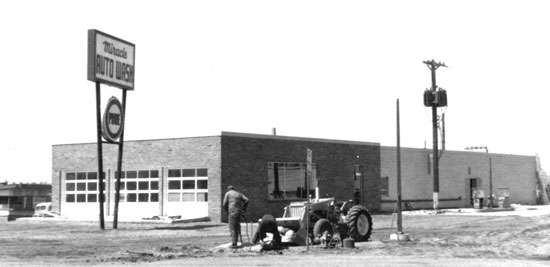 Gas: Four 4,000 gallon gas tanks were installed at the carwash. In 1963, it was a Pure Oil station; from about 1970-82, it was a Union 76.
In 1983 the entire site was bought by Park Nicollet for a parking lot. One of the buildings may have been moved to 5201 Vernon in Edina. The rest of the structures on the site were demolished in 1984-85.