CITIZENS' STATE BANK
The building at 5001 Excelsior Blvd. was originally built for Citizens State Bank, which opened for business on January 16, 1950.
At first, the bank rented out the basement, first to the Three Gentlemen Furniture Studio. The three gentlemen, Russ Clark, Earl Maynard, and Dick Pollard, displayed modern, moderately priced furniture in their downstairs studio, which was done in "a unique shade of green never before used in this section of the country."
The basement became the offices of the Citizens State Insurance Company, which was sold in 1980.
In December 1956, a 10 ft. by 6.3 ft. addition was made to the building on the east side. This picture is from 1957.
The bank was moved to a new building across the street (site of the Rixon home) in 1973.
---
BRAUN'S
The building was then purchased by Gil Braun for a warehouse for his Miracle Mile Braun's store.
At some point it was purchased by ICI, the owners of Miracle Mile.
When Red Owl burned down in 1973, there was hope that a new grocery store would go in or near Miracle Mile. Anderson Cherne had even proposed to tear down the old bank building, medical center, etc. all the way to Quentin, but the project was dropped because of the projected high condemnation costs.
---
B. DALTON BOOKSELLERS
B. Dalton operated the building from 1978 until August 1997. It was the first freestanding B. Dalton Store in the area.
---
PERKINS
5001 Excelsior was a Perkins Restaurant from September 1997 to December 2000.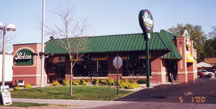 2000
---
SAGE HEN
It was the Sage Hen Restaurant from January 2001 to December 15, 2002.
---
DAIRY QUEEN
The building has been a Dairy Queen since November 2003.