This building, located on the NW corner of Excelsior and Vernon (there was no Highway 100 yet), dates back to at least 1930 when it was connected to the water main.  It may have been the location of a short-lived grocery store started by Malvin and Sam Sewall in 1926.
In 1932 James H. Madden and Charles Kroll requested a permit to open a restaurant and serve beer, although it would have had to be near beer, Prohibition not being over in St. Louis Park until 1934.  Unclear whether the permit was approved.
In 1933 Oscar Johnson opened his Fairway Fine Food Store . The Johnsons lived in the back of the store in a small apartment. 
By 1938 the store was called IGA Groceries, also run by Oscar Johnson.
In 1939 it was Grossman's Food Market (Fairway Fine Foods)
In 1940-41 it was New Park Food Market, C.C. Amundson, Manager
In 1942 it was Flynn's (Fairway Foods)
The Grossman ad below is from 1939, and the Johnson's ad is from 1934.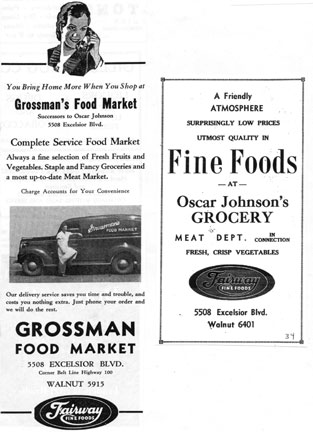 Starting in about 1946, the building became a storefront for a variety of businesses, although it appears that Oscar and then his widow continued to live in the building for a time:
1946-47: Minn. Radio and Electronics Service
1948: Ice House, Belt Line Trailer Rental Office
1949-60: Ernie's Barber Shop, owned by Ernest L. Fox "Where professional care assures you of good grooming."  Ernie advertised heavily in the St. Louis Park High Echo and sometimes chastised students for bad manners at games. 
 
1950:  Park Refrigeration
November 1950-61: Park Lane Carpet, run by H. Vance Rorbach, Jr.
1964-66: Suburban Business Machine Co.
On top of the building was a huge billboard for Ewald Dairy, featuring two three-dimensional cows.  Below is a photo from 1963: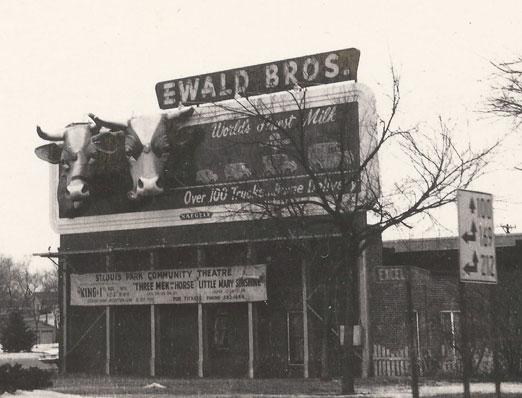 In the photo below of Tom Mueller's parents, you can see the building and the back of the sign: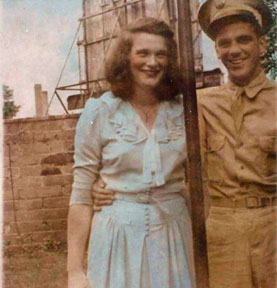 In the same area was one of the Roadside Parks that were built in 1939 when Highway 100 was constructed.  This one was the first in St. Louis Park to be eliminated. 
In about 1966 the building was sacrificed for expansion of the highway.