The strip at 5810-14 Excelsior Blvd. was built at the corner of Zarthan by builder Jerry Holt in 1951. It was owned by Max Grossman, and at some point was known as the Ida-Max Building. In December 1986, a new front was put on the building.
Artistat, Inc. was founded in 1970 by the Sussman Family. They occupied 5812 from about 1979 to 1984.
The Everette B. Baker Paint and Wallpaper Co. occupied 5812 from late 1953 until 1963 when it moved to 5100 – 50th Ave.
Dan's Fan City: 5814. 1989
Fantasy House Adult Gifts: 5810. Bob Beritno operated his business here from 1983 to 1995, then moved to 4814.
Foley Brokerage Co.: 5814. 1950-60.  In 1950, sales agents for:
Gulf Kist Shrimp
Nutrishus Meat Balls
Wonderice
Park Row Dates
Saladettes
10-Minute Prunes
Corn Blossom Chicken
Kiddie Pop Suckers
Freshnut Peanut Butter
H & R Block: 5814.
Insty Prints: 5810. 1979
The Investment Art Gallery: 5814.
Minuteman Press: 5812. 1986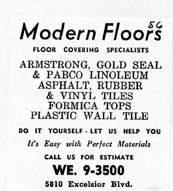 Modern Floors occupied 5810 from 1950 to 1975. In 1950 it was owned by William Callies, and advertised Genuine Congo Wall Covering – as seen on the Dave Garroway Show. It had a felt base and (they said) looked like expensive tile. Their general stock in trade, however, was linoleum. Other names associated with the business were George Debee and Larry Wenzel. This ad is from 1956.
Spinecare Chiropractic: 5812. 1988
Starlite Graphics: 5808. 1983

1954