This spot by the railroad tracks, across from present-day Bunny's, is most remembered as a lumberyard, although in about 1932, Ted Dietrick reports that it had been a car repair garage. Ted described it as a cement block building with a small office and a garage area with a pit in the floor for oil changes.
CANFIELD-DIETRICK
The Canfield-Dietrick Lumber Company was established by Perry Canfield, a purported millionaire, who took on Russell Dietrick to establish a cash and carry lumberyard. Despite the city's initial refusal to grant a building permit, resulting in the dramatic dinnertime arrest of Dietrick, he prevailed in court (Village Council minutes note on March 2, 1932, the Canfield-Dietrick litigation was settled).
Russell Dietrick's son Ted has told us stories of his childhood in Brookside.  Ted was born in Iowa in 1923 and the family moved to St. Louis Park in 1932.  Ted graduated from Park in 1942 and served in World War II.  He and wife Kathleen had three children and Ted was active in building Lion's baseball Field.  The family moved to Atlanta in 1968 but Ted was a frequent correspondent with the Historical Society, even after he was slowed by muscular dystrophy.  Ted passed away on November 2, 2013, at age 90 in Oakton, Virginia.  Ted's obituary can be read Here, and there is more about the lumber yard in Something in the Water.
---
DIETRICK LUMBER COMPANY
Canfield withdrew in 1946 and it became the Dietrick Lumber Company, which continued until 1954.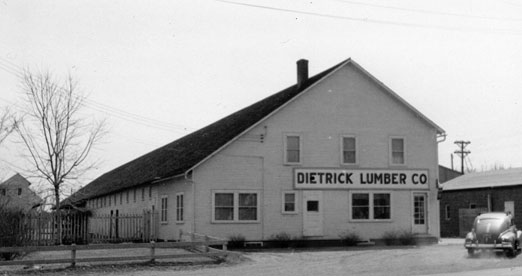 1954
At some point Canfield's nephew set up a business at the site, which Canfield still owned.
---
JOHNSON CASHWAY LUMBER YARD
In October 1955 Johnson Cashway Lumber Yard opened its doors.  (The ad below is from August 4, 1955.)   It was billed as the northwest's first complete self-service lumber store (advertising Zonolite at $1.25/bag). The first Johnson Cashway store was opened in 1931 in Nebraska by Lawrence W. Johnson. The local manager was William Stanfill.  General manager of the company's Minnesota yards was L.K. Burgett.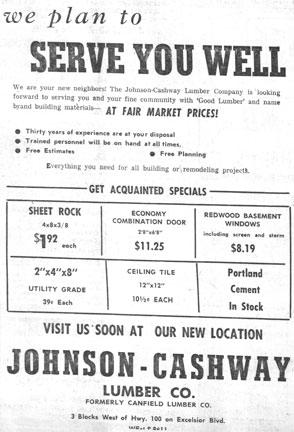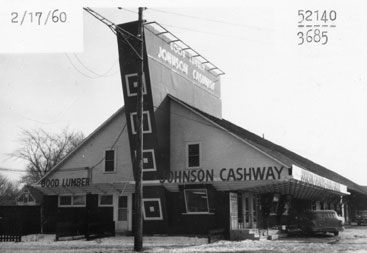 ---
HAR-NED LUMBER COMPANY
In the '60s (at least 1964-66) the site was rented to the Har-Ned Lumber Company, which had outgrown its previous location in North Minneapolis. Har-Ned was a combination of Harvey Falkers and Ned Stuart.  In 1964 the company had 17 employees.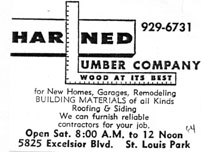 The original buildings were leveled sometime after 1968.
---
Fred G. Anderson built his complex at the site in 1980.
In 2010 it became the site of Midwest Hydroponic and Organic Gardening Supplies.