Much of the following information on El Patio and the Cotton Club is from Kent Hazen, and the book Joined at the Hip, A History of Jazz in the Twin Cities, by Jay Goetting (Minnesota Historical Society Press: 2011).  Please contact us if you have any additions or corrections. 
The nightclub at 5916 Excelsior Blvd., now Bunny's Bar and Grill, has a rich history. According to City tax records, the building was built in 1920, the first year of Prohibition.  At the time, it would have been a roadhouse, 'way out on the outskirts of town, before Highways 7 or 100 were built.  The adjacent Brookside neighborhood, not even 15 years old, was flourishing, and the older Center neighborhood was a few blocks down the street.
Early information is scarce.  An entry on a building permit dated March 28, 1929, indicates that the establishment was known as the Hollywood Inn, but that is a bit confusing; there are indications that the Hollywood Inn was operated across the street at the Brookside Drug site from perhaps 1926 to 1929. The permit was for a barbeque place, and the owner was listed as Ed Nolan.
---
EL PATIO – THE COTTON CLUB
Evidence of the El Patio Cafe and Dance Club, pronounced "el PAY sho," goes back to at least 1930. In December 1932 Village Council minutes identify James Spain as the President of El Patio Cafe, Inc. This was a restaurant, dance hall, and after Prohibition ended in 1934, a bar. One of the classiest establishments on the Boulevard, in the early days it catered to the Country Club and University crowds.
The owners were collectively known as "the Greeks."
John Eliopolis (or Elipoulos) was born on May 22, 1897, in Greece. He came to the U.S. in 1917.  In the 1920s he lived in Minneapolis and was listed in directories as a cook.  In the 1930 Census, he and George Broumas (below) were listed as living on Excelsior Blvd. (no street address given), both single and working as cooks.  He died in Greece in January 1979.
George Efstathion Broumas was born on January 5, 1890, and came to the U.S. in 1911.  In the 1930 Census he was single, working as a cook in a cafe (with John, above).  George died in Athens on October 18, 1972.  His last U.S. address was 3973 Alabama, a house that was built in 1927, adjacent to El Patio.  At the time of his death he had a wife, Sophia.
John E. Ellis was born on July 24, 1899, in Greece. He came to the U.S. in 1911.  In the 1930 Census he was listed as a waiter at a road side inn.  In 1940 he was a partner/proprietor of a cafe.  Both years he was single, living with his brother George in Crystal.  After he sold El Patio he went on to run Ellis's Log Cabin Restaurant in Crystal. Ellis was a prominent member of the community, belonging to the AHEPA Lodge, Compass Lodge AF & AM, Zuhrah Temple, and Robbinsdale Lions Club. He died on January 13, 1976, in Golden Valley. He was survived by his wife Canella (Feb. 6, 1921 – Oct. 26, 2000) and daughter Stavroula Joanne.
George Ellis was born on June 16, 1891, in Greece and came to the US in 1907 or 1914.  In the 1930 Census he was a cook at a roadside inn, and in 1940 he was a partner/proprietor of a cafe.  George lived in Crystal with his wife Sophia, three sons, and brother John.
Another name associated with the cafe was James Spaice.  There was a James Spaise, born in Greece in 1894/5 who lived in Minneapolis and worked as a waiter (1930) and proprietor (1940) of a restaurant, according to the Census.  Could this have been another of "the Greeks?"  Or the James Spain mentioned above?
"The Greeks" were strict on liquor, although one Sunday night a big band came in and a lot of "cold coffee" was served, according to one former waitress. Toward the end of Prohibition 3.2 beer ("select?") was legal, and customers would buy a bottle and supply their own harder stuff. During the Depression, El Patio provided meals to the needy.
For several years, El Patio was concurrently known as the Cotton Club, named after the famous nightclub in Harlem (1923-1940). (There had been another Cotton Club in Minneapolis at 6th Ave. N. and Lyndale.)  When the Apex Club in Minneapolis was shut down in 1934, club manager Pete Karalis signed the musicians and looked for a place for them to play.  The Census lists a Peter G. Karalis who was born in Greece in 1888 and came to the U.S. in 1903 with his brother Christ.  In 1920, this Pete was the proprietor of a candy store in 1920.
Karalis said, "I sold the idea to the four Greek boys at [El Patio].  [One source said Karalis was a relative to one or more of the Greeks.]  I then auditioned the group with Bob DeHaven and Lee Whiting at WTCN.  They really liked the group and said they'd give me a line out there for thirty-nine dollars a month.  I spent the remainder of my capital on paint to write 'Cotton Club' on the roof. We had a fairly good dinner trade, and the boys were proud of their restaurant…  The group used to play the dinner shift."  (Joined at the Hip, page 83)
There was a reference to the "Cotton Club (El Patio)" in the 1934 Echowan St. Louis High School yearbook.  Other physical evidence of it is in the 1937 village directory, which listed the establishment as El Patio-Cotton Club. Otherwise it was referred to only as the El Patio in Village Council Minutes and village directories.
Somewhere there is a photo of the building where one can clearly see "Cotton Club" on the roof.  Until it surfaces there is the one below, taken in 1941.  The vertical "El Patio" sign is visible, and if you look long and hard enough, it appears that the roof says "Dine Dance" and, underneath, "Cotton Club."  Thanks to Rick Sewall for finding this in our own collection!
---
Kent Hazen:  "Karalis brought in Boyd Atkins from Chicago to lead the band of local musicians he then presented at the Cotton Club. Among the local players were trumpeter Rook Ganz and tenor saxophonist Harry Pettiford. Atkins was a composer/arranger of some stature who also played reeds and piano. In 1935 Karalis brought in Lester Young to replace Pettiford. Young was with the Atkins band at the Cotton Club in 1936 when he received a telegram from Count Basie asking him to join his band back in Kansas City. Lester made his seminal recordings with Basie that same year."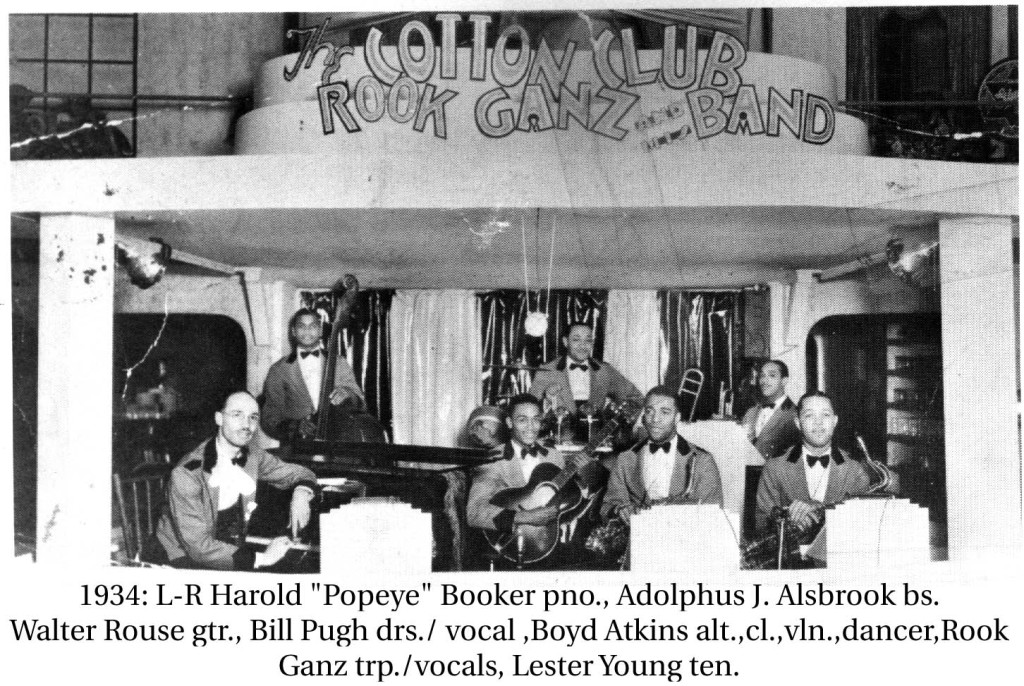 ---
"One of the earliest assemblages of world-class talent on a Twin Cities stage was the Cotton Club or El Patio in St. Louis Park.  Joined at the Hip, page 39.
Again from Joined at the Hip:  "The place was clean, neat, well run, and without rough stuff.  It was the more established and familiar Minneapolis musician Rook Ganz whom people came to hear.  George Putnam, later with Pathe News, was the radio announcer … Lester would leave the bandstand for some of his solos in order to stroll and serenade the diners at their tables and booths."  (page 84)
Drummer Bob Burns described how jam sessions at El Patio often turned into all-night affairs:  "We started work at nine o'clock with a six-piece orchestra; at one o'clock, we cut down to three; by one-thirty, we'd have fifteen to twenty men on the stand, everybody blowin'.  This was not only local musicians, but, remember, it was the era of the big band:  Benny Goodman, Tommy Dorsey, Jimmy Dorsey, Glenn Miller – men like that on the stand at the same time.  We'd work there until three o'clock in the morning, shut down, then go up north where Rook and the other fellas were playing.  We'd stay there 'til eight, nine o'clock in the morning.  If some of that music could have been recorded, I'm sure it would go down in the archives of history as some of the greatest ever performed."  (Joined at the Hip, page 92)
A1939 newspaper article described how the proprietors of El Patio were fined $25 for staying open too late. The same article said that the "roadhouse was a favorite spot for jitterbugs and high school youths."
Another article, in the St. Louis Park Spectator, described a heated Village Council meeting on March 13, 1939, in which El Patio's 3.2 beer and tavern licenses were revoked because the place stayed open past 1:00 am and there were three minors in the club.  Mell W. Hobart represented a committee from Brookside that insisted that something be done.  The indignant crowd, and even the Mayor himself, mentioned rumors about the place; one citizen was quote thusly: "It is a known fact that they have been catering to high school kids for years, serving near beer to be spiked."  Mayor Nelson voted that the club keep its licenses, but was the only one.  The Council also adopted a motion that a public hearing be held on the question of revoking El Patio's hard liquor license at the next meeting, in a week's time.
A photo and part of an article from an unnamed Minneapolis paper were unearthed at the Minnesota Historical Society that showed a Village Council meeting where citizens were debating whether El Patio should lose its liquor license.  Presumably this was the follow-up to the March 13, 1939, meeting.  The meeting was packed, and "Villagers… revealed an overwhelming sentiment in favor of permitting the cafe to continue operation."  Citizen Fred Peters is shown urging the Council to continue the license, saying that it had a "good clean operating record" for the past 10 years and that complaints were few and far between.  Peter E. Kamuchey, attorney for the cafe, claimed "The El Patio is run almost as well as a minister operates a church."  There is an engineer named F.H. Peters listed in the village directories of the early 1940s at 5627 W. 37th Street, which would put him right down the street.
Hazen:  "Atkins led the Cotton Club band until 1940, when he moved on to lead a band at a club in Peoria, Illinois.  In the 1950s & '60s Atkins was deeply involved in the Chicago blues and R&B scene, including collaborations with Elmore James, Magic Sam and Muddy Waters."
Don Lang of Downbeat Magazine wrote in the 1940s that "The Cotton Club was the last Minneapolis spot to employ a colored band."  (Joined at the Hip, page 86)

---
The ads below indicates that the restaurant closed on August 26, 1946, for remodeling and reopened at some time that same year under "new ownership and policy." A 1946 article described a terraced lounge. A neighbor remembers that it was closed for quite awhile before opening again as Culbertson's.
---
CULBERTSON'S
From 1947 to 1968, Ted J. Culbertson ran Culbertson's Cafe, an upscale steakhouse. This restaurant, along with Jennings, was said to be patronized mostly by people outside of St. Louis Park. Journalists were known to hang out there. In the early 1940s Ted Culbertson had been a co-owner with Keith McCarthy of McCarthy's Cafe.
---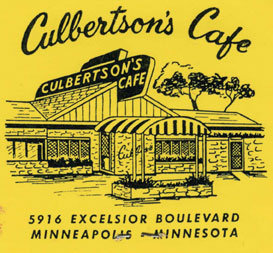 ---
The building was originally all frame construction, but several additions were made from masonry. One such addition was made at El Patio in September 1940.  By 1947 the building was in pretty bad condition when the Building Inspector wrote a letter to the Village Council citing numerous violations. Things were apparently cleared up, and a 24' by 60' room was added on the west side in August 1948. Boe Construction Inc. built an addition in April 1958, perhaps prompted by a fire at the restaurant that January. (The owner's name on the application was Frank Edey.) A further addition was built by Culbertson in 1963. One of the many charming features of the place was a "pass-through" from the ladies room to a service bar, so that ladies could get drinks without their husbands knowing about it.  (Note:  Culbertson's liquor licenses were transferred to the Halseth Corporation in September 1964.)
---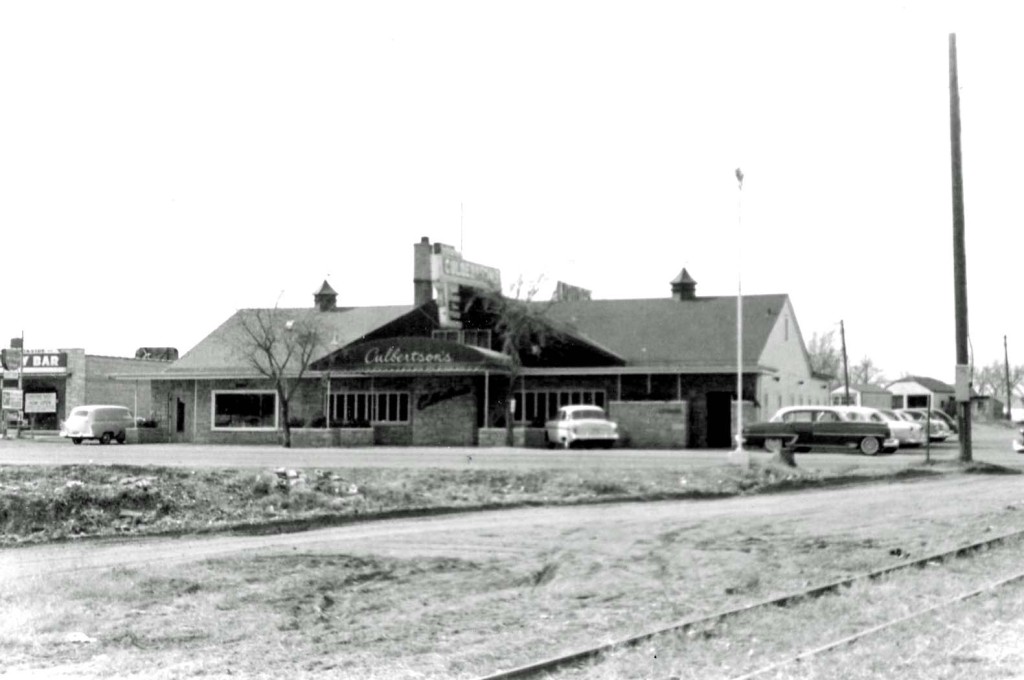 The photo above from 1955 shows many interesting things:  the proximity of the club to the railroad tracks, suggesting that patrons might have taken the train to this outpost way back in the 1920s.  Also, the original portion of the building was the middle, and the rooflines of the additions faced the opposite way.  Another item of interest is that the front door faced Excelsior Blvd., in an era when on-street parking was plentiful.  Indeed, in the photo from 1960 below, there isn't even a door on the east side of the building.

---
Culbertson's featured live music:  Joined at the Hip mentions that a series of live jazz broadcasts was produced by Dick Driscoll for KQRS in the 1960s (page 185).  The June 1963 Twin Citian promised Entertainment nightly.  A newspaper ad from 1965 features the "Fabulous Dance Music of the Don Lee Trio," Gayle Dunn in the piano lounge, and the Van George Professional Dancers every Wednesday night.  There is a coat of arms on the ad; one section is a picture of a martini glass.
In 1965 the Culbertson's cocktail hour featured lingerie shows, as pictured in a huge photo of ogling men in the October 17 Minneapolis Tribune Picture Magazine.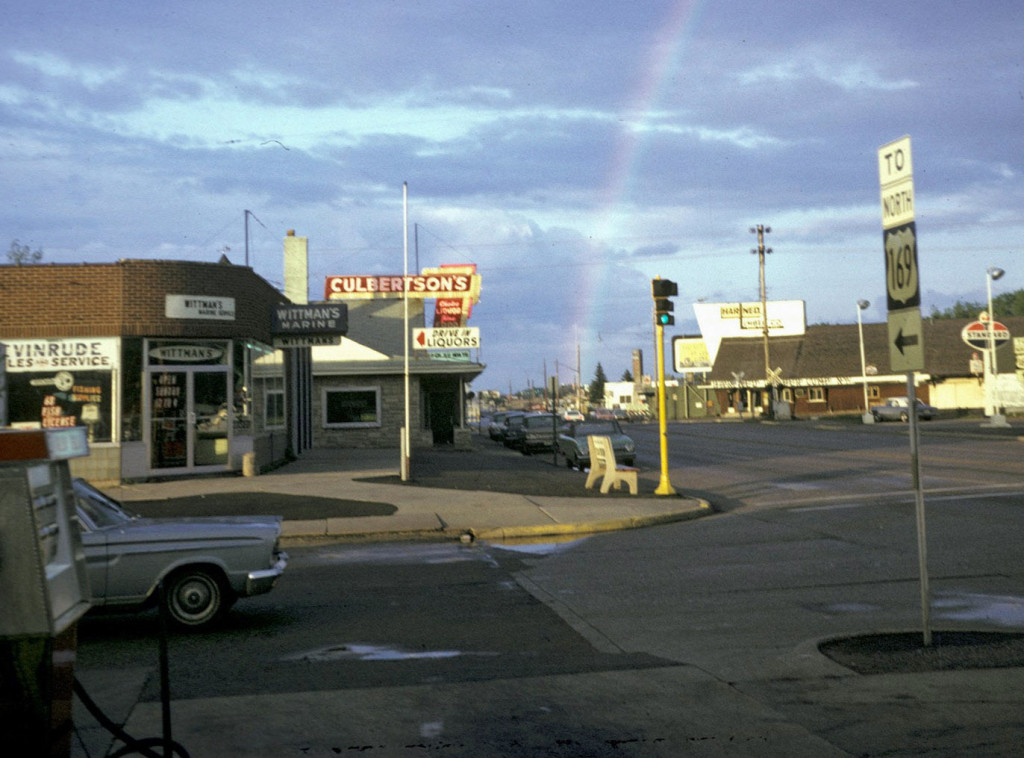 ---
GEORGE FAUST'S
George Faust, a former U of M football hero, was the next to run the establishment, heading up George Faust's Restaurant and Liquor Storium from October 1968 to 1971. The liquor license was transferred from Perry Halseth (not Ted Culbertson).  Faust got in trouble a couple of times for serving 20-year-olds with fake IDs.  In March 1970 the City Council ordered the place closed for 10 days, on the erroneous report that he had served a 15-year-old.  The shutdown was later rescinded as being too severe, when Faust said that the shutdown would cost $10,000 and force him out of business.  One explanation of Faust's demise is that George's glory days were back in the '30s, and his businessman clientele grew weary of the stories. Faust went back to his previous profession selling frozen meat.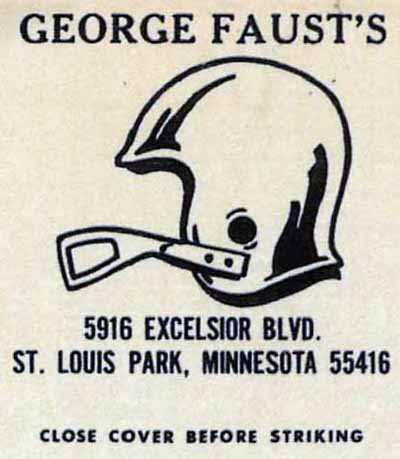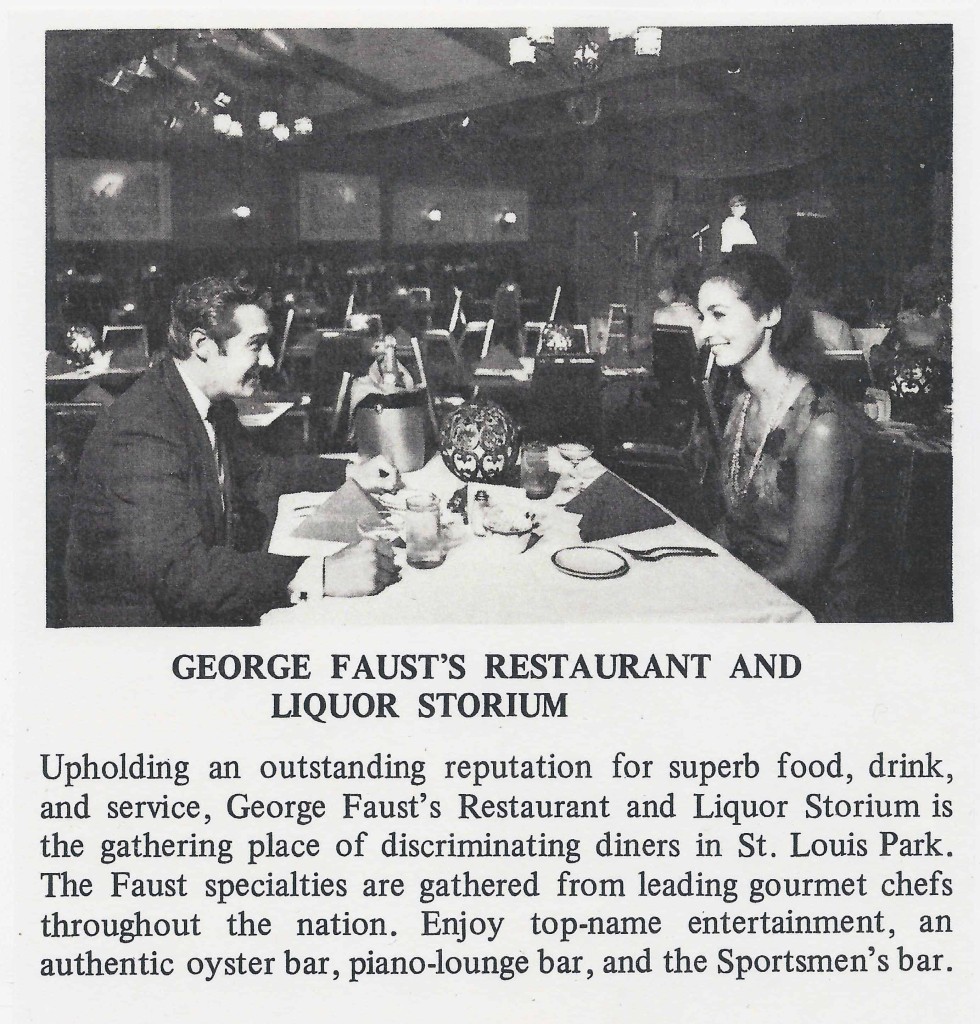 ---
ANCHOR INN
Next came the Anchor Inn, which opened in 1971. Its owners were Eldon Rothgeb, Louis Gydesen, and Lyle "Silver Fox" Ebeling, who was also the manager. It was the second Anchor Inn owned by Gydesen. The restaurant featured all all-you-can-eat format, which spelled disaster for some waitresses who had worked for Culbertson and Faust, as they received smaller tips.  The restaurant had a long run, lasting until 1981. [On June 17, 1972 there was a fire that was deemed suspicious – outcome?]
---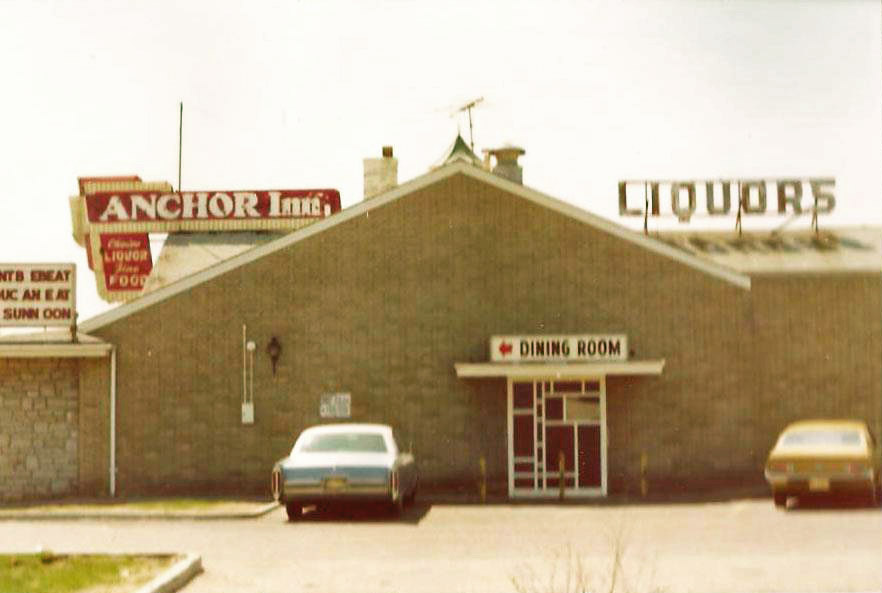 ---
---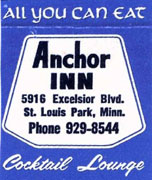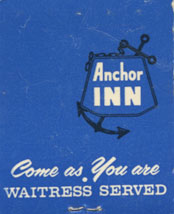 ---
Al Hartman remembers his time working at the Anchor Inn:
In 1975 I got a job bartending at the Anchor Inn. To learn how to bartend and get the job I put in 20 hours for free in their kitchen service bar. The tag line of the restaurant was "The Home of Waitress Served All You Can Eat." The waitresses still got decent tips, I think, (maybe not as good as working for the previous restaurants at that location but I am not sure if many had been there that long), at least I did as a bartender, but I was union also and got a good wage too. The plan for the servers was to load customers up on bread and coleslaw first. They came out with an aluminum foil covered tray with the food on it and each time someone ordered any of the all-you-can-eat food again, the portions diminished on that tray incrementally.
The menu was mostly beer battered and deep fried with chicken and shrimp being quite popular but I remember they also had unbattered ham slices. The cooks would pop up at the service bar occasionally for a pitcher of beer to make the beer batter. At one time I remember a customer complaining about the beer in the batter as he was an alcoholic and should not have the beer in anything. We all wondered why he was there then as the beer batter part of the whole thing was pretty well promoted.
There were two bars at the time: the Piano Bar on the Northeast end and the Sportsman's Bar on the Southeast end. The piano bar had great piano players with quite a selection of songs. I enjoyed asking them to play "Hernando's Hideaway" as it was obscure, they actually had the sheet music, and customers seemed to like to sing along to that along with my other fave "Yes, We Have No Bananas."
The Sportsman's Bar was better lighted. It was more no nonsense bar and had a TV to watch sports on. Bill, the day bartender, I think actually retired from there with a bartender union pension. Both of the bars had black plastic booze metering dispenser tops on their bottles to make sure just a shot was poured. Dick Chapin and Lyle's step son Terry were both evening managers under Lyle at the time.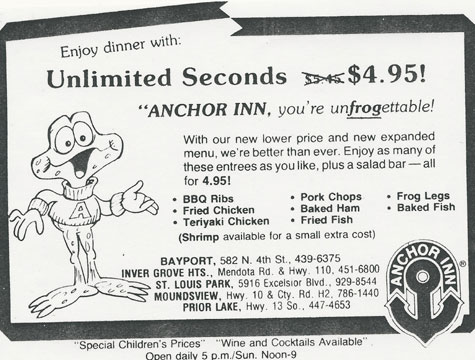 ---
BONGIORNO
David Bongiorno came to Minnesota from Erie, Pennsylvania, to start Mama Rosa's Italian Restaurant in Minneapolis.  He sold Mama Rosa's and opened the Bongiorno Ristorante in August 1981. He advertised "Italian Food Prepared the Northern and Southern Way." A review dated July 1982 deemed the food magnificent, but unfortunately, Bongiorno spent too much time and money fixing the place up and the establishment was gone sometime after March 1983.  Bongiorno passed away on October 27, 2012.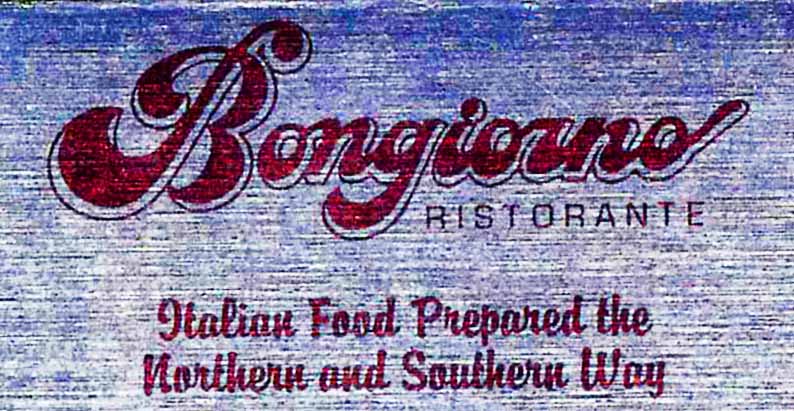 ---
DUGGAN'S
In September 1983, Duggan's American Bar and Steakhouse came into being. Bill Duggan was born on December 31, 1923, and grew up on a farm at 62nd and Highway 100 in Edina, which his parents sold and became a large subdivision in 1953. Duggan went to Park High in 1940, since Edina didn't have a high school at the time, and was a friend of Jim Jennings. He died on January 13, 1996, and his daughter and son-in-law continued Duggan's until 1998.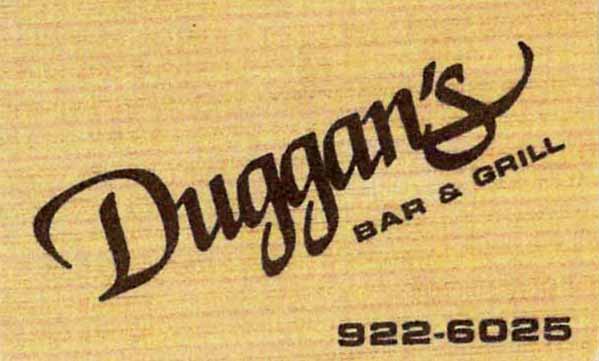 ---
BUNNY'S
Bunny's was started in 1934 at 4730 Excelsior Blvd.  That site had to be vacated by the end of 1998 to make way for Excelsior and Grand.  In January 1999 owner Gary Rackner and his new business partner, Steve Koch, moved Bunny's Bar and Grill to the old Duggan's site.  It was a great way to preserve both the business and the building. In honor of Sherman Rackner, Gary's father and original business partner, the back bar was named "Sherm's."  Despite the smoking ban enforced on bars by the Freedom to Breathe Act beginning on October 1, 2007, Bunny's is thriving!