This was perhaps the first real gas station in the Village. In addition to the gas station, there was an American Oil bulk gas station behind it and on the tracks, which was run by the Theis Brothers.
It appears that Standard Oil built the first station on this property in at least 1926, designating it Standard Oil (Indiana) #164. N.L. Robey was the Standard Oil Agent, and Jimmy Murphy was, if not the first proprietor, one of the first.
From 1933 to 1939, it was William D. Blymyer Standard (connected to Village water in 1937).
In 1941 it was Brookside Standard, run by Wm. R. Martin. In 1942 it was Clark Campbell Standard Service, but the name H.V. Rogness appears as the manager.
In 1945 it was Charles "Chick" Gibson Standard (Chick had been at 3900). There were 2 pumps in 1947.
As of July 1946, it was Paul W. Weber's Standard Service, and it stayed that way until at least 1967.
The station was rebuilt in 1951 at a cost of $19,900; a news item states that permission was granted by the U.S. Department of Commerce. The new station had 4 pumps.
From 1970 to 1976 the Standard station was (Dick) Sunblad Standard.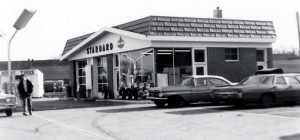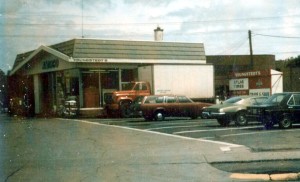 From 1977 to 1986 it was (Larry) Youngstedt's Amoco/Standard; Dave Eastling, President. Youngstedt had several stations around town. This station, which opened in April 1977, was managed by Jim Scott.
The station was rebuilt yet again in 1986 and operated as Youngstedt's Amoco until 1999 when it became Brookside Amoco.