The first evidence of a building at this address may be the "John Hancock Oil. Co." listing in a 1926 business directory, described as at the northeast corner of Excelsior and Jackson, which was the name of the street before it was changed to Alabama in 1933.  Next was an item in the Hennepin County Review on February 24, 1927:  "Mr. Mel Sewall has opened a new grocery store on Jackson St. and Excelsior Blvd, next to the barbershop. We hope this will be a success and prove one more convenience for the neighborhood."  The Brookside Grocery Store went in across Excelsior Blvd. in 1928, so it doesn't appear that it was successful…  A pop permit was requested for the location by Joe Lehocky in 1931.  In 1932, William Crabb was connected with the property.
The present building was built in 1946.
---
BROOKSIDE HARDWARE
Edwin Gaasland opened Brookside Hardware with Henry (Hank) Bertrand in 1947. In 1951 it was billed as "Park's oldest hardware store."  The ad below is from 1947.

In 1957 the store was purchased by Edward J. McDevitt, who moved his store from Brownlow Ave. An item in the May 30, 1957 Dispatch noted that he and his son Wayne had completed a week-long course at the Clinton Machine Company's Gasoline Engine Service School in Maquoketa, Iowa.  McDevitt was already an authorized Schwinn bicycle dealer and repair expert.  Apparently McDevitt, who had 10 children, didn't have the Excelsior Blvd. store for long, but was on Brownlow for many years.
---
WITTMAN'S MARINE
From 1962 to about 1972 the store on Excelsior Blvd. was owned by Orval A. "Larry" Wittman, and it operated as Wittman's Marine and Hardware (later just Marine) until he moved to Skunk Hollow.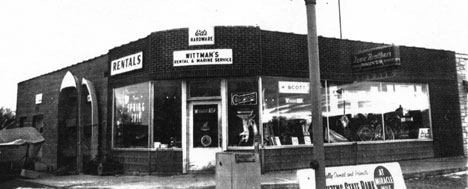 ---
NORTHERN AIRE POOLS
In the early 1950s Leonard E. Riley, a pioneer of the pool building business, started Northern Aire Pools. After 19 years in business, son Leonard C. Riley purchased Northern Aire from his father. With a master mechanics degree and training in accounting, Len was able to apply his specialties to develop and grow Northern Aire Pools.
In 1982, sensing a neglected service industry in the Twin Cities, Len decided to turn the company's focus to pool service and maintenance. Comprised of a loyal family of employees, Northern Aire Pools is one of the premier swimming pool companies servicing the Western Twin Cities Suburbs.
The business had originally been in the basement of Wittman's Marine.
---
5932-34 EXCELSIOR BLVD.
The addresses of 5932 and 5934 have been used for an area of the building facing Alabama Ave.
In 1981 La Petite Chef was run by John Claude Tendillia.
From 1981 to 1991, 5934 was the Park Pantry Co-op, run by volunteers.
In February 1991 the Seward Co-op Grocery in Minneapolis bought the store and Frank Stafford became the general manager.  Community members could purchase 25 shares of membership stock for $75.  The store was renovated and the name was changed to Park Natural Foods.
Save