Across from Brookside Drug, 6006 Excelsior Blvd. was built in 1926. Although no address was given, this may be the place where Mae Lowryman obtained a permit to sell soft drinks at Brookside and Excelsior. In 1931 Russell Borst requested a license to conduct a restaurant at 6008, which may have been in one half of the building. Mrs. Ben Liefson requested a pop permit in 1931. An ad indicated that A.J. Meuleners Grocery and Restaurant was located at 6008 from 1931-33.
---
From 1933 to 1934, it was the Bright Spot Restaurant, featuring Gluek's and Schell's beer on draught and run by Frank and Edmond "Eddi" Blanchette.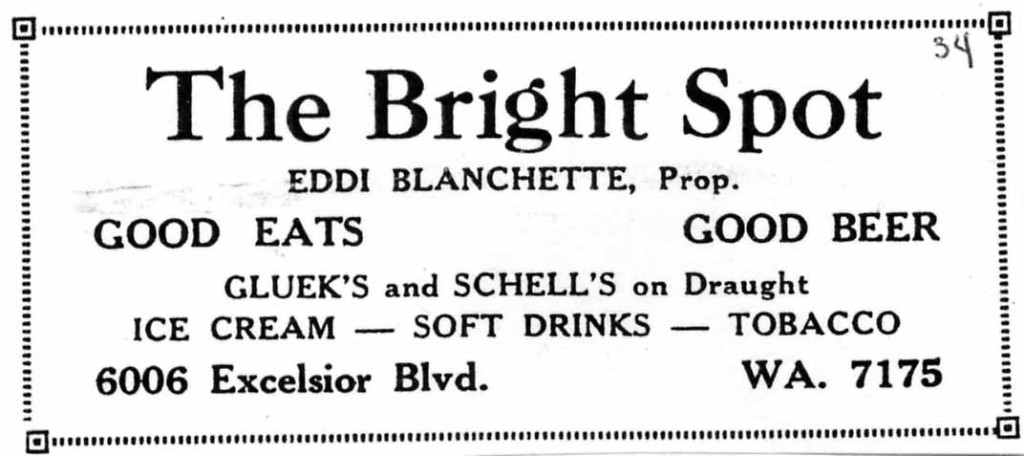 ---
From 1935 to approximately 1940, the building housed the Chick-Inn, a dance hall and 3.2 beer joint. In '35 this sparsely furnished place was run by Mrs. C.R. "Ma" Jones, and in '39 the proprietor was H.D. Bynell. Ben Brown says draft beer cost 5 cents and a pitcher was 25 cents – "what a deal." This was your last chance for beer until you reached Hopkins. Fried Chicken sandwiches were 25 cents, and Schmidts beer was on tap in '33; Grain Belt was featured in '38 and '39.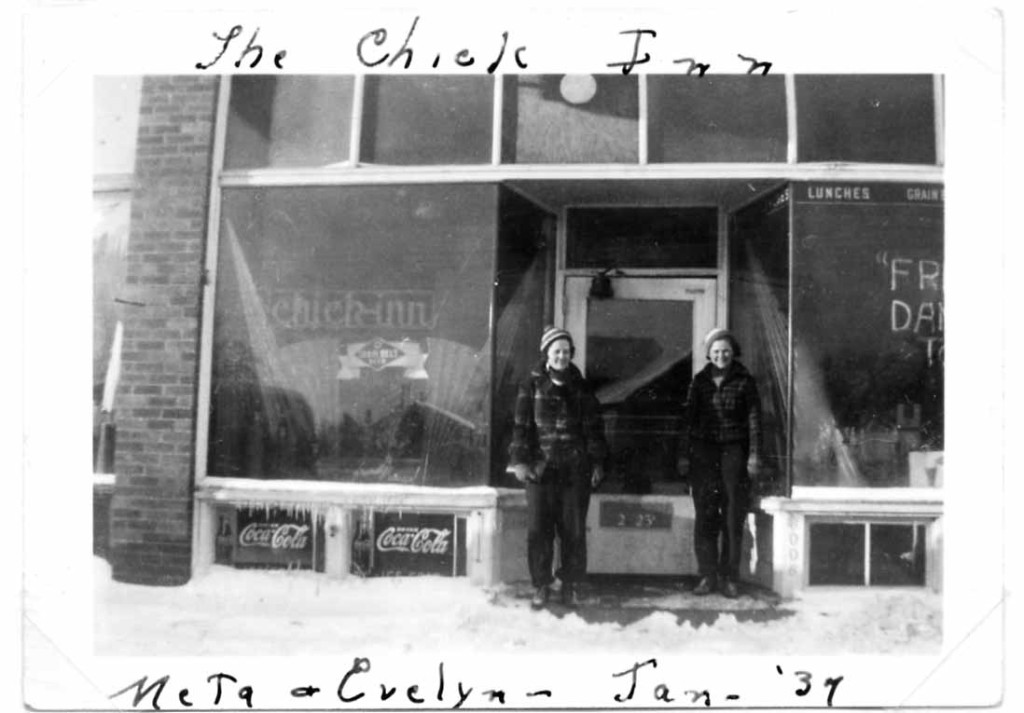 ---
From 1944 to 1946, George Anderson ran the Minnesota Poultry and Egg Company, which was also listed at 6008 Excelsior Blvd. In 1946 he got in trouble with the Office of Price Administration for overcharging for the eggs, but it was apparently a misunderstanding. There were other complaints from the neighbors, one ameliorated by Floor Lady Tillie Werner, who insisted that all bad eggs were buried. Also in 1946, Zephyr Oil Co. requested a permit to install an underground storage tank on the egg company's property.
---
From 1947 to 1953, Ted B. Koehler remodeled the shop into the self-service Koehler Food Store. Laurence Hirmer was the meat manager, and Chester Kell was the grocery manager. The grand opening was held March 21, 1947. Folks also remember a Mrs. Foster.
---
From 1954-56 it was the Market Basket.  In November 1955 the store was badly damaged by fire.  The owner was listed as Tom Wheaton.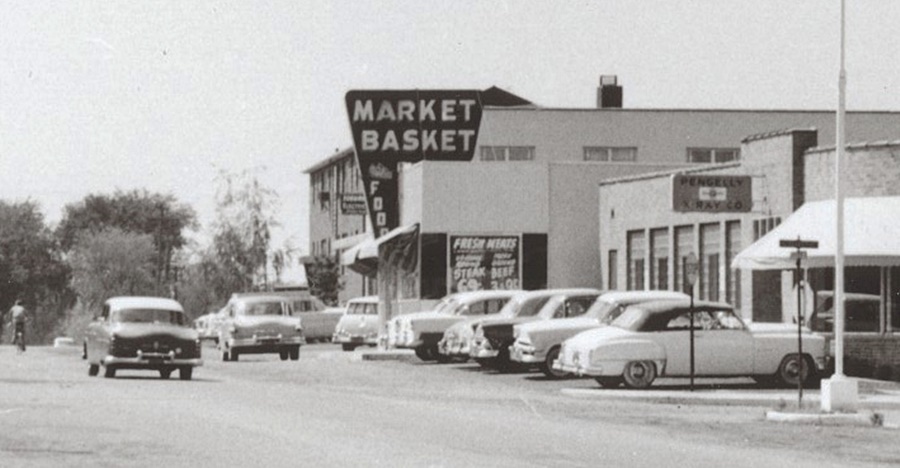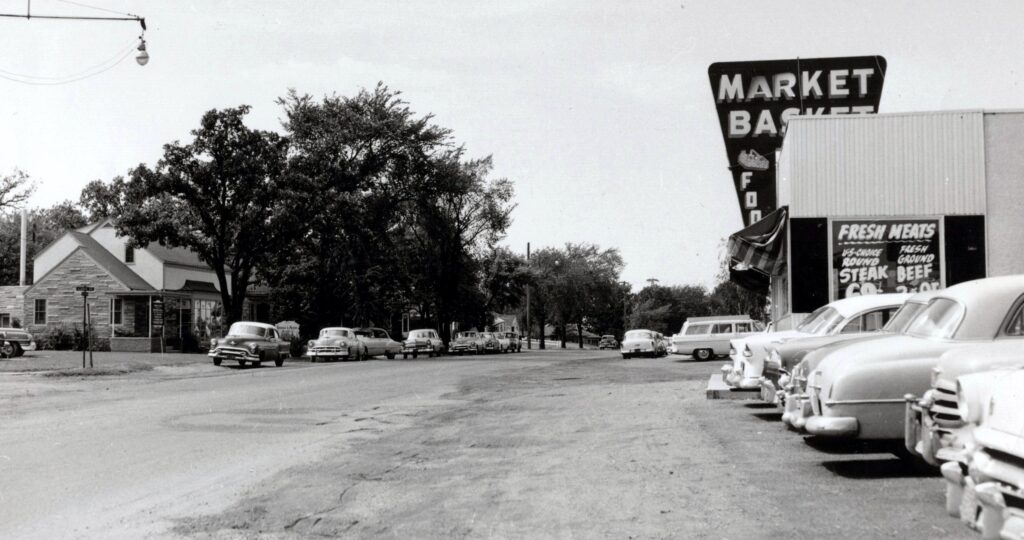 ---
In 1956 Frederick (Fritz?) C. Johnson of 4065 Alabama Ave. ran Johnson Hardware.
---
January 9 and 10, 1958, was the Grand Opening of the Carney Company, owned by Henry "Hank" Carney. The company had been established in March 1956 at Lake and Hennepin, and was the place to buy pews, altars, pulpits, and lecterns, as well as formica-topped metal office desks. In 1957, Carney outfitted the new Aquila and Cedar Manor elementary schools. The St. Louis Park location had a seven person staff, with Carney specializing in church and school equipment. Carney was also a developer, building houses on Excelsior Blvd. just east of Meadowbrook Golf Course.
From 1963 to 1976, Carney put the furniture in the basement and the store was rented out – it became the Excelsior Quick Shop. Eli Golub was the proprietor in 1963.  In May 1970 the manager was Peter Ward. In 1971, Hank swapped the building for a house in Edina – the Carneys lived at 150 Maple Hill Road in Interlachen.
---
In 1976 Henry and his son Steven returned the store to used furniture.  When Henry Carney died in 1980, Stephen took over the store on a part-time basis. The store closed for good in 2005.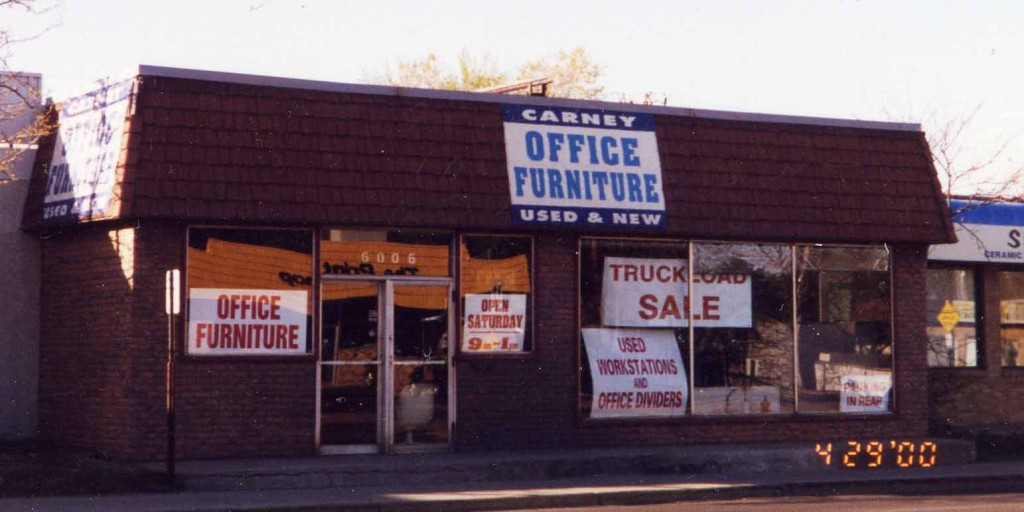 ---
In April 2005 the store was purchased by Lambert Canine and significantly refurbished. The new business was K9 Hydrotherapy, a rehab center for dogs.
---
In 2010 the building changed hands again, this time hosting the Needle Doctor.