This was first a private house, built in or before 1933. It was located on the same block as Brookside Drug, along with two other houses. From at least 1933-39, this had been the home of the Lindahls, who worked at Engell Dairy. In the 1940s, Brookside Drug proprietor Ralph Hunsaker and his family lived in the house.
 
In about 1953, owners E.A. and Dorothy F. Charles built a storefront to the front of the house, hosting a number of businesses.
Many were owned by "Scotty":
Scotty's Rent-it (1954)
Scotty's Marine Mart (1956):  Evinrude motors, boats, marine supplies, paints
Scotty's Dry Cleaning (1961-62).
In the early 1960s it was mostly a Laundromat and dry cleaner: Park DeLux Coin Dry Cleaning and Star Kleen Kwick Cleaners.
Bernie's Refrigeration, June 1960
The structure was moved in about 1966.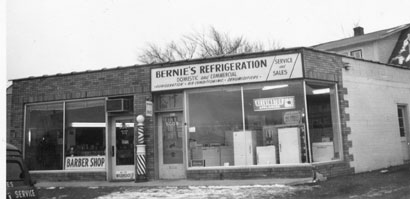 1960