The following comes from the first edition of the Echowan, published in 1929. 
ORIGIN OF THE NAME ECHOWAN
Josephine Thomas, senior in our high school, originated the name Echowan for the first annual ever published in St. Louis Park High School.  We hope this name will always be used for the annual, and live in the hearts of all as an appropriate introduction to our book of memories.  We wish to show our gratitude to Miss Thomas for distinguishing the first annual.  Her explanation and reason for choosing Echowan will appear below.
ECHOWAN (ECHO-ON)
The name of our first school annual should symbolize the annual itself.  Within its pages we are putting the best that is in us, the highest loyalty, the finest school spirit, the cleanest sportsmanship.  We want our annual to be an active memory to those who follow us; we want to pass on to the coming students of St. Louis Park, the spirit of our high school.
For fifteen years our school paper has echoed our activities in The Echo.  Why not put the spirit of The Echo in our first annual and call it The Echowan?
This name will mean so much to every alumnus, to every pupil now in school, even down to the kindergarten.  The name itself is pleasant to hear.  Say it again and again and hear the music in its syllables.  Echowan!  (Echo-on).
Our echoes will roll from soul to soul
And grow forever and forever in —
The Echowan
---
OUR COLLECTION
Thanks to the efforts of Don Schimmel and donations by the High School and many individuals, the St. Louis Park Historical Society has an almost complete collection of Echowans.
From 1923 to 1928 the volumes are merely books of photos, not yearbooks as we know them.
The first actual Echowan was published in 1929.
1934-1935 Editions:  Don Olson reports that there was no Echowan published in 1933, and in 1934 the book was a mimeographed version called the Re-Echo.  Buzz Anthony was in the class of 1934 and came up with the name, which is coincidentally the name of our present newsletter.  We don't know if there was a yearbook published in 1935.
Our Echowans are kept in our office, and can be viewed during office hours or by appointment.
Donations of yearbooks are very welcome.  Please contact us if you wish to donate.  Thank you!
---
THE ECHOWANE
During the 1958-59 school year, senior Bruce Steubing created an LP record yearbook that was to become known as the Echowane.  Here are the liner notes, written by Jack Alwin and Linda Weiner.
 ONCE UPON A TAPE
The record contained within this folder is a round, 12-inch piece of plastic.  It is a record called the Echowane that contains the events that make this past year of 1958-59 different from all the others that pass in quick succession.  It is quite literally a yearbook in sound.
But the Echowane is much more than that — it is the realization of a dream that belongs to Bruce Stuebing and now, in part, to you.  There were actually two beginnings to Bruce's dream — one was conceived during the summer of 1958 and the other at the beginning of the senior year of the Class of '59.
Camp Miniwanca is a youth leadership training camp in Michigan.  Bruce went to Miniwanca and was so filled with enthusiasm for the wonderful experiences he had that he wanted in some way to be able to make it possible for others to discover what he had discovered.
The second beginning — Beginning last fall as a senior, Bruce wanted to give some concrete form to the appreciation that he felt toward Park High.  Desiring to be more than "just a senior," he began to search for something he could do for the school that had done so much for him.  Then one day, following his interest in sound and tape, he decided to make a record.  That was the beginning.
From the moment of his decision, Bruce made definite plans and took steps to complete them.  His tape recorder could be found at every school event.  It sat high above the stage in the light booth during plays and concerts.  It even got a little wet while it recorded the Surfbelles show.
After Bruce had collected half of his tapes, he approached us.  he explained what he wanted to do, why he wanted to do it, and that he planned to use the profits as scholarship money to Miniwanca. Bruce's dream was catching and the "triumvirate" began work to put the script, narration, and events together.
The long hours of timing and editing the tapes, running from the scriptwriters' to the narrator's, and finally putting it all on one tape were the cold, realistic tasks that went into the making a dream come true.  But no time was given unwillingly.  Making a dream a reality was a rare and wonderful thing with which to be allowed to help.
In early May, when the final tape went down to Countryman's recording studio, there were yet things to be done.  The cover was printed by helpful Mr. Wolfe.  Next came the problem of presenting a dream as merchandise.  In April the senior party committee heard only part of the unfinished tape and bought it as favors for the Class of '59.  There yet remained the sale of the 200 copies that would be the Miniwanca scholarship money.
How do you sell a dream?  Obviously, all you need to do is tell about it over the PA system and then play portions of it.  Then tell your salesmen to make out receipts as fast as possible.  Simple.  That is, if your dream is called the Echowane.
Then in quick succession the record came back from the studio, the covers arrived, and finally the seniors received theirs at their breakfast and the sophomores and juniors picked them up the next day.  To many this was the end of a dream.  To a few others, the dream will be completed when they find themselves at Miniwanca.  But Bruce Stuebing's dream will never really end until there is a finish to the wonderful and unselfish things done by people for people.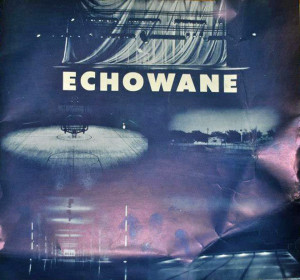 1959 Echowane
Thanks to generous donations by Mark Brothen and Fred Mutchler, the St. Louis Park Historical Society has copies of the 1959 Echowane.   Richard Novak has transcribed the LP to a digital file:
Side one:
---
Side two:
---
THE 1960 ECHOWANE
We also have copies of the 1960 Echowane.  Those notes read:
Dear subscriber:

The Echowane, first published in 1959 by Bruce Stuebing, has now been made a subsidiary of the ECHOWAN.  We look forward now to a tradition of man years of giving St. Louis Park students the finest possible "Yearbook in Sound."

                                                                           The Echowane Staff, 1960
Richard Novak has transferred the 1960 Echowane to digital as well:
Side one:
---
Side two:
We are unaware of any further Echowanes.
---
VIDEO YEARBOOKS
Teacher Carolyn Charles worked with students to produce video yearbooks.  The Historical Society has copies of some of them in the 1980s.  All but the first one we have are called the Chrominance, defined in Webster's Dictionary as "That attribute of light which produces the sensation of living color."  None of them have commencement footage, but they all have lots of sports, and lots of pie eating.
1985-86:  St. Louis Park High School Video Yearbook, 45 minutes.  Highlights:
Homecoming coronation

Good music footage

"Godspell"

Star Search

"A Chorus Line" – first time produced by a high school

Girls Basketball won Class AA State Tournament
Editor:  Mark Hubbard
---
1986-87:  Chrominance Video Yearbook, 43 minutes.  Highlights:
Homecoming coronation – extensive coverage

Campout on Football Field

Varsity Show

Extensive sports

"Grease"

Pop Machines?

Sno-Daze – Nerd Day

Girls Basketball won third place, Class AA over Hill-Murray by 1 point

Good Prom footage
Director, Editor, and Audio by Robb Richter
---
1987-88:  Chrominance Video Yearbook, 47 minutes.  Highlights:
Homecoming

Sports

"Oklahoma"

Lip Synch show:  "Lumberjack Song," "Le Freak," "My Girl"

Prom
---
1988-1989:  Chrominance Video Yearbook, 31 minutes.  Highlights:
Homecoming coronation

"The Music Man"

Jazz band

Talent show

Girls Basketball won the Class AA third place.

Prom – good footage

Synchronized swimming won first in State
Editor-in-Chief:  Christ Ritchie
Assistant:  Brad Fundingsland
Production Designer:  Josh Wright
Shot Selection Editor:  Scott Bukstein
Music Editor:  John Schottenbauer
---
1989-1990:  Chrominance Video Yearbook, 33 minutes.  Highlights:
Homecoming coronation (dark), football game, parade

"Bye Bye Birdie" (Conrad looks suspiciously like Prince)

Sno-Daze:  funny hatts

Lots of sports

The Lip Synch contest

Girls Basketball won the Class AA State Championship

Nice Prom footage
Editor-in-Chief:  Zach Curtis
Art Director:  Andrew T. Wright
Assistants:  Brad Fundingsland, Joel Thurston
If anyone has other video yearbooks from other years that they'd like to share, please Contact Us.  Thanks!