Some information presented here comes from a history of Eliot School written by Victor S. Formo and published in the Dispatch on April 24, 1952.  If you have any additions or clarifications, please contact us.    Also see The North Side
---
FIRST SCHOOL – NORTH SIDE
The first goes back to 1885, when the North Side School was built near the northern boundary of the township in the "Falvey District." (Louisiana Ave. was then called Falvey Street after the Falvey family.)  It was a wooden structure.  The first improvement was in 1890 when a well was dug.  The building was eventually sold for $150 and removed. (Another source says it was given to the neighborhood for use as a barn.)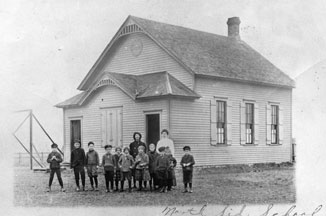 ---
SECOND SCHOOL – NORTH SIDE
Bids were received for building a new building on May 6, 1912.  The new North Side School was built for $6,700 plus $130 for plumbing and $300 for heating.  Classes began in the new structure in December 1913. Also a frame structure, this building was destroyed by fire on April 2, 1926. Legend has it that a janitor fell asleep and his newspaper caught fire. Children were transported to Oak Hill School.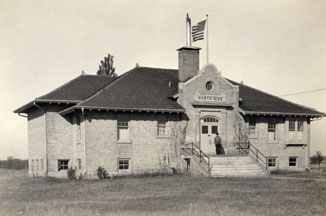 ---
THIRD SCHOOL – ELIOT
A bond issue for the new building in the amount of $20,000 was voted in on June 15, 1926.  Students attended Oak Hill School while it was being built. The new school was proposed to be renamed Highcroft, but on petition of residents, it was changed to Eliot. Her family lore has it that Lillian McBride Ryan was instrumental in helping build the new school and in creating its new name, but we do not know the origin of the name Eliot. Keith Meland speculates that it was named after Charles W. Eliot (1834-1926), who was President of Harvard University from 1869 to 1909.  There are many Eliot Schools in the US named after him, and our school was built in the year of his death.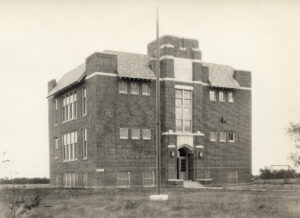 Eliot School, 1926
A new janitor, Joe Koelfgen, would serve the school from 1932 to 1954.
In the beginning, the school had only an auditorium in the basement, two classrooms on the first floor (the ones on the east side near the front door), and two unfinished classrooms upstairs.  Grades 1-3 shared one room, and grades 4-6 were in the other.  The picture below is from 1926.
A contract to finish the two upper rooms was let on June 3, 1941.
Mary Towey became Principal in 1946 (see below).
---
1952 ADDITION
Contracts for a remodeling of the old structure and construction of 20 more classrooms were let on November 30, 1950, to accommodate the swelling numbers of families moving to the North Side. The architect of the project was John Belair, architect from Haxby, Bissell, and Belair. While the school was under construction, students were in temporary quarters in the west wing of the Central building from September 1950 to March 1952.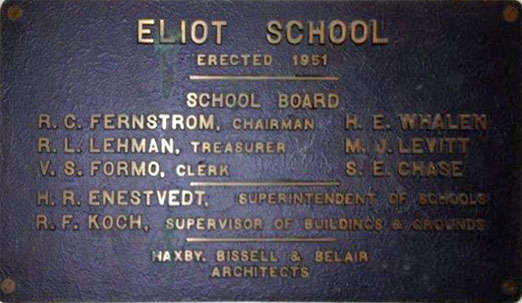 Photo courtesy Jim McNulty
The $825,000 addition was opened on March 4, 1952, with entertainment by the High School Glee Club under the direction of Gordon Griebenow.  The school now contained 24 classrooms, a large gymnasium/auditorium, storage and office space, cafeteria and kitchen, and a small meeting room where the old auditorium had been.


Undated photo from school district
A PTA booklet from 1955-56 shows the distribution of the ages of students on the North Side:  Grades 1-3 had no less than six classes each, while Grades 5 and 6 had only two.  Here are floor plans from that booklet: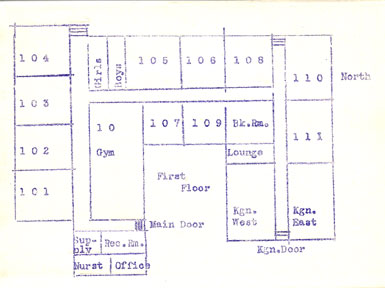 ---
ELIOT IN THE FIFTIES
Susan Shallman Anderson has generously shared some of her photos that were taken at Eliot in 1956.  First we see the playground equipment, which was typical of playgrounds at the other schools around the city.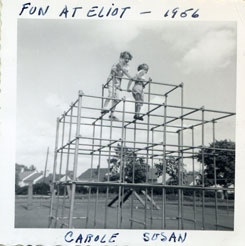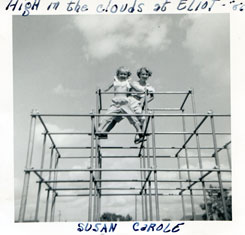 These are Monkey Bars, the source of many broken bones but fun times.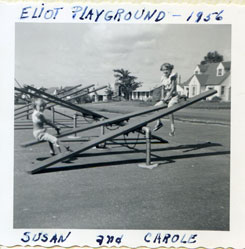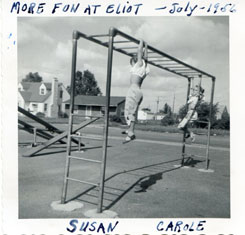 The Teeter-Totter – if one kid teetered
and the other forgot to totter, a skinned
knee on the asphalt was the result.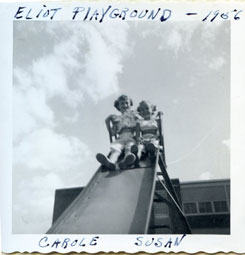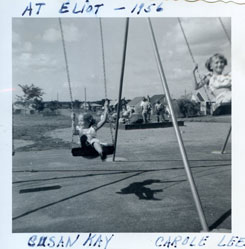 A very tall slide, hot on the legs in summer.
---
The inside of Eliot was much like other schools of the time, including Lenox and Brookside.  There was generally a gym that had a large stage at one end where programs were presented.  Here is a chorus concert from 1954: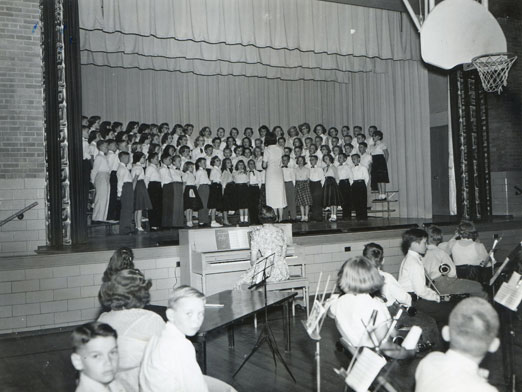 ---
The PTA in the fifties was incredibly active, and each month there was a program of some sort.  Once a year the dads put on a show – here are some photos of one of those epic productions.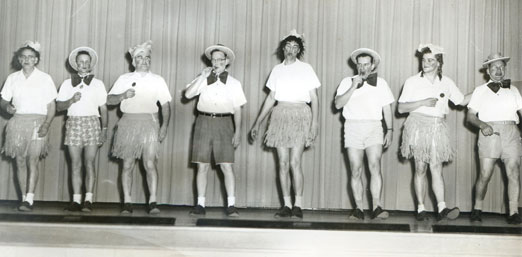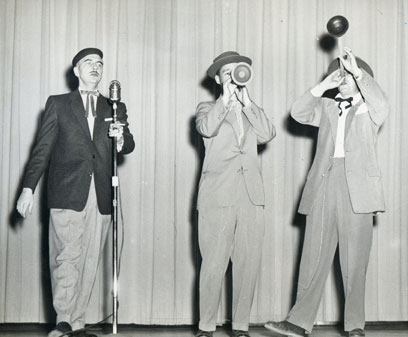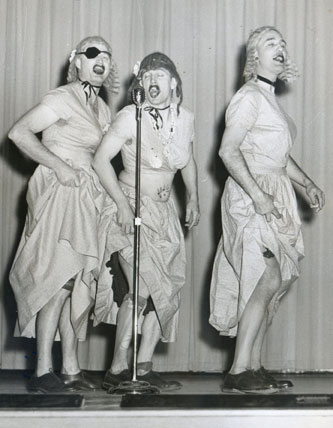 Anyone know this guy?
Park's version of Jackie Gleason?
---
1958-1959
Thanks to the discovery of the very elaborate PTA scrapbook from 1958-59, we can describe the programs presented to parents.  That year the school had 804 students and 26 teachers.  The members of the PTA numbered 667.  President of the PTA was John Brunnette, and Vice President was Charlotte Matsumoto.  Teachers are below: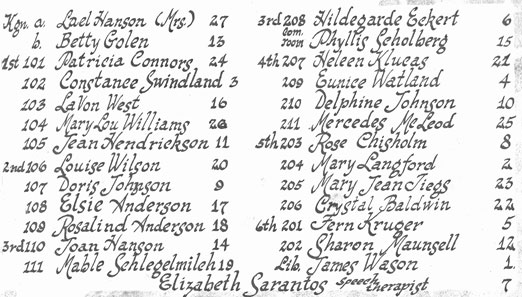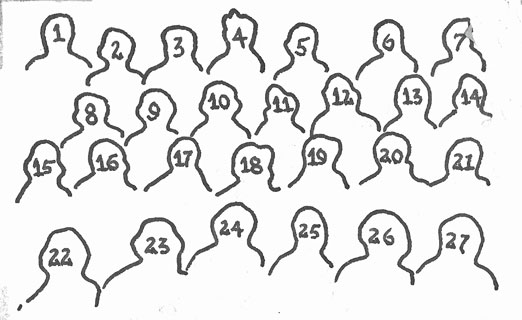 ---
The November 18, 1958, meeting was about school safety, and featured a panel that included Police Officer Fred Stinson and Virgil Neitzel of the Park Bus Company.  Who is this young school patrol girl?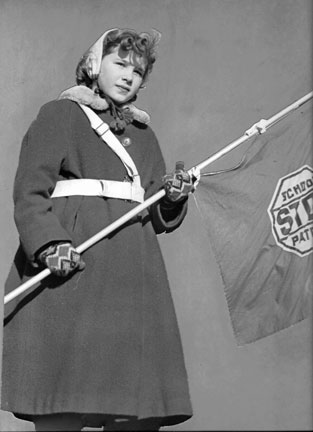 ---
A Parent Education Program was led by Dr. Armin Grams, Associate Professor of Child Development at the Institute of Child Welfare at the University of Minnesota.  The course had six sessions.  Grams felt that parent education study groups were important because parent education is an integral part of preventing poor mental health.  Topics included:
Emotional Characteristics of the Child
Discipline and the Older Child
Sex Education of the Younger Child
Self Reliance and Responsibility
Teasing and Quarreling
---
February 10, 1959, was the annual Fathers Night Variety Show; the flier below is proof that the nickname "Eliot Smeliot" goes back a long way!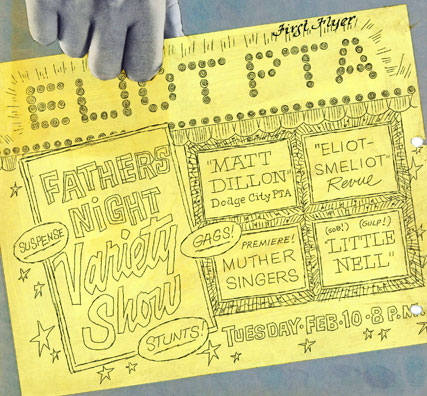 ---
On April 18, 1959, the school held a Rocket Festival, although it appeared to be more of a standard carnival, with Bingo, a cake walk a country store, movies, games, prizes, and bowling.  Children voted on Punch and Judy as King and Queen at 25 cents per vote.  One set of winners was chosen from K-3, and another set from grades 4-6.  Winners got bikes, a ride on a fire truck, and a TV appearance on the Arle Haeberle TV show.
On May 12, 1959, the topic of the PTA meeting was sex education, somehow taught by Captain Eugene Arnold, Inspector of Detectives in the Hennepin County Sheriff's office.  Actually, the fliers announced the topic as the scarier "Law Enforcement and the Sex Criminal."

Photo from the 1958-59 PTA Scrapbook – composite courtesy Emory Anderson
---
A PTA program on May 10, 1960, was "How to Live with your Children… and Like It!"
On April 30, 1961, the school had a Popeye Carnival, attended by Clancy the Cop, who showed Popeye cartoons.  An Admiral and His Lady were chosen from grades K-3 and 4-6.
Sue Shallman, who lived across the street from the school, says that lightning strikes were a common occurrence at Eliot.  Here's a photo she took after one particularly bad strike: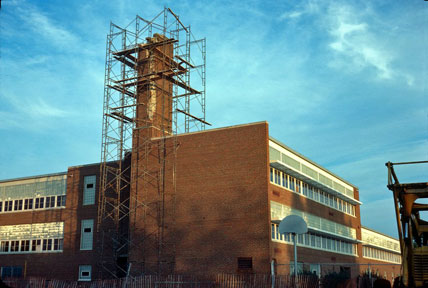 By 1977 the boomers had passed through and the school was closed. 1,000 people attended a "Goodbye Ice Cream Social" on June 2.  A memorabilia display of Eliot's 51 years was featured.  Children were reassigned to Peter Hobart and Cedar Manor.
The longtime librarian at Eliot was Miss Shirley Stone.  When the school closed, the library books were sold to Handke School in Elk River, Minnesota.  When Handke closed, the books were sold to Westwood Elementary in Zimmerman, Minnesota. We were contacted by the librarian in Zimmerman, who told us that one of the books was signed by famous author Lloyd Alexander.  Miss Stone clarified that Alexander did not visit the school but signed the book when Miss Stone and a colleague attended a seminar at the U of M where Alexander was speaking.
In November 1977 the building opened as a fine arts center.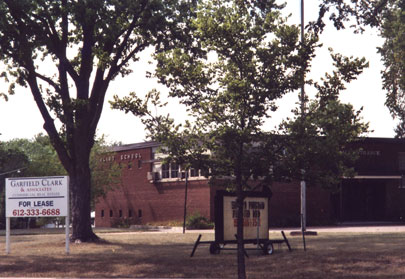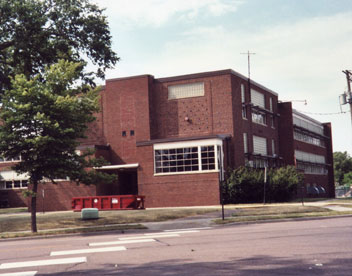 In 1981 a suspiciously high incidence of breast cancer seemed to be present in women who worked, volunteered, or were students at the Eliot building. Chemicals in the water, left over from years of industrial pollution, were suspect. The State Department of Health investigated, but concluded that there was nothing in the building or in the water that could explain the trend. In 1982 superintendent Mike Hickey sent a memo to the concerned women that said that no more action on the part of the school district was warranted, stating that diseases tend to occur in clusters.
Ken Storm organized an Eliot School reunion in 1992 that was very successful.  The oldest teacher attending was Miss Agnes Aarseth, who taught from 1930 to 1974.  There was a video made of this reunion, but most of the audio is "indistinct chatter."
Eliot was shuttered and its programs were moved to other buildings.
The following photos from 1987 were provided by Steve Stewart: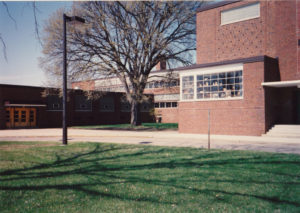 The following photo from 1989 was provided by Steve Stewart: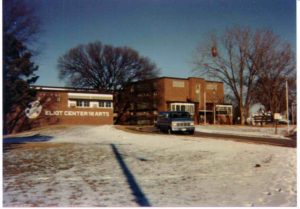 ---
Below are some photos of the school taken by Jim McNulty.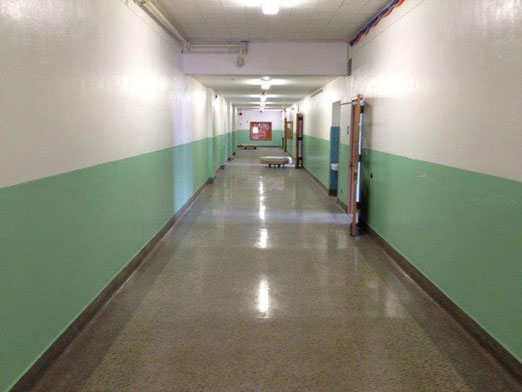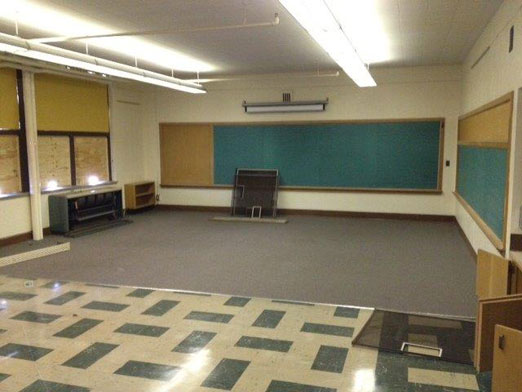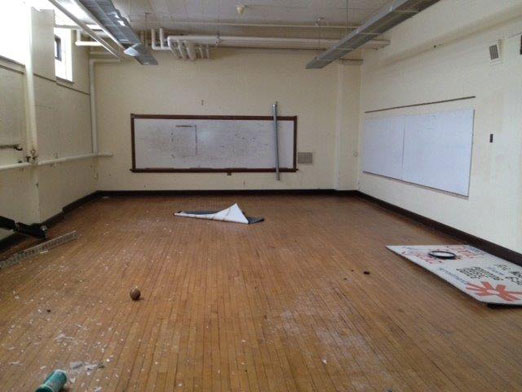 ---
In July 2014, Randy Kirihara was able to take some photos of the building as the last salvaging was in process.  Here are some of them: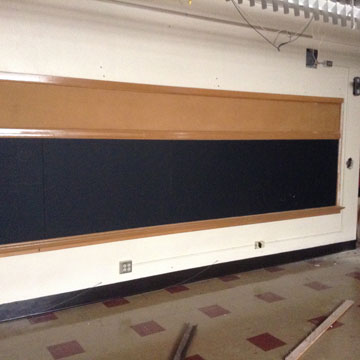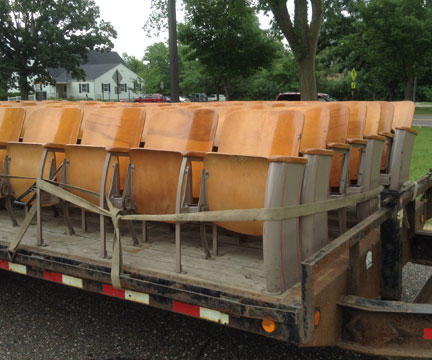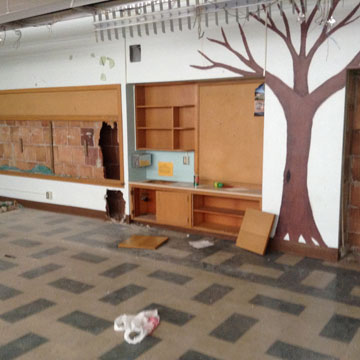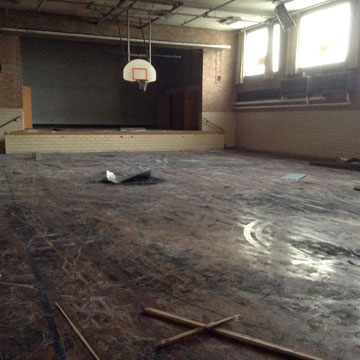 ---
DEMOLITION
Here are some photos of the demolition, as posted on Facebook.  Thanks to all for sharing!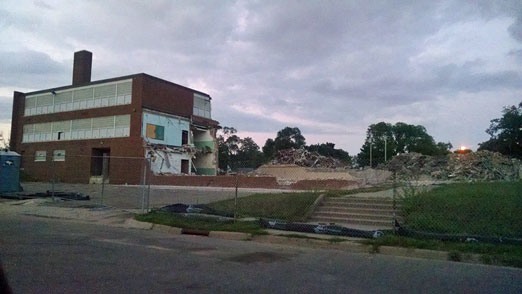 Posted by Pat Lacher Brengman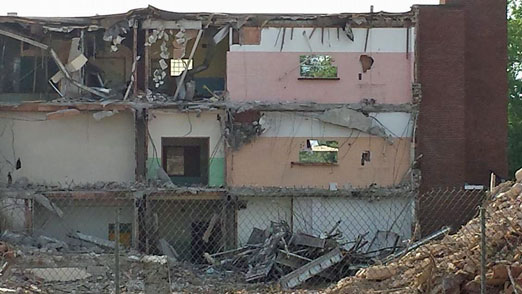 Posted by Kathy Blixrud, 8-15-2014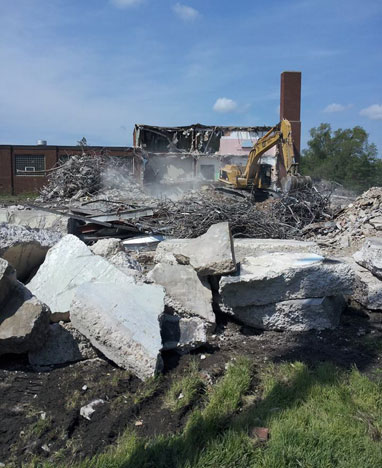 Posted by Bruce Micheels, 8-15-2014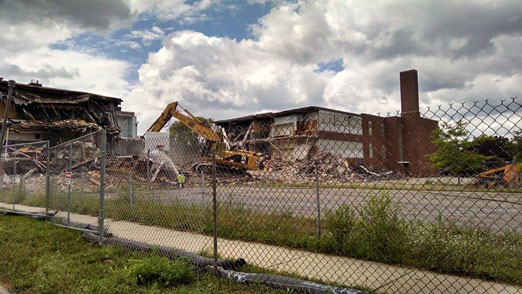 Posted by Amy Ness Rumsch, 8-11-2014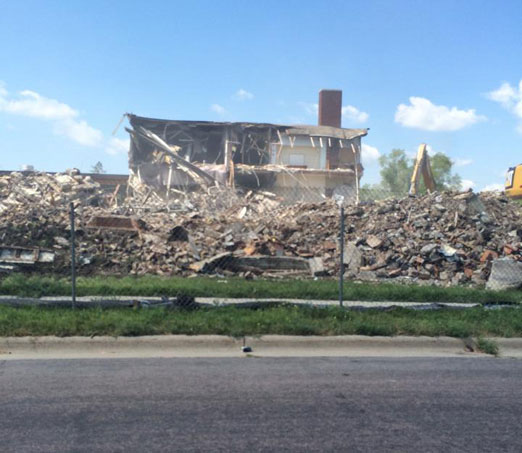 Posted by Randi Dinner-Fogel, 8-13-2014
Several proposals to redevelop the site fell through – the cost of the land and demolition call for the development of multifamily housing, but the neighborhood protested.  After a reversal, in December 2012 the City Council decided to go forward with a plan to built apartment buildings and single-family houses on the site.  Developer Dan Hunt plans to build the 138-unit Eliot Park Apartments in two buildings in addition to three single-family homes.
---
NORTH SIDE MOTHERS' CLUB
In the years before the advent of the PTA, mothers banded together to raise funds and provide their children's schools with items the school board could not or would not provide. The Northside Mothers' Club formed in about 1923, changing its name to Eliot as the new school was built. The stated purpose of the club was "to study the welfare of the pupils of North Side School and of the young people of this community who might be helped by the club."
The Mothers' Club concerned itself with a variety of needs, the most important of which was providing the students with a hot lunch. It appears that they made these lunches themselves, but were continually lobbying the school board to provide such lunches and were still doing so in 1930.
The group held events such as dances, bridge parties, and bunco parties to raise money for such items as:
Balls and bats for the boys
Long jump rope for the girls
Phonograph records for the school
Easter party
Oil cloth for art tables
Christmas trees in classrooms (a common contribution of PTAs)
Shades for windows
Furnishings for rest room – davenport/day bed
School picnics
They also went in with the Ladies Aid Society to purchase T.B. (tuberculosis) bonds. And they sent flowers to teachers, etc. who were ill – one of their goals was to "remember the sick in different localities."
One interesting fundraiser was a "Hard Time Dance," held in January 1931. A prize went to the best hard time dressed lady and man.
In 1932 a sand and gravel company provided free sand for the playground.
In 1933 they "financed and sponsored a boy scout movement" with the Ladies' Aid.
In 1934 they celebrated Founder's Day with a skit, songs, and a cake, but founder of what? That year they heard Mr. Roy Olson from the St. Cloud Reformatory speak on the present crime wave among our boys and girls.
---
ELIOT MOTHER SINGERS
The Eliot Mother Singers were formed in about 1955, led by Betty Meister.  They put on elaborate shows with costume changes and performed for PTAs around the city.  In October 1958 , twelve members of the group were invited to perform at the State PTA convention in Rochester, Minnesota, where they were joined by over 300 other Mother Singers from around the state.   On April 10, 1959, they presented an epic "Music of My America" program, which featured an original composition by Betty Meister.
In 1977, when Eliot closed, the group formed a partnership with Methodist Hospital and became the Methodaires show choir.  The all-women group performs at events and has a spring concert each April, with proceeds going to the Frauenshuh Cancer Center.
---
PRINCIPAL MARY TOWEY
Mary Rachel Towey was born in North Dakota on February 26, 1918, but her mother died when Mary was born or soon after. At age 1-1/2 she lived with a family on 6th Street in Langdon, ND – the census lists her as "protege." Her father, a widower at age 28, was a doctor, and was also in Langdon, but boarding with a clergyman on 3rd Street. He eventually remarried, moved to Michigan, had more children, and worked in a sanitarium (perhaps tuberculosis?). By 1935 she was living in Minneapolis with an uncle. In 1940 she was in her third year of college.
Towey probably began her teaching career at Brookside School in 1941.  She became Principal at Eliot in 1946.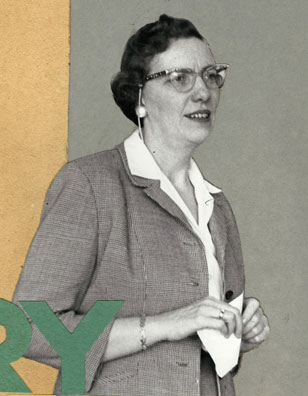 1958-59
In 1974 a scandal exploded, with teachers charging the school, and particularly Principal Mary Towey, of wrongdoing over a 20-year period. The School Board seemed reluctant to act, but some parents were so incensed that they moved out of the neighborhood.
Towey was moved to Park Knoll from 1976 to 1978.
Many people who attended Eliot are of the opinion that Miss Towey was in the wrong line of work.  Comments on Facebook when this picture was posted make this quite clear: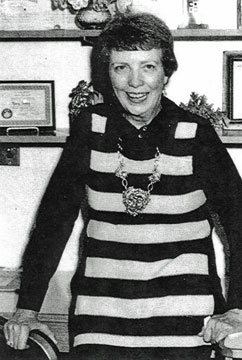 Mary Towey died on March 8, 1981.  She had retired as Principal of Susan Lindgren Elementary School two months before.  There was no obituary per se in the St. Louis Park Sun, but columnist Karen Reeves wrote a tribute to her, saying "Most of Mary's life revolved around school, students and parents."  She was also active at the Basilica of St. Mary in Minneapolis.  The staff at Susan Lindgren began working on a hand-made quilt for her, which was delivered to her hospital room the day before she died.  "She probably didn't know it was there."  Her family decided that the quilt would be draped over one end of the casket.
---
IN OUR COLLECTION
Thanks to a generous donation, the Historical Society has in its collection Eliot Elementary School PTA Directories from 1954 to 1967. There are also several years of teacher rosters. We only have one student yearbook, from 1977.  If anyone has any more to donate, we'd appreciate it!
In 2014 a staff member at the Central Community Center found an Eliot PTA scrapbook from 1958-59 and donated it to the Historical Society.  Since we have so few Eliot artifacts, this was an important discovery!  It appears that it was the first that the PTA had put together, and it is quite elaborate.  Many of the photos and information on this page come from that book.
Save
Save